Hellgate's Speech and Debate Team Remains Strong During Pandemic
     All extracurricular activities are looking a bit different this year in response to the COVID-19 pandemic, but some have had to change more drastically than others. Speech and Debate has been less of a question mark than other fall and winter sports because it is more easily adaptable to COVID-19 guidelines. The team has been practicing since early November and is currently in the process of preparing for tournaments, the first of which was held on Dec. 4-5.  
     Hannah Rafferty, one of Hellgate's debate captains this year, noted that practices haven't been much different than in normal years. "Since debate and speech are mostly individualized events it's easy to practice the same way," she said, although they have still been taking precautions and social distancing. 
     Despite some normality, the team will have to face some major differences this year. Students won't travel to tournaments or have the typical tournament experience. Instead, tournaments will be held virtually. Students will come to Hellgate to compete and each person will have an individual room where they will virtually connect with students and judges from around the state.
     This type of format won't be much of a change for some students. Debate captain Kelton Keck has been doing online debate for the past couple years. However, there are other students who have only ever used hard evidence and will have to adjust their methods to work better in a virtual format. "I think it will be a big transition for some people and less of a transition for others," said Keck. 
     The lack of in-person tournaments has been a disappointment to the captains, who are all seniors. "With this circumstance in particular I'm a bit disappointed that this ends up being my senior year," said Keck. "I am excited for the current debate topic but it would have been nice if we could have in-person tournaments." 
     Speech captain Aidan Serviss agreed that the altered format of the meets was a little disheartening, but noted that after participating in the Model United Nations conference last week, which was also virtual, he is feeling more confident about how the meets will run. 
     Despite the disappointment, the captains agreed that they are still motivated to perform their best this year. "Even though we're disappointed, we're still motivated to do well, to do as well as we can," said Rafferty. They also acknowledged the importance of their leadership roles this year. Rafferty said she wants to make sure the underclassmen are set up for success in future seasons. 
     Exciting topics have also helped dull the disappointment about virtual meets by making the preparation feel worthwhile. Debate topics this year include criminal justice reform, whether the United States should provide a federal jobs guarantee, and whether civil disobedience is justified.
     Rafferty and Keck, who compete in policy debate, are working on a case promoting funding to fix the national rape kit backlog. (Forensic exam evidence of sexual assault, known as rape kits, are so backlogged they often remain unalanayzed.) Serviss is working on an informative speech about the song Ziggy Stardust by David Bowie. "There's a lot of weird stuff that the more I research, the more fake it sounds," he said.
     The ability to deeply explore topics is a large reason why all three of the captains were drawn to Speech and Debate. "The biggest reason I have continued to come back to debate every year is it's kind of unparalleled in its ability to deep dive into any subject you want to," said Keck. 
     Rafferty agreed. "I just really like learning about things, and a lot of the topics that we cover, whether it be education, immigration, arms sales, or the current topic which is criminal justice reform, I think those are topics maybe I usually wouldn't have gone out of my way to study, but with debate I'm kind of forced to, and I think it's really interesting to be able to go into those really in depth for an entire year." 
     "I never come away from a tournament without learning something new or being inspired to look more into something else. And I think that's a huge part of why I come back," said Serviss. 
     In addition to the changes to tournaments brought on by COVID-19, the Speech and Debate team faces another major change: a new coach. Hellgate's new head coach is Zachary Bauerle. Bauerle grew up outside of Chicago, came to Missoula for university, and is now a teacher at Willard. "I saw the opportunity to contribute to the already successful program and I thought that it'd be a good way to start getting involved with the program in a more active way," said Bauerle.
     Bauerle arrived at Hellgate with a background full of relevant experience. He has a BA in environmental studies and a Master's in social studies secondary education. He also coached the Model Arab League program as an undergrad, and spent two years working in Vietnam and traveling around East Asia. Bauerle's background brings a unique combination of scientific, public speaking, and cultural experience which will be helpful to students as they research and present different topics.
     Bauerle plans to focus on confidence and strong research. He said his biggest emphasis is "having the confidence to go out there and just speak in front of people, even though it's going to be in a virtual setting."  On the debate side, he stresses "developing arguments based on logic and based on the resources that students are able to discover."
     The focus on research and critical thinking skills is another part of what makes Speech and Debate so important to the captains. Keck said that a big draw to debate is not only being able to research many different topics, but "being able to argue your stance against someone who spent just as much time researching against it." 
     "Developing your argumentation skills I think is especially important now," said Rafferty. "And being able to back up your argument with solid evidence and facts, and knowing how to defend your point against someone who may have a different opinion. And also learning to respect theirs and understand their perspective and the evidence that they present."
     The high turnout for the team this year amid a pandemic suggests that it's not just the captains who view these skills as important. "We've done very well retaining the usual number of people that Speech and Debate retains from last year, and even having I'd say average or above average new enrollment," said Keck.
     The presence and dedication of new underclassmen will keep the team strong after the seniors graduate, and continue to foster the strong sense of community that has drawn so many people to the activity. "The community of speech and debate is really different from anything else and I really appreciate it," said Serviss. 
     Despite the upheaval brought on by a pandemic, Hellgate's Speech and Debate team is looking as strong as it has ever been. 
About the Writer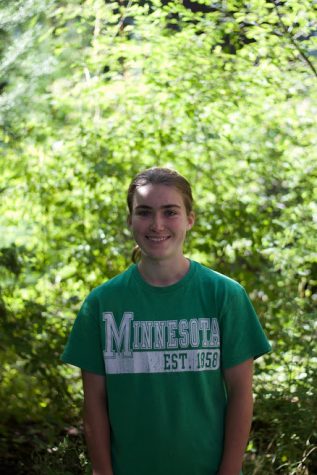 Josey MacDonald, Reporter
Hello! I'm a Senior at Hellgate and this is my second year writing for the Lance. In addition to writing, I enjoy mountain biking, playing cello, and competing...