Northwestern Energy and MCPS Solar Panel Collaboration
NorthWestern Energy and MCPS schools began their million dollar joint project at the end of 2016 and beginning of 2017 school year. NorthWes
tern energy was "identifying ways that they wanted to get involved in renewable energy across the state," according to Hatton Littman, Communications Director of MCPS. All four of the MCPS high schools, Hellgate, Big Sky, Willard, and Sentinel, began by having community meetings regardin
g the solar panels. Students, parents and staff members were also encouraged to attend these meetings to learn about the designs and other aspects of the project.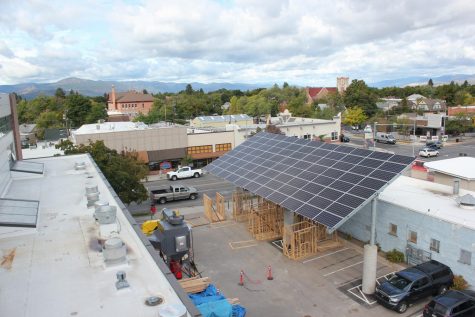 In the 2018-2019 school year, the designing of the actual solar panels became the topic of discussion. Littman began working with MCPS teachers to talk about incorporating solar panels into students' curriculum so that math, science, and CTE teachers could teach lessons about solar energy and how solar panels work. She also said a bus tour for the teachers and administration is planned for Oct. 8, 2019 to go around the community to all four MCPS locations and observe how their work paid off.
Each of the solar panels are integrated into the design of the four high schools. The project allows engineers to incorporate the solar panels into existing structures. Although the locations the solar panel
s were installed in won't generate maximum energy, this is a great way for students to learn about the energy generating process and for engineers to experiment with our current technology.
 Willard's solar panels are creatively incorporated into the fencing outside the school. They are made of photovoltaic panels. This means the photons, or light, is converted directly into energy (voltage). 
Sentinel's solar panels have the "outdoor classroom" theme. These panels are primarily a learning device and are a great way for students to get involved. The panels rotate in various directions and give students the opportunity to explore what angles create maximum energy. 
Big Sky's solar panels focus on the value of high energy generating panels. Big Sky's panels also feature a battery storage and they generate around 25.6 Kilowatts per year.   
Judson Miller, principal at Hellgate High School, said that he would like to install more solar panels around the school at some point and explore more alternative types of energy. The solar panels that were just installed at Hellgate not only act as covered parking, but also have a charging station. The concerns of some people regard the little parking space Hellgate has. Students already have to park one, maybe even two blocks away from the school, and with the new solar panel installation, seven more parking spaces were taken up. However, Miller said that because we are in inner city school, "A lot of people could walk, or find a way to get here (Hellgate High School) without driving a car."
The goal of this project is to "help the school district and to help their company study how renewable energy, specifically solar energy, interacts with a larger energy grid," said Littman. She also said that from a school district perspective, their goal is to "educate students; these solar panels represent an opportunity to educate students so that you (students) can all help solve our energy future." She said that the school district wants students to learn how renewable energy works, how easy it is to produce the amount of energy we actually need, and how lifestyle choices can impact that. Littman wants to stress, "Students are going to get to do real research with this information."     
Northwestern Energy, on a bigger scale, has a large percentage of their portfolio made up of renewable energy. Forms of renewable energy that the company is working with include solar, wind, and hydro energy. However, in Missoula the only form of energy that is being worked with is solar. When the MCPS solar panels are completed, there will be a dashboard of how much energy, in kilowatts per hour, have been produced, how much carbon dioxide emissions they are reducing, current solar production and how much energy the panels have generated over a course of weeks to months. All of this data is located on the nwesolar.com website. 
Although the most recent solar panel installation was important, this isn't the first time Hellgate has incorporated solar panels into the school. Hellgate's environmental activist group, SAVE, Students Against Violating the Environment, worked to get solar panels installed on an overhang outside the science building. Another set of solar panels was installed thanks to a senior project in the year of 2012. The previous senior, Shyla Allred hoped to cut down the electricity bill for the school. She teamed up with Scott Solar and a mentor aided her in this good cause. Hellgate is very focused on ways to help the environment so that it's better for future generations. 
The million dollar solar panels donation from Northwestern Energy for the four MCPS schools will help explore the endless possibilities of alternative energy sources. The solar panels will start creating energy for the schools as soon as they can get them running and will create learning opportunities for students. The collaboration hopes to reduce negative emissions into the atmosphere and make an effort to help Missoula become a more environmentally friendly city.    
About the Writer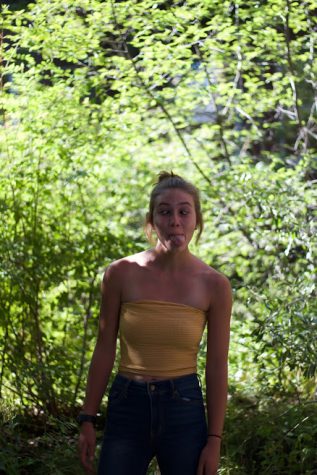 Maggie Vann, Reporter
Hi, I'm Maggie Vann, a junior at Hellgate high school. This is my second year in Lance, and I've enjoyed writing since before I was in middle school....