Whitey Bulger's Unintended Legacy in Film
Hang on for a minute...we're trying to find some more stories you might like.
On Oct 30, Whitey Bulger, Boston's most notorious mob boss, was killed in prison. Bulger, who was 89, led an extremely interesting and controversial life as the leader of the Winter Hill Gang, while being an informant for the FBI. This led to the making of two major films incorporating his persona into their characters. The Departed, winner of Best Picture of the 2007 Oscars, and Black Mass both gave entertaining looks at the Boston gang scene. If you're wondering which movie to watch following Bulger's death, look no further.
Factual Representation of Bulger's Life
This one's easy. The Departed is a remake of a 2002 Hong Kong film, Infernal Affairs, and is fictional. Jack Nicholson's character, Frank Costello, is only loosely based on Whitey Bulger. Black Mass is more of a biography of Bulger in the apex of his time as a mobster. It contains the real life people that interacted with Bulger and follows his life. It also nicely clears up the confusing situation of whether Bulger actually ratted people out to the FBI or not. If you're looking to learn more about Bulger's life and the events that led to his arrest, go with Black Mass.
Edge: Black Mass
Cast
The Departed features one of the most stacked casts of all time with Leonardo Dicaprio, Matt Damon, Jack Nicholson, Mark Wahlberg, Alec Baldwin, and Martin Sheen. Black Mass stars Johnny Depp as Whitey Bulger and Benedict Cumberbatch as his brother William Bulger, accompanied by Dakota Johnson, Joel Edgerton, Jesse Plemons, and Adam Scott. I'll leave this one up to you.
Edge: The Departed
Entertainment Value
With what Black Mass brings to the table in education, it lacks in entertainment. The film has to focus more on actual events that transpired, which takes away from the action and thrills that the Departed has. In contrast (without revealing any spoilers), the Departed has some intense chase sequences, over the top Jack Nicholson scenes (including his infamous movie theater scene), and features Mark Wahlberg making the absolute most of his 10 minutes on screen.
Edge: The Departed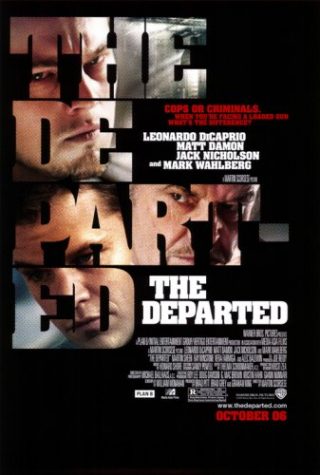 Awards and Critical Reception
Black Mass wasn't nominated for any Oscars or Golden Globes, but earned a solid 6.9 on IMDb and 73% on Rotten Tomatoes. On the other hand, the Departed netted Martin Scorsese his first ever Oscar (after Raging Bull and Goodfellas were robbed of Oscars awards).                Surprisingly, out of all the stars in the movie, it was Mark Wahlberg's performance that garnered a Best Supporting Actor nomination. DiCaprio was basically out for any awards from the Departed, as Warner Bros pushed for him to be nominated for Best Actor for his movie Blood Diamond (which he lost). Nicholson's campaign fell off, as well as Damon's, leaving Wahlberg's outrageous performance as the police sergeant to be the sole individual nomination.
All in all, the Departed won four Oscars (Best Picture, Best Director, Best Adapted Screenplay, and Best Film Editing) against what is known as a weak year competitively for the Oscars. If you're still not convinced, the Departed has the 40th best movie rating of all time from IMDb users with an 8.5.
Edge: The Departed
Quality of Film and Performances
When you've assembled an all-star cast similar to that of the Departed, you can basically go anywhere with the movie and still have it turn out good (or in the Departed's case, at least wildly entertaining). It's clear in some parts in the movie that the actors took over and brought their own ideas into the film, a la Jack Nicholson. In Mark Wahlberg's case, the only reason he took the role was because of the opportunity it gave him to improvise. When Scorsese told him "Dude, you're free to do what you want to do" in a last ditch effort to score Wahlberg, he really took it to heart. Because of this, the Departed is a little weak in the elements that would make a normal movie "good".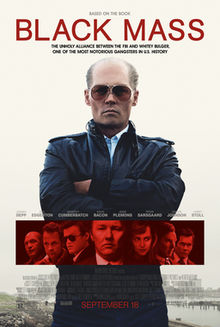 Black Mass, surprisingly, incorporates some interesting elements into its production. Johnny Depp dives fully into his role as Whitey Bulger with his piercing blue menacing eyes. The film centers around him, in a way putting him in a positive light, seemingly making everyone around him have twisted morales. Depp's central belief of putting family above everything else (whether it's blood family or gang family), along with his intense disdain for "rats" (police informants) makes him seem like a twisted sort of hero. The movies makes one look at both sides of the American Dream from this Irish-American family: On one side you have Whitey, leading a dirty, high-rolling, dangerous lifestyle that thrills him. On the other side is William, who has gone through life as an ethical and clean man, president of the Massachusetts Senate. The contrast between the two makes for an enjoyable side-plot, and an interesting twist to their relationship.
Edge: Black Mass
The Verdict
Even though Black Mass features a much better representation of Whitey Bulger, and may even "technically" be a better movie, the choice is still the Departed. By a lot. There's no way a film with that incredible of a cast could take a backseat to a movie that didn't earn any Oscar nominations. You can only truly appreciate the Departed if you choose to embrace the craziness that comes along with it. Don't go into it with the expectations that it will be an emotional, well-made classic. This isn't one of the usal Scorsese films, like Goodfellas, Casino, or Taxi Driver. It doesn't have a deeper rooted message and it's not exactly the type of movie used for film analysis. The Departed is a great representation of what makes each cast member themselves; Matt Damon as the slimy lead with a spot-on Boston accent, Leo making you root for him from the get-go, Jack Nicholson as the antagonist slowly growing more and more insane throughout the movie, and Mark Wahlberg bringing his unmatched passion and intensity to the set. The perfect way to watch this movie is not to look for the holes in it (because believe me, you'll find them), but to ride the rollercoaster of craziness, action, and thrills that is the Departed.
About the Writer
Jason Upton, Sports Editor
Jason is a senior at Hellgate and is editor of the sports section. This is his third year writing for the Lance. He enjoys running cross country and playing...