Taylor Swift | The Eras Tour Makes its Way Across America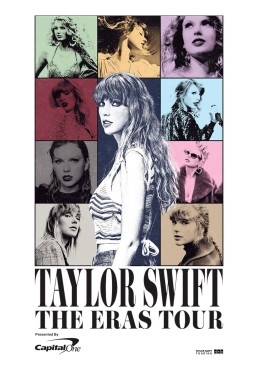 Taylor Swift | The Eras Tour began in March of this year and has since been making its way to many different cities throughout the U.S. She has currently completed 25 of a scheduled 52 shows and traveled through nine cities in the U.S., performing a 44 song set at each one. 
     Each night of her tour, Swift has been performing an extensive setlist that travels all across her discography and through her musical career. She plays songs from nine of her ten studio albums (all except her debut self-titled album have permanent spots on the setlist) to create an enchanting three-hour long experience that has already amazed hundreds of thousands of fans in person and millions more virtually across the globe. 
     Though the setlist has a confirmed 42 songs that are the same each night, Swift has found a way to keep the excitement always buzzing by including two acoustic surprise songs each night. She plays one on the guitar and one on piano. Swift has said that she will not be repeating any of the surprise songs unless she messes up while playing them, or they are from her most recent album 'Midnights' that was released in Oct. of 2022. 
     Along with jam-packed NFL stadiums every night of the tour, Swift has thousands of fans that line up and wait for hours to get merchandise outside of the stadium on the day before and day of her shows. Some of the wait times for these lines have reached up to an estimated 8-9 hours. 
     The Eras Tour is predicted to become one of if not the highest grossing tours of all time. It is expected to gross at least around $600 million in the U.S. alone. With international tour dates still to be announced, it would be no surprise if the tour was able to gross $1 billion by the end surpassing Elton John's record $850 million dollar tour and becoming the highest grossing tour of all time. 
     There's no denying that Swift has been able to become one of the biggest figures in the music industry. Transitioning from a small country artist into one of the biggest pop stars in the world certainly shows that she has undeniable power and will be able to continue to shape the industry for years to come.