Hellgate Art Club Showcases the Juried Art Show: Crackerjacks.
The Missoula Public Library hosted Hellgate Art Club's Juried Art Show, Crackerjacks, featuring Hellgate art students and Hellgate Jazz Band on March 3. From 5 p.m. to 7 p.m., students, parents, and Missoulian spectators gathered on the top floor to see different mediums of art with jazz tunes in the background, along with refreshments being provided. Throughout the performance, guests were asked to vote on their favorite piece, while three judges chose awards.
First place was awarded to Ayu Tanaka, second place to Aralia Bidwell, and third place to Alishon Kelly. The judges, Kay Grissom-Kiely of the Missoula Art Museum, Heather Taylor of Frame of Mind Montana, and Stephen Glueckert, all Missoulian locals chose the winners while those walking the gallery were also able to choose their favorite piece.   
Junior Lily Osborne su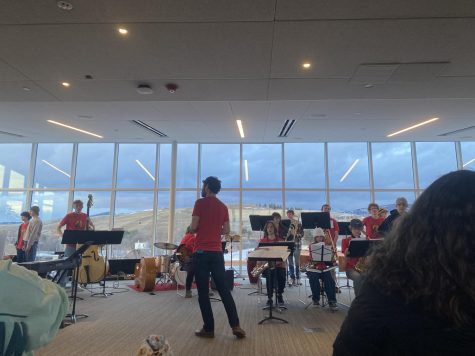 bmitted two pieces into the show, both being prints with a creative spin. "I loved being able to see everyone's pieces in a more gallery setting," said Osborne. "It seemed like everyone had a great time." Osborne's favorite types of media are contextual pieces, like ceramics, which the show features a select case of. 
The Hellgate Jazz Band was another main feature of the event, which was the third major public showing this year with the first year Hellgate conductor, Jesse Dochnal. Featured songs included Ellen Rowe's "Stateline Strut," Stevie Wonder's "Higher Ground," and Bernie Mill's "Bernie's Tune," among others that night. 
Junior Shohei Mori is one of the drummers in Hellgate Jazz Band, who played at the event. "We performed at the retirement homes," said Mori. This has been one of their biggest events this year though. The band played for all two hours, with about a 10-minute intermission, allowing for the building to be flooded by jazz the entire event. Mori's favorite song was Hellgate's rendition of "Sweet Dreams" by Eurythmics, which included vocals from all band members who weren't actively playing the entire song. 
The ensemble also brought in a past member of the Jazz Band, Alex Shields, to play "Groovin Hard" with the other members. Shields acted as a "mentor" to Mori when he first arrived at Hellgate. "It was nostalgic," said Mori of having him back. 
This was one of the first big events for Art Club, coming off of years prior where nothing could be held. The Juried Art show was definitely a success.