"Sweeney Todd" is Frighteningly Fun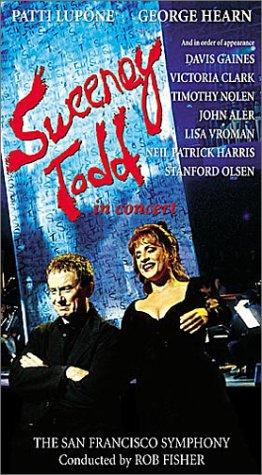 What happens when you take a side character from a circa 1840's Penny Dreadful and adapt him into a full fledged character? You get "Sweeney Todd: The Demon Barber of Fleet Street" by Christopher Bond. What happens when you take that play and give it to the lyricist of "West Side Story?" You get a musical called "Sweeney Todd: The Demon Barber of Fleet Street" by Hugh Wheeler and Stephen Sondheim.  With it almost being October and the time for horror movies and the recent announcement that the now 91 year old Sondheim is developing a new musical set to be premiered in 2022, I believe it's the perfect excuse to look at what many call his "Best musical."
     First premiered in 1979 starring Len Cariou (now of "Blue Bloods") and Angela Lansbury (of "Murder, She Wrote" alongside Cariou), "Sweeney Todd" became a success on Broadway, winning eight of the nine Tony awards it was nominated for at the 33rd Tony awards in 1979. The show was filmed in 1982 starring George Hearn as the titular Demon Barber and was just as successful as the Broadway showing, being released on VHS in 1984.  18 years later, George Hearn would reprise the role.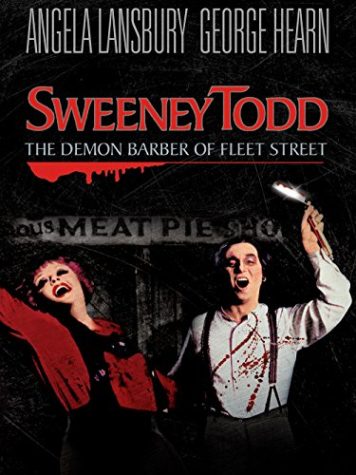 Originally, Bryn Terfel was intended to play the role of Todd opposite Patti Lupone's Mrs. Lovett (of "Law and Order") and Neil Patrick Harris's (of "How I Met Your Mother") Tobias Ragg. Unfortunately, Terfel couldn't because of a back injury and Hearn reprised the role. Terfel would later get to play the part of Todd in a filmed concert in 2014, opposite Emma Thompson as Mrs. Lovett. 
     Directed by Lonny Price (who also directed the 2014 concert with Bryn Terfel), "Sweeney Todd: The Demon Barber of Fleet Street In Concert" opened in May 2000 in New York. The concert was played again in San Francisco in July 2001 and was taped and broadcast by PBS the same year. Fortunately, this concert has been uploaded to YouTube by admittedly questionable channels with even more questionable morals. However, the concert is still incredible to watch.
     It opens with a small montage of the San Francisco Orchestra as they play the Prelude to the musical. They are onstage the whole time, with the orchestra on the bottom part of the stage and a second raised portion that is used. The prelude is cut off with a loud whistle, and the chorus tells us to ¨Attend the tale of Sweeney Todd,¨ letting us know that this is entirely fiction, even breaking the fourth wall by addressing the fact that it is a play and Sweeney will be very upset if you spoil it. The opening number is probably the greatest musical opening ever because of its simplicity. Rather than going on about who everyone is and what they want, this introduction tells you to basically sit down, shut up, and watch.
     Anthony Hope, played by Davis Gaines, sings about how wonderful London is only for Sweeney (Hearn) to shoot him down and describe it as a ¨Hole in the world…filled with people who are filled with sh*t." Todd leaves Anthony, but not before both are accosted by a babbling, homeless woman, played by Victoria Clark. Here, we see how the concert version differs from the 1982 filming. That set consisted of a large cube that would be rotated to show various locations including Mrs. Lovett's shop or her house. The top of the cube was Sweeney's shop. In the concert version, Hearn walks up the far right stairs, walks across the upper stage and down the far left stairs, into Mrs. Lovett's (Lupone) failing and disgusting pie shop. There, after one of the more difficult songs of the soundtrack, a number which Lupone nails, Sweeney learns what he missed in his 15 year long absence. 
     We are retold the story of the barber and his wife and we learn about Benjamin and Lucy Barker. Judge Turpin (Timothy Nolen) wanted Benjamin's wife and shipped Benjamin away to get to Lucy and her daughter, Johanna (Lisa Vroman). While all this is happening, on the raised stage, you see it all play out. In a fit of rage, Sweeney reveals himself to be Benjamin Barker and Mrs. Lovett reveals that after Benjamin was shipped away, Lucy kills herself and Johanna is taken in by the Judge. Sweeney vows vengeance on him and the Beadle. After a brief conversation, we go into one of my favorite songs, "My Friends," the lyrics of which are almost word for word exactly what was written in Bond's 1973 play. Mrs. Lovett reveals how she kept hold of Sweeney's barber shop razors and George Hearn sings the song as a man who has had everything taken from him. In this moment, during this song, Sweeney has nothing but his razors, his only friends in the world. In fact, he is so broken and alone, he doesn't notice when Mrs. Lovett sings alongside him. We are then introduced to Johanna, Sweeney's daughter, who sings her song "Green Finch and Linnet Bird" from the raised part of the stage, a song with not-so-subtle symbolism about cages and freedom. To be honest, it's the one song on the soundtrack I skip when it comes on because it doesn't do much for me. I know that people either love or hate the song, and I fall in the hate category. 
     Anthony just so happens to see Johanna and the two fall in love with one another in a very rushed and not at all explained nor justified way. They just see each other, sing a duet and decide to get married. Back to Sweeney and Lovett, Sweeney has to reassert himself as the best barber and he goes after Adolpho Pierelli, a snake oil salesman who with the aid of Tobias Ragg (Harris), sells his miracle hair growth elixir, which Sweeney quickly proves is made from urine and ink. Sweeney challenges the Italian barber to a contest, and Sweeney defeats him quickly, shaving his volunteer's face in only seconds. The contest, judged by the Beadle, ends in Sweeney convincing the Beadle to visit his shop for a free shave. After another song called "Wait", where Mrs. Lovett tells Sweeney not to get ahead of himself with this whole revenge idea, Pirelli arrives to blackmail Sweeney.
     Pirelli reveals that he is actually Daniel O'Higgins, an Irish man that Sweeney hired back before he was "arrested." Pirelli becomes Sweeney's first onscreen victim. In one of the creepiest songs in the Sondheim canon, we learn how Judge Turpin wants to marry Johanna, the girl he's raised as his own after "adopting" her. She doesn't take it well and a confused Turpin talks to the Beadle, who tells Turpin about Sweeney and how, maybe a shaven face may change Johanna's mind. The song "Ladies In Their Sensitivities" shows what Sondheim does best. With a quartet of characters, Johanna, Anthony, Beadle and Judge Turpin, Sondheim has each character sing their own lyrics in a complicated blend of singing as each person sings simultaneously. It's an incredible piece to listen to and even better to watch, as Turpin and the Beadle move across the raised stage and Johanna and Anthony stay on the lower one. The Judge arrives at Sweeney's parlor for the song "Pretty Women," a duet between two bass voices, and it works so incredibly well. The entire time, you wonder whether Sweeney will get his revenge or not. He almost does, only for Anthony to rush in, revealing to Sweeney and Turpin that Johanna will marry him. Enraged, the Judge leaves and Sweeney snaps. His song "Epiphany" is a chilling song to listen to and is the moment where Sweeney decides that "They all deserve to die." This piece is the best one to compare because in the 1982 filmed version, he was angry, but in this version, George Hearn is much more grounded in reality, making this snap even more terrifying because he has had enough and you genuinely fear him. He once again breaks the fourth wall, running all over the entire space, the raised and lower stages, using his razor to gesture to the audience, shouting, "You sir! How about a shave?" The moment gets one of the longest applauses in the entire concert and is one of the only songs to be sung just by Sweeney. 
     The first act ends in a song laced with dark humor and puns, "A Little Priest." During the song, Mrs. Lovett convinces Sweeney that the best thing they can do is turn Sweeney's victims into delicious meat pies for her bakery. The subject matter is incredibly dark, and yet, the cannibalism based puns are so entertaining that you can't help but laugh a few times at the ridiculousness of it all. Here, the chemistry between Hearn and Lupone is on full display and they play off each other very well, especially during the moment where Mrs. Lovett lists different professions and Sweeney develops a rhyme for them. "Potter/hotter," for example. The moment ends with Lovett saying, "Locksmith?" and Hearn looks very disappointed. The song ends in a classic pose of Todd holding a butcher's knife and Mrs. Lovett holding a rolling pin as they hold both to the sky, as the screen fades to black for the intermission.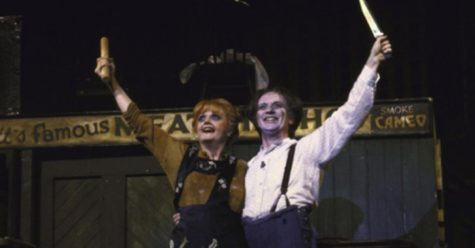 The second act begins with Mrs. Lovett relaunching her business, now complete with human stuffed pies and Tobias, who she hired after Pirelli died. The number "God That's Good" is again a Sondheim masterpiece as he writes all these complicated individual lyrics to be sung over the top of everyone else at the same time. While the shop is on the lower stage, Sweeney stays above everyone, and broods over his new body-dumping chair, which is just a stool. In the original production, the chair did indeed fold back and dump the actors down a slide into the backstage area. "Johanna Quartet" is a brilliant piece where we see Sweeney make good on his promise as he indiscriminately slits the throats of his patrons and he accepts he may never see Johanna again. At the same time, Anthony reprises the song he sang about her earlier, the Beggar woman from earlier sings about how evil Mrs. Lovett truly is, and Johanna herself sings again about cages and freedom. Mrs. Lovett and Sweeney share a moment where Lupone again nails a very difficult song, "By the Sea." The song is basically Mrs. Lovett fantasizing about a life with Sweeney and was so difficult that Angela Lansbury, the original Mrs. Lovett, confronted Sondheim about how little room he gave her to breath. Anthony returns right after the song.
     Anthony has found Johanna locked in a madhouse and Sweeney makes a plan to save her, by turning Anthony into a wigmaker. After sending Anthony away, Sweeney writes to Judge Turpin to get him to come back to the parlor. Mrs. Lovett shares a moment with Tobias who is the most innocent in the whole show. During his song, "Not While I'm Around," he tells Mrs. Lovett how he will always protect her and figures out what happened to Pirelli. In response, Lovett locks him in the cellar, right as the Beadle visits. To distract the Beadle, Sweeney convinces him to get that free shave he was promised, and Sweeney promptly dispatches the Beadle. The chorus plays the maniacs in the madhouse as Anthony rescues Johanna. In a moment of power for her, Johanna shoots the creepy madhouse keeper. Anthony disguises her and they both return to find Sweeney missing, as he and Mrs. Lovett are looking for Tobias to silence him. Sweeney returns in preparation for Turpin, only to find that Beggar woman in the middle of the barbershop, repeating the same gestures we saw earlier as Mrs. Lovett told Sweeney what happened to Lucy. Sweeney quickly kills her and reprises "Pretty Women" with the Judge. He reveals himself to be Benjamin Barker and exacts his revenge, a moment that is very cathartic to see in all versions of this musical. As he leaves, the disguised Johanna reveals herself and Sweeney in a fit of rage, almost kills her next. She escapes when Mrs. Lovett screams from the cellar.
     The Judge, having survived the encounter, grabs onto Mrs. Lovett's skirt and then succumbs to his wounds. Here, we see Mrs. Lovett panic at the presence of the Beggar woman and Sweeney gets his first good look at her. The woman was Lucy Barker, his wife, who survived her suicide attempt and went insane as a result. After realizing how she lied to him, Sweeney throws Mrs. Lovett into the oven, and holds his wife. Tobias reemerges from the shadows with one of Sweeney's razors and ends the Demon Barber's life. The chorus comes back and tells us to "Attend the Tale of Sweeney Todd," taking us back into the real world. They also explain how Sweeny Todd could be someone you know and "lives in the parlor hall" or "lives on the office wall." They break the fourth wall one last time, asking, "Isn't that Sweeney there beside you," and they point everywhere in the audience, shouting "There! There! There!". The main message of the play is spelled out for you in the song, "To seek revenge may lead to hell, but everyone does it though seldom as well." Basically, vengeance is bad, but boy, is it satisfying. 
     Clearly, I enjoyed the show and seeing it as a concert offered a whole new experience compared to the 1982 filmed show. This felt different and unique in its approach to the play and made it all work. There are just a few songs like "Green Finch and Linnet Bird" or "Wait," that just aren't for me, but everything else about it is so good, I ignore the fact that I don't like those songs. "Sweeney Todd: The Demon Barber of Fleet Street In Concert" is well worth the almost three hours you will spend on Youtube watching it all.