Mask Fashion at Hellgate
     In the beginning of the COVID-19 pandemic, everyone wore the classic blue medical masks because we didn't think this whole coronavirus thing would last long. Now that we know COVID will be here awhile, it seems everyone has different personalized masks to keep things fun. You can see the different styles as you walk the halls of Hellgate.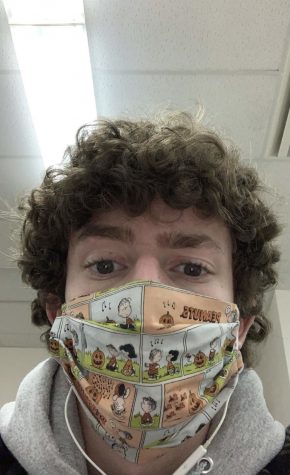 Junior Darian Davalos rocks his Peanuts mask often. Davalos' mask was a gift from a friend and is one of his favorites.
     Elena Vesovich, a junior at Hellgate, said, "I have like 15 or more masks. I wear different styles because if you have to wear them, might as well make it fun! I have nothing against the blue medical ones, but masks are basically like a clothing article now." One of Vesovich's favorite masks to wear is her blue striped one.
     You can buy masks at several different locations in Missoula. JL and KO, located next to Mary's Mountain Cookies on Higgins, sells adjustable cotton masks. These masks have different patterns on them, along with plain colors. Take your pick! Cloth and Crown downtown sells masks as well. They sell an arrangement of cotton masks, including pleated styles. They have several different colors to choose from. Athleta, located at the Southgate Mall, sells many different masks. They have options for masks ranging from $5 to $30. These masks consist of many different colors and patterns, some of which are pleated. All of Athleta's masks are adjustable.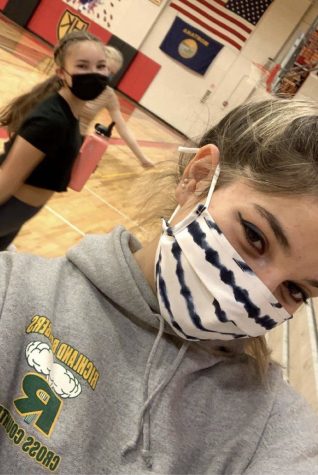 If you are looking to really personalize your mask, get crafty and attempt to make your own! You can look up how to make masks on YouTube. There are many easy to follow tutorials online. Find some DIY ideas online, get some fabric, and get to work. You can find different styles of masks and different fabrics to make your ideal mask design. There isn't a need to go out and buy a mask when you can make one yourself!
     Face masks help reduce the spread of COVID-19, and even though they are not the most fun thing to wear, you can still spice it up a bit. You can wear fun patterns or choose different colors for your mask style. Whether your mask is handmade or bought, make sure to bring your favorite mask to wear wherever you go to stay stylish and safe during the pandemic.