For High Schools, Returning to 5-Day School Weeks During COVID-19 is a Mistake
     Recently, Missoula County Public Schools determined students will be returning to 5-day school weeks after spring break. The first 5-day school week will be from Mar. 29 to Apr. 3. At least at the high school level, this is a mistake. At this time, the negative effects of returning to a 5-day school week heavily outweigh the positives. Sending kids back to school on Mondays poses a multifaceted threat to Missoula teachers, students, and staff.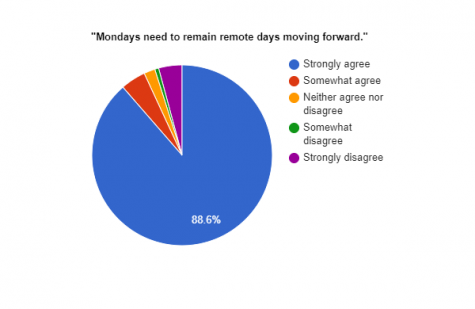 First, teachers use Mondays to prepare for an entirely new teaching system. At the moment, at least Hellgate High School and Sentinel High School have an altered 3-period schedule. In this new schedule, students attend one 90-minute period before lunch, and two 90-minute periods after lunch, with a 5-minute break in the middle. This is a totally new schedule for teachers, and they have had to adapt. The idea behind decreasing the number of classes each day is that doing so will decrease student and teacher exposure by limiting the number of peers they interact with. 
     Considering the fact that teachers are used to teaching classes half this long, they need Mondays to prepare. Keeping a single student engaged on one topic for 90 minutes, let alone a classroom full, seems like an insurmountable task. It is important for the district to allow teachers Mondays to prepare. In a poll sent out by Missoula's teacher union, over 66% of respondents reported that they use Mondays to do each of the following: "Prepare lessons for the coming week," "Communicate with students and/or parents," "Grade and assess student work," "Meet with my PLC/Team/Department," "Attend building staff meetings," and "Prepare work for absent students."
     Taking this crucial preparation time away will put teachers under a significant amount of extra stress, and will put the student population's education at risk. If teachers are not given ample preparation time, they may not be able to keep up with these additional work requirements and their students' education may be worse off for it. This is not meant as an insult to teachers, only to say that during such an abnormal time, it is important to allow people a bit more time to deal with new circumstances.
     Second, students need Mondays, and have grown used to having them remote. Students across the district use Mondays to catch up on schoolwork, get ready for the week ahead, meet with teachers, and work. Remote Mondays have allowed students to stay flexible, and taking that away makes it harder for students to adapt to the atypical and frequently changing circumstances that the community is dealing with. 
     As it stands, students may use Mondays as they see fit. This has been a crucial element of Missoula's education schedule during the COVID-19 pandemic. It has allowed students to maintain or even improve their mental health, get help with schoolwork when they need it, and become a part of the workforce. By reinstating in-person classes on Mondays, the district will make it more difficult for students to navigate a totally different social and educational landscape, one full of close contact quarantines and Zoom meetings. 
     It's also worth noting that students don't just oppose the move to 5-day school weeks because they're 'lazy.' In a recent student poll which received 936 responses from Missoula high schoolers, students highlighted how they used their Mondays. The responses overwhelmingly proved that students use the day to be productive in ways that provide both individual and communal benefits. 
     Overwhelmingly, students use Mondays to do homework. 376 of the written responses included  "homework", 22 included "schoolwork", 16 included "missing work", 11 included "remote work", and 7 included "late work". Therefore, roughly 432 students use Mondays to do homework. This equates to roughly 46% of the poll's population. Additionally, it's worth noting that not every student submitted a written response, meaning this statistic may be lower than the actual percentage of students who use Mondays to do homework. Students are using Mondays to catch up or stay ahead, and taking that time away from them while simultaneously increasing the workload will make it harder for them to perform educationally.
     Additionally, 341 respondents said that they use Mondays to work. This was found by using keyword search for any mentions of "work", then subtracting any school-related uses of the term, then adding any mentions of "job". This statistic equates to roughly 36.43% of respondents polled, though this may also be lower than the actual percentage of students who use Mondays for work. How will those 341 respondents be affected by a loss of income? What about their families?
     Moving on to mental health, 120 respondents said they use Mondays for "mental health", 26 said they use Mondays to "prepare", 22 said they use Mondays to "rest", and 20 said they use Mondays to "relax." This adds up to 188 respondents who use it for some form of mental health preservation, or roughly 20%. Again, this may be lower than the actual percentage of students who use Mondays for mental health, as not everyone submitted written responses.
     Considering the toll that the COVID-19 pandemic has taken on the mental health of society as a whole, it is understandable that students require more time to recuperate. Four days a week, students walk overcrowded hallways, eat in maskless cafeterias, and risk exposure to a virus that could cause them or their families serious harm or death. Maintaining Mondays as a day to recuperate from the stress of attending school is necessary. 
     Third, staff need Mondays to stay remote to keep us safe. Since the move to 4-day school weeks, it has become increasingly difficult to maintain social distancing in classrooms. Some core classes like English have been especially affected by this because every student in the building must take them. Some classrooms have upwards of 25 students at a time, which makes it impossible to safely social distance. Along with this, the 3-period schedule means teachers have just 5 minutes to clean their classroom and wipe down desks between periods 2 and 3.
     Having Mondays has allowed staff to keep up with contact tracing and further implement safety measures. Nurses are using Mondays to trace exposures and active cases. By moving kids back into classrooms on that fifth day, we increase exposure and make it harder for nurses to do their jobs. Furthermore, staff no longer have a day to deep clean the school. The lack of social distancing during in-class days makes maintaining these safety measures necessary.
     By moving back to 5-day school weeks and taking away crucial infrastructure, the district is putting the community at risk. Not only this, they are making it harder for individual participants in the educational system to perform their respective duties. They do so without holding their Board of Trustees meetings in-person, and – according to a source close to the Board – without even going into high school classrooms and analyzing how difficult conditions may be. 
     Taking preparation and prevention time away from teachers and staff will put student education and safety at risk, and the district should take that into consideration. With more exposure, more close contact cases are inevitable. This will lead to more quarantines, which means more work for teachers and a more difficult education for students.
     Fourth, student and teacher concerns have not been heard. This is clear both anecdotally and statistically. For example, anecdotally, when Board of Trustees member Koan Mercer stated, "I do believe we're asking teachers to go into harm's way, but I think it's worth it."  As one upset MCPS teacher put it, "Mr. Mercer is not a teacher. Is it worth it to those teachers? Clarify why it's worth it to put teacher's in harm's way. Is it worth it if a teacher gets [COVID-19] and has long lasting health issues or possible death? Are you willing to pay for those medical bills? Mr. Mercer can say this about himself but he has no right to say this about another human life." According to that same source, neither the Board of Trustees nor Mercer himself have apologized for his comment. 
     Overwhelmingly, teachers do not believe it is "worth it." In the Missoula teacher union survey mentioned earlier, 81.4% of teachers stated that they support keeping Mondays remote. In addition, the student survey found that 93.0% of respondents want to keep Mondays remote. It also found that 97.4% agree with the statement that, "Having Mondays off helps me balance mental health and education during the pandemic." The district ought to represent the interests of its teachers and students while also ensuring that student education and safety is maintained.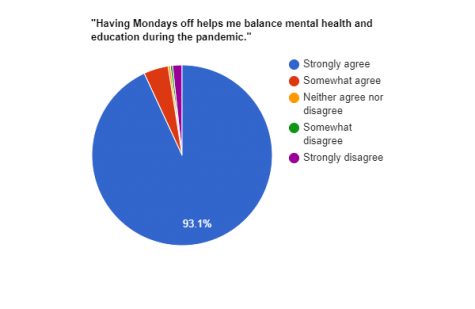 The school board does not go out of their way to hear student voice. The district never sent out a survey to students asking what they thought of the move to 5-day school weeks, and the student members of the Board of Trustees are only appointed to report on their schools, not vote.
     Finally, some of the supposed benefits of returning to school 5 days a week are already occurring under the current 4-day school week system. For instance, students in need of lunches can get them at every school in the district, even on remote days. Going further, lunches are available to MCPS Online Academy students, private/homeschool students, any youth under 18, and anyone who is picking a lunch up on behalf of a student. 
     Students already have access to other services on Mondays, including technology and assistance from teachers. The library is open to students on Mondays, which grants them access to computers and printers, along with a safe space for them to go if they are not comfortable at home.
     As stated earlier, more than 66% of teachers expressed that they "Communicate with students and/or parents" on Mondays. Not only this, many teachers offer office hours which grant students the opportunity to get one-on-one help when they're struggling with their education. Some teachers hold these online, while others hold them in the classroom. These optional educational opportunities have allowed students extra practice or help, without mandating that they attend.
     Teachers and students forcefully oppose the move, but the district has decided to return to 5-day school weeks anyway.  Moreover, as the state government devalues teacher lives by moving them down the vaccination priority list, it becomes the local government's obligation to keep them safe. Increasing their exposure by returning to 5-day school weeks does the exact opposite. Until current conditions change and it becomes safer to do so, sending Missoula high schoolers back to school 5 days a week is a mistake.