The 17 Tracks On Taylor Swift's New Album, 'evermore', Ranked
     For Taylor Swift, 2020 was the year of surprise albums.  She dropped two only five months apart. On Dec. 11, Swift released 'evermore', a sister album to the widely successful and Grammy nominated 'folklore'. Both albums opened at #1 on the Billboard 200 Albums Chart, and both dominated the Top 100 as each song on the album debuted somewhere between #1 and #82. This was a particularly remarkable feat for 'evermore', with intense competition from Christmas songs. 
     With 'evermore', Swift further explores the world of indie folk-pop and the alternative genre. Collaborators on the album include The National's Aaron Dessner, Justin Vernon of Bon Iver, and longtime producer Jack Antonoff. Swift co-wrote a couple songs with her boyfriend of four years, Joe Alwyn, under the alias William Bowery. Several songs feature guest vocals from HAIM, The National, and Bon Iver. 
     In the midst of quarantine, Swift has found what works, writing about stories from her imagination rather than relying on songs as diary entries. These two cohesive albums dropped to widespread critical acclaim. After 'folklore''s 5 Grammy nominations, the future looks bright for 'evermore'. 
     Each song on this album has its own merit and the album as a whole is very well put together. Of particular note are the lyrics, because as Swift has shied away from conventional pop, she has delved deeper into her talent as a songwriter. The stripped down production of the songs reflect how she spent a year without touring, awards shows, and public interaction. When you take away much of what makes pop music pop, Swift's vocal talent and lyricism is able to shine bright.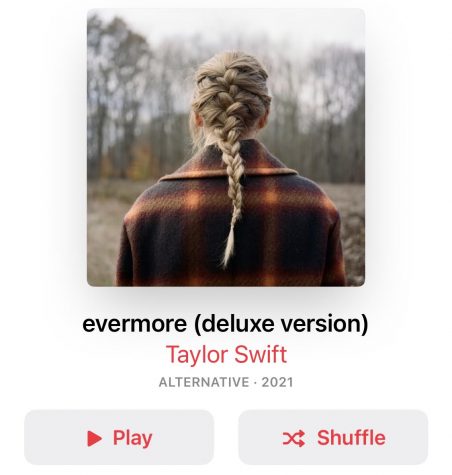 There are 15 songs on the standard version of 'evermore', with two bonus tracks "right where you left me" and "it's time to go" included on deluxe editions. From worst to best, I ranked the 17 tracks on the album and awarded each a special distinction based on where I think it succeeds. 
17) cowboy like me
[best plot that should become a movie]
     There's nothing really wrong with this song: a slowed down folk song telling the tale of two con artists who fell in love. Swift's imagination takes over with her signature storytelling style, and the harmonies in the chorus flow nicely with the percussion. The guitar riff is a fun callback to Swift's first country hit. It's just too forgettable and a little slow for my tastes. When this song is playing, you groove with its smooth rhythm, but as soon as it's over you can't remember anything about it. When a song as good as "cowboy like me" is my least favorite track, you know it's a strong album. 
Best lyric: "Now you hang from my lips like the Garden of Babylon, with your boots beneath my bed, forever is the sweetest con."
16) closure
[best experimental sound]
     'Closure' may have the strangest intro of any Swift song, but it plays into the overall chaos of the track. The clanging noisy background beat contrasts gentle piano notes, and the sad lyrics contrast the song's upbeat ton. The experimental production continues with synthesized vocals by Vernon, and an unusual 5/4 time signature. This emphasizes the message of the song, conveying the mixed emotions when an ex reaches out. Swift also pokes fun at the fact that she usually dates British men by imitating an accent in the chorus. It's an interesting experiment for Swift, but if experimental production isn't your thing this song probably isn't for you. 
Best lyric: "Guilty, guilty, reaching out across the sea that you put between you and me."
15) coney island (feat. The National)
[best for nostalgic reminiscing]
     Another slow song, Swift collaborated with Dessner's band The National for this one. It would probably be ranked higher if lead singer Matt Berninger's and Swift's voices matched better, but the different vibes are a little off putting. That said, this song is a beautiful apology to someone who you didn't "make your centerfold." This song ponders your past and represents Swift coming to the realization that when relationships end, both sides are to blame. The instrumental sounds familiar and comforting, and stylistic choices like repeating "when the sun goes down" at the end of the song serves as a perfect metaphor for the song. At a length of 4:37, "coney island" definitely drags on, but it's a very pretty song so I'll give it a pass. 
Best lyric: "And do you miss the rogue who coaxed you into paradise and left you there?"
14) tis the damn season
[best home for the holidays anthem]
     This is a sad twist on a Christmas song, perfect for cold nights. Swift's voice sounds apprehensive as she sings about returning to your hometown and hooking up with an old fling just for the weekend. The song opens with an electric guitar playing a gentle beat, and Swift's voice sounds sad from the first note. There's a really steady beat in the chorus and it gets faster and faster as it approaches the bridge. I appreciate this song for the literal approach, coming off as a direct rant from the narrator to the subject of the song, especially as she tells them to "hear me out… write this down". "Tis the damn season" is a solid song, but it's slow and doesn't really stand out from the rest of the album. 
Best lyric: "Time flies, messy as the mud on your truck tires, now I'm missing your smile, hear me out we could just ride around."
13) right where you left me
[best old taylor country song]
     One of the two deluxe songs, "right where you left me" sounds like it could be one of Swift's songs from years ago. While the lyrics and beat feel ripped out of 2008, you can hear that her voice has grown over the years. This song is told from multiple perspectives, a trick Swift used a couple times in both 'folklore' and 'evermore'. She sings about feeling stuck after a breakup while observers describe a girl frozen in time. The chorus is repetitive but the way Swift sings the same lyrics over and over is addicting. The song just feels slightly empty as the lyrics don't carry enough emotion to make this track pack a punch.
Best lyric: "I'm still at the restaurant, still sitting in a corner I haunt, cross legged in the dim light, they say 'What a sad sight'."
12) dorothea
[best song to dance to]
     Oh Dorothea! This song goes hand in hand with "tis the damn season", but told by the other person. Swift takes another turn singing from a new perspective, this time from the point of view of a small town boy missing his high school love who went off to Los Angeles to be famous. This song is a great example of Swift's classic style of songwriting as she paints a vivid picture with the lyrics. She brings back her country accent in a subtle way to fit the vibe, and the country-esque beat makes this one of the better songs to dance to. This is a nice addition to 'evermore', but on its own 'dorothea' isn't overly memorable or special. 
Best lyric: "Do you ever stop and think about me? When it was calmer, skipping the prom just to piss off your mom and her pageant schemes."
11) happiness
[best lyrics]
     The longest song on 'evermore' with a runtime of 5:17, "happiness" both feels like it drags on forever and is over in the blink of an eye. It's a very beautiful song and Swift uses the slow melody to her advantage, emphasizing certain words and showcasing her vocal talent. Contrary to what you might guess from the title, it's a sad song about coming to terms with something painful and leaving it behind. There can be happiness both because of someone and after they're gone. The piano adds a dramatic flair, and the long reflective intro and quick outro contributes to the message of the song. The lyrics on "happiness" are also some of the most eloquent of the album. If Swift just cut out a verse and a chorus or two it would allow you to still feel this song without growing tired of it by the end. 
Best lyric: "Across our great divide, there is a glorious sunrise, dappled with the flickers of light from the dress I wore at midnight, leave it all behind."
10) it's time to go
[best for feeling all the feels]
     Oh man, this song just makes you think about all the things you haven't thought about in a while. Swift's voice shines here, and even the shaky moments where she hesitates to take a breath add to the message of the song. This track tells her stories – from friends she's lost, her parents' issues, and public battles with record labels – and ties all of it together with the message of "sometimes to run is the brave thing." One of the hallmarks of her songwriting is how her songs are widely relatable yet personal. The chorus is a little repetitive but the way she sings it makes it feel new. Both of the bonus tracks on 'evermore' are sad, and as the final track, 'it's time to go' concludes the album on a somber but hopeful note. 
Best lyric: "That old familiar body ache, the snaps from the same little breaks in your soul, you know when it's time to go"
9) willow
[best love song]
     As the lead single from 'evermore', "willow" was responsible for setting expectations and it soared, debuting at #1 while the music video – a cross between cottagecore and witch rituals – has almost 50 million views. Some of the lyrics don't make much sense, but it's definitely just meant to be a fun love song. It's a good one to sing or dance along to and one of the only songs on the album that follows the traditional structure of a pop song. Swift's voice sounds really smooth and confident on this track, and she lingers on the "ah" sound in "follow" and "hollow" to keep things interesting. The slow melodic instrumentation makes the song catchy. This is a solid track and homage to falling in love. 
Best lyric: "Wait for the signal and I'll meet you after dark. Show me the places where the others gave you scars." 
8) no body no crime (feat. HAIM)
[best potential music video]
     Inspired by a mix of old noir films, true crime documentaries, and a longstanding tradition of female revenge songs in country music, "no body no crime" is Swift's first murder mystery track. The storytelling adds to the drama, and once again Swift sings from multiple perspectives: the best friend, the mistress, the police. She name drops Este of the girl group HAIM, who are featured on this song. My main issue here is that HAIM pretty much just serves as background vocalists and they are never truly featured. The bridge of this song might just be the best part, and it's an unexpected treat to see Swift release a classic country style track.
Best lyric: "Good thing, my daddy made me get a boating license when I was fifteen, and I've cleaned enough houses to know how to cover up a scene."
7) evermore (feat. Bon Iver)
[best collaboration]
     Everything about this song feels familiar. It's her second duet with Bon Iver, after "exile" from folklore. I feel like I've heard the intro before, and the song utilizes lots of classic Swift staples that work well here: dramatic piano music, low verses, and high notes. Bon Iver uses his high register for this song, and he comes in really suddenly but the way his voice meshes with Swift's makes this song really powerful. It's definitely one of the more emotional tracks as it deals with mental illness and depression, but the strength of the lyrics carries you through. Everything from the unique pronunciation of words like "peculiar" to the way Swift sings "unmoored" makes it difficult for you to stop thinking about this track. 
Best lyric: "I rewind the tape, but all it does is pause, on the very moment all was lost."
6) long story short
[best karaoke challenge]
     This song may be about forgetting the bad times of the past when you find happiness and love, but it's also the quintessential "leaving 2020 behind" anthem. This song has a lot of great lyrics but they fly by so quickly in the chorus that it's hard to even sing the song without practicing. This is definitely one of the poppiest songs on the album, and once again the mix of instruments – violin, trumpet, electric guitar, and percussion – creates a catchy song that's great for just feeling the music. The rhythm makes this a strong contender for a popular dance song and Swift's voice is layered to really capture listeners. The production elevates this track to another level.
Best lyric: "When I dropped my sword, I threw it in the bushes and knocked on your door. And we live in peace, but if someone comes at us, this time, I'm ready."
5) tolerate it
[best sad song]
     If there's one thing Swift excels at, it's writing sad songs. The story of a relationship with an unbalanced power dynamic, "tolerate it" is next level sad and the instrumentation shows it. It's also the fifth track, which is notoriously the slot saved for the saddest song.  I appreciate how this song begins quietly and sounds subdued as she reflects on how messed up the relationship is. The vocals get more raw and loud as she sings, "Believe me, I could do it," as the narrator attempts to convince herself that she can leave. Now that we're in the top five, these songs are all so close that it's hard to rank them, but "tolerate it" is practically perfect.
Best lyric: "I made you my temple, my mural, my sky, now I'm begging for footnotes in the story of your life. Drawing hearts in the byline, always taking up too much space, you assume I'm fine but what would you do if I…"
4) marjorie
[best quotable lyrics]
     This song is the perfect combination of inspiration and pulling at your heartstrings sadness. A tribute to her grandmother Marjorie Finlay, who died in 2003, Swift once again uses the thirteenth track – her lucky number – to memorialize a grandparent. Clearly a theme in 'evermore' involves Swift using her voice to purposefully emphasize important words and lyrics, which she does again here in addition to hitting many high notes in this song. Marjorie was an opera singer, and her voice is also sampled. The lyrics recite lessons from Marjorie like "Never be so polite you forget your power" and recall moments spent together. The verses definitely outshine the repetitive chorus but the whole song is powerfully emotional. It's a must-listen. 
Best lyric: "I should have asked you questions, I should have asked you how to be, asked you to write it down for me. Should've kept every grocery store receipt, because every scrap of you would be taken from me." 
3) ivy
[best lyrics for analysis by an english teacher]
     To fully understand "ivy", you probably need a dictionary. The lyrics are really descriptive and use countless metaphors and similes to paint a picture of a woman falling in love and beginning an affair with someone whose roots dug into her dreamland. Beyond the lyrics, the varied use of instruments – from a trombone to a triangle – create a vivid world of sound you can't help but fall into. The chorus is another fun one to sing along with, saying "Oh, goddamn, my pain fits in the palm of your freezing hand." Swift's voice is perfect for this song and it sounds made for her. Each verse just has such different lyrics and each chorus sounds slightly different so that the whole song feels like a journey.
Best lyric: "In a faith-forgotten land, in from the snow, your touch brought forth an incandescent glow, tarnished but so grand."
2) gold rush
[best potential single]
     The only track on 'evermore' that was produced solely by Antonoff, who has worked with Swift on her past five albums, "gold rush" is pure Taylor Swift. When people think of Swift, this is what they picture and yet it's also new and fresh. The song opens with synthesized vocals that sound really gentle and then after she sings, "I almost jump in", it switches to Swift's natural voice. The metaphors in this song add new meaning, from "it fades into the grey of my day old tea" to "your hair falling into place like dominos." This song excels in every way, and I only wish it was longer than 3:01. Steady beat, twinkling high vocals, and casual expletives… what more could you want? 
Best lyric: "I don't like slow motion, double vision in rose blush. I don't like that falling feels like flying 'til the bone crush."
1) champagne problems
[best bridge]
     Finally, we've reached not just the best song on 'evermore', but what I honestly think could be the best song Swift has ever released. This is it. The piano notes in the intro replicate the outro to "New Year's Day", one of the happiest Swift songs about loving the person who cleans up with you after the party. Contrastingly, "champagne problems" is one of the saddest, where the party never even happened. It's remarkable how such a rare situation – turning down a proposal from your college sweetheart right before the holidays – can evoke such intense emotion from so many listeners, and it is a true testament to the power of Swift's writing. The echo of background vocals and the way Swift whispers certain lines and belts others builds the scene. The production, lyrics, and vocals all come together in unison in the best way possible.  Swift describes borrowing a jacket as "November flush and your flannel cure," and breaking a heart as "your heart was glass, I dropped it." Without question, the best part of this song is the bridge. It makes you want to sing along at the top of your lungs and cry simultaneously. If 'evermore' was a home run, "champagne problems" is a grand slam. 
Best lyric: "One for the money, two for the show, I never was ready so I watch you go. Sometimes you just don't know the answer 'til someone's on their knees and asks you."
About the Contributor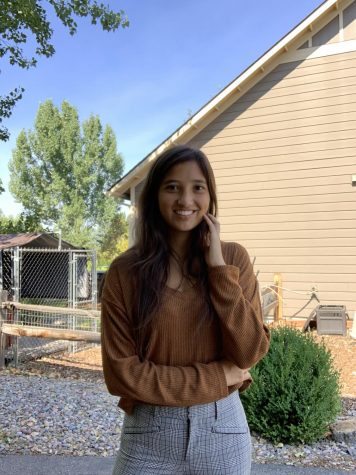 Ali Caudle, Co-Editor
Just a girl who fell in love with journalism and never looked back. This is my second year with the Lance, and I also play soccer and swim for Hellgate....