School During COVID-19 Debunked By Students
     As fall came blazing into relevance and summer came to an end, teachers, board members, and parents faced the decision of the year. Would students attend school face-to-face, or retreat to online school like the end of the previous year? A hybrid schedule was born and the MCPS Online Academy emerged as a result of this mind boggling question.
     Since the end of August when students began attending school in person, there was a different approach to learning due to the pandemic spreading like the California wildfires. The hybrid schedule is composed of 'A' and 'B' days. Students with last names starting with letters A-K attend school Tuesdays and Wednesdays, making 'A' days, and students with last names starting with letters L-Z attend Thursdays and Fridays, making 'B' days. In place of a 7-period day, MCPS adopted a 2-period day with each period taking two hours.
     Sophia Pierce is a senior at Hellgate High School who made the decision to attend school in person and take on the hybrid schedule. Pierce decided to attend school in person because it was, "important to my family and me that I go in person." This is the case for the majority of students because it is easier for them to learn in person rather than interact online.
     Camille Sherrill, a sophomore at Hellgate, also made the decision to attend school in person. "My parents thought that I would learn more in person rather than online," Sherrill said.
     The 2-period block schedule is also a controversial topic because, for some students, it is nice to focus on two classes more intensely, but for other students, sitting for two hours in a class makes it too hard to focus. Pierce enjoys the block schedule because it allows for her to focus on two classes more intensely. However, she said, "I think it would work better if we did classes once a week and just had certain classes on certain days."
     Sherrill thinks it's harder for her to learn focusing on one period two hours at a time. "I think it's very hard to focus for that long, and I feel like I don't learn very much. I start to day dream and not be able to pay attention to my work,"   she said.
     Some students have also made the decision to learn remotely and attend the MCPS Online Academy or MOA. The MOA is a completely online K-12 school which supports students and teachers who aren't able to return to face-to-face learning because of COVID-19. All of the MCPS Online Academy staff includes MCPS educators. MOA block days are separated by Green and White days. Green days include periods 1-3 and White days include periods 4-6. Green and White days rotate from being on Tuesdays and Thursdays to Mondays, Wednesdays and Fridays.
     Joey Leary is a junior at Hellgate High School who is participating in the MCPS Online Academy. "I made the decision to do online school to stay safe and prevent any sort of unnecessary contact of COVID-19, especially since teenagers aren't fully aware of how bad it can get," explained Leary. He has been enjoying online school because, "I can learn at my own pace and on my own time, anywhere I want." Leary also enjoys online school because he is able to do it with his girlfriend Phoenix Marshall, who is a sophomore at Hellgate High School.
     Marshall thinks doing online school is safer because she's socially distanced from her peers. She also enjoys developing her own schedule because it is more stress free and convenient. Marshall finds it easier to connect with her teachers because there's no face-to-face interaction, which makes it less intimidating. However, she hopes to go back next year because, "It can be stressful if your internet goes out, and sometimes I feel as if I'm missing out and not getting to do as many things as the kids who do in person school."
     One of the most common themes of frustration from doing online school was that they weren't able to take IB classes. Raia Chase planned on doing the full IB Diploma, but when she signed up for her classes they only offered AP classes. Leary also had the same issue but was happy to be able to supplement them with AP classes.
     Chase also said that connecting with teachers can be harder. "It really depends on the teachers. Some teachers will have you in virtual meetings for the entire period where you can just pop in and ask a question, and some you do a check in and end up having to email them. Overall it is much harder because our teachers are getting well over 200 emails a day," Chase explained.
     In the end, each and every student has their own way of learning, and for some, participating in school face-to-face is the only way for them to learn new information, and for others doing online school is the only option because of underlying health conditions. However, all students are adapting and trying their best to learn during the time of a pandemic.
About the Writer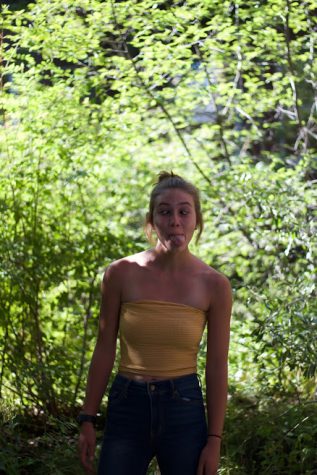 Maggie Vann, Reporter
Hi, I'm Maggie Vann, a junior at Hellgate high school. This is my second year in Lance, and I've enjoyed writing since before I was in middle school....