Kahlil Blu Shows His Producing Prowess on 'DOG'
     On June 19, Kahlil Blu released his second album, 'DOG.' With this album, Blu excels in many different areas of the rap genre. Based out of Harlem, the musician produced all of his own beats for this album, as he has produced for other alternative rappers like Medhane, $ilkMoney, and MAVI. Known as a sort of renaissance man, in the same vein as Donald Glover and Zack Fox, Blu also creates the art for all of his music and runs an internet clothing store. 'DOG' is eclectic, with each song sounding very different from the last. Throughout the album, Blu's cadence, style, and production quality varies greatly.
     Kicking off the album is "bark !," a simple, lighthearted eight second skit which mixes a rough sounding voiceover with electronic descending synths. After this intro comes "coldsweats," which makes good use of a driving bass and descending and warbling synth to pull listeners in. The beat is strong but sometimes overpowers the lyrics, which are heavy on references to Kanye West and cars. On "coldsweats," Blu isn't afraid to emphasize his ego in lines like "I'm better than all of you ****** that rap," which works well in correlation with his repetitive Kanye West references throughout the song, especially considering the similarities between their rise to stardom. Despite a difference in popularity and musical style, the two were both producers for other artists in their genre before pursuing rap careers on their own. Layered over the sound of people talking, Blu's emphatic chants of "I got cold sweats, I got cold sweats, I need more checks, I need more checks" feel distant and lively.
     Moving on from "coldsweats," "runway talk"  uses similar musical elements in different ways. In both songs, the chorus feels like a chant, though in "runway talk" it feels much more relaxed. "Coldsweats" feels like Blu is speeding down the highway in a nice car, whereas "runway talk" is much more laid back, as if the rapper is cruising through town with his friends. This works well with the song's lyrics and with its feature artist, MAVI, whose slow, lofi verse lacks focus despite strong lines such as "Spent a few of my recent winters with women with needy feelings."
    One of the album's overall highlights, "Brand New" is a triumphant song about personal growth and change. It uses guitar plucks in unison with vocals, creating a nice diversity of sounds. On this track, Blu sounds similar to late rapper XXXTENTACION in the second verse, referencing his signature adlib throughout. Along with this, adlibs similar to those of Westside Gunn are present near the end of the song.
     The next song, "U.F.O," has one of my favorite beats and hooks so far off of the album, but similar to other songs like "october,"  lacks lyrical prowess. This became a common occurrence on 'DOG,' likely due to Blu's history as a producer rather than a rapper. Though he has put out full albums in the past, his lyrics need work if he wants to make it to the next level. 
     Another result of his lack of lyrical experience is his use of other rappers' styles. Even though he does this well, it's still being used as a crutch and is most prevalent on "119 july"  and  "franklin." These are a couple of my favorites off the album, though I look forward to hearing his unbridled personal style come through in later works.
     Moving on, Blu speeds up a sample used by Earl Sweatshirt on "The Mint" off of his 2018 album 'Some Rap Songs' on "Oh Well." Though he uses another artist's beat on this track, I don't believe he's using his style as a crutch. He adds a heavy bass to the track along with some high hats, and his rap style is very different to Sweatshirt's. On "Oh Well", Blu's style is fast-paced. On the other hand, Sweatshirt's "The Mint" is slow and methodical with complex rhyme schemes. This track is one of my favorites off the album but, like many others, lacks strong lyrics.
     After "Oh Well" comes "PUPPY" featuring pro skater, Mid90s actor, and former Odd Future member Na-Kel Smith. Another modern renaissance man, Smith's verse on this track has a very cool rhythm which makes it my favorite feature from the project. Blu's verse on this track isn't very memorable. 
     The album ends on a mysterious note with "with love , blu." This track uses high, oscillating synths to make it feel as if Blu is fading back into the bustle of the New York music scene to return with a whole new project in a few years. Overall, this track is a pretty strong send off to the album.
     As I discussed earlier, Blu's background as a producer is what really makes this album great. In an interview with Backseat Mafia, he discussed how he's been working with big names like Lil Uzi Vert, Medhane, and Lil Yachty since the beginning of their careers, adding that he views himself as an "underground king." With more lyrical work, Kahlil Blu will be a force to be reckoned with, but for now, his verses pale in comparison to his beats. This album, despite its lack of memorable lyrics, generally uses features well and has a diversity of amazing beats which vary to show Blu's influences, making it a 7.5 out of 10.
About the Writer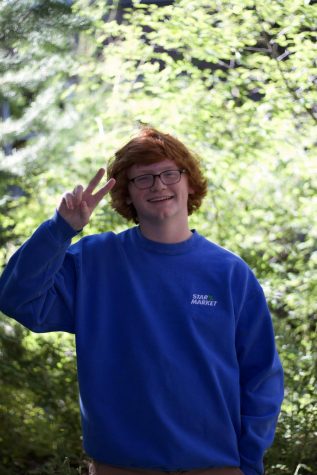 Luke O'Connell, Co-Editor
My name's Luke, I'm editor of the Lance this year, and I'm super excited to be a part of such a great program! I'm a senior at Hellgate, and this...