10 Things to Get You Through Quarantine
QUARANTINE!! The coronavirus, or COVID-19, has officially gotten to us here in Missoula. Missoula county and Gallatin county have the highest numbers dealing with COVID-19. Governor Steve Bullock announced Thursday, March 26 that he was going to place a "shelter in place" order for Montanans starting at 12:00 a.m. Saturday, March 28. As of March 31 there have been four Montana deaths relating to the Coronavirus. 
Number 1, while we are all staying home, here are some things that you could do to keep you busy. First off, clean and organize. This helps to get your mind off of everything, and it makes you feel so much better when you are all done. This is also a good way to kill time. 
Number 2, build a fort, to bring out the little kid side of you. This is also something that you can do with your family to bond and spend family time together but just as fun if you don't as well. A fort can be somewhere you go when you need a little time to yourself.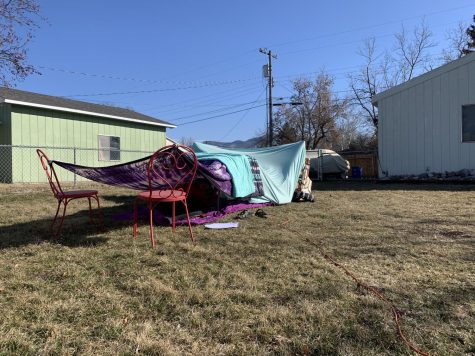 Number 3, most people are probably tired of this one already, but binge watch on services like Netflix, Youtube, TV, or whatever else you use. Have a movie and pop some popcorn. Some top picks on Netflix right now are All American, Tiger King, and the classic move The Office. 
Number 4, becoming an artist is a great way to stretch your creative muscles. Even if you aren't the best at drawing or painting, make something and get your creative juices flowing! For everyone who is an artist or on the more talented side of that topic, keep doing what you're doing. 
Number 5, have a dance party! Play some of your favorite songs and have fun being goofy while dancing. Even if you can't dance, it's always fun to think you can! 
Number 6, do a home workout to stay in shape. Get your sweat on! You can look up ones to do, or just create your own. Doing this helps get out the negative energy that you have been holding onto, and once most people are done they feel way better, almost like they have a whole new attitude. 
Number 7, cook a meal or make some baked goods. These don't have to be anything big, some people are microwave cookers and that is totally fine. For those who are feeling a bit more adventurous, /go out of your comfort zone and try something new while cooking/baking.  
Number 8, do some yoga, meditate, and just have some time to yourself. With that, make sure to be good to yourself and relax. One of the easiest ways to do yoga online is to go to youtube and just type in yoga and pick out what you are feeling. Yoga is something that you can do when you're feeling stressed and you have a lot on your mind. This would be a great thing to do while we have a virus that no one was thinking about, no one was hoping for, and that no one can really control. 
Number 9, to get outside, do some yard work to make your yard look pretty for the summer. Do some gardening if you can and have a place to. Make sure to spend some time outside and get fresh air when you can. 
Number 10, last but not least, don't forget to wash your hands to help prevent you from any chance of getting COVID-19. A lot of people have been using "Happy birthday" as a timer using that twice while washing to be sure you get them all squeaky clean.  Be sure to try and stay positive and good to yourself and others through this time.