Brockhampton and Their Rocky Road to Stardom
     I first discovered the rap collective/boy band Brockhampton back in December of 2017, right after they released their third and final addition to the "Saturation" trilogy, 'Saturation III.' The group has since released two more projects, 'Iridescence' and 'Ginger'  amid drama and turmoil, and has gained popularity as well. As Brockhampton has grown from an internet sensation into a group of proven, skilled individuals, more people ought to know how the group got to where they are now.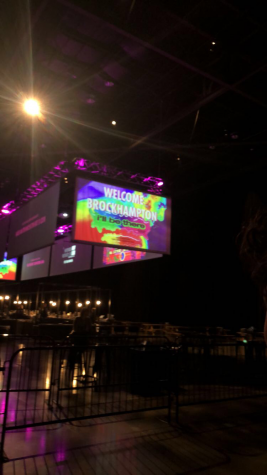 As a side note, the group's name is stylized in all caps, along with all of the songs mentioned (except for "Dirt," "Bet I," and "Hero"), and each project except for 'Iridescence,' which is in all lowercase.
     The group started over a Kanye West forum, KanyeToThe, in 2010, when the leader of the group, Kevin Abstract (Ian Simpson), asked if anyone wanted to start a boy band. Abstract also attended high school with some members of the group: Ameer Vann, Joba (Russell Boring), Matt Champion, and Merlyn (William) Wood. When the rap collective first came together, they established themselves as AliveSinceForever, and released a debut EP, 'ASF,' in 2013. After this release, the group disbanded, and would later come back together as Brockhampton.
     During the hiatus, Abstract released his first project, 'MTV1987,' which brought him a small amount of notoriety. After the release of three singles, "Bet I," "Hero," and "Dirt," the group released their first project under the name Brockhampton, 'All-American Trash.' Highlighted by songs like "Ben Carson" and "Infatuation," 'All-American Trash' was a good first effort for the group, but in hindsight, doesn't compare to what would come next.
     After the release of All-American Trash, and another single, "Dirt," Rodney Tenor seemingly left the group, which was disappointing, as he provided good additions to "Infatuation," and took the lead on the acoustic "Contacts." As Brockhampton ramped up to the release of Saturation I, they released the hit single "Face." This song is one of the group's most emotional ones, and mainly features Joba on vocals. 'Saturation 1' dropped on June 9, 2017, and was released with the American Boyband Vice documentary series portraying the group's attempts at stardom. It included a vast array of sounds, which became a theme for the group. 
     Kicking off with the aggressive, off putting sound of "Heat," it's as if the album is throwing itself into the limelight in the most abrasive way possible. Following "Heat" are "Gold" and "Star." With memorable lines like Matt Champion's "I got bipolar confidence, wake up like shit, then I feel like the shit, so I guess I'm the shit," and Dom McLennon's 'Tobin Bell with the saw, Anthony Hopkins I'm eatin' 'em raw, they don't know who we are," "Gold" and "Star" are two of the groups most memorable songs.
     From there, the album goes on with great quality, until its emotional finish on the song "Waste." Another fan favorite, "Waste" is a slow, romantic song with Bearface on vocals. Bearface, born Ciaran McDonald, also plays guitar on this song, and is only really heard on 'Saturation I' at its end. 
     After the release of 'Saturation I,' the group determined that it would be the first of a trilogy, and announced its follow up, 'Saturation II.' Releasing three singles from the album throughout August 2017, the group was putting out music at faster speeds than anyone else in the genre. Brockhampton released their third project, 'Saturation II,' on August 15. The album has a similar sonic pattern to 'Saturation I,' starting with the dominant and abrasive sound of "Gummy." From there, the album continues on like 'Saturation I' does, and ends with another ballad from Bearface, "Summer." The album was met with generally positive reviews from critics, and even earned the number two spot on Anthony Fantano's "Top 50 Albums of 2017."  Hits like "Queer," "Sweet," and "Junky" came from this album, and it set the group up to gain even more popularity with it's next release, 'Saturation III.' 
     With fewer singles released before it, one of which not even ending up on the album, 'Saturation III' was the group's most abrupt release. The group's classic tracklist theme continued on this album, kicking off with the energetic, in-your-face "Boogie," and closing the project with another emotionally dense song from Bearface, "Team." Highlighted by "Johnny," "Stains," and "Alaska," this album pushed Brockhampton even further away from obscurity.
     In May of 2018, the group parted ways with Ameer Vann over accusations of emotional abuse and sexual misconduct, along with accusations of having relations with a minor. In response to those accusations, Vann tweeted, stating "In response to the claims of emotional and sexual abuse: Although my behavior has been selfish, childish, and unkind, I have never criminally harmed anyone or disrespected their boundaries. I have never had relations with a minor or violated anybody's consent." Along with that, Vann stated "I've been in relationships where I've f-cked up and disrespected my partners. I've cheated and been dismissive to my exes."
     In response, the group announced that "Ameer is no longer in Brockhampton." They also said "We want to sincerely apologize to the victims affected by Ameer's actions. We were lied to, and we're sorry for not speaking up sooner." The group not only cancelled their remaining tour dates, they delayed their fifth album, 'Puppy,' which was never actually released. Vann held a core role in the group, and his release left a hole between the other members. At some shows after his release, the boys could even be seen crying on stage. 
     The summer of 2018 was a rough one for the group, and details of it are hazy amongst fans. As many as four albums were dropped or salvaged by the group, and 'Puppy' was one of them. Some were repurposed into singles or album tracks, but other than that fans can only hear these unreleased tracks on SoundCloud and through Instagram live recordings.
     After their troubled summer, the "All-American Boyband" announced a new album titled 'Iridescence,' which would be recorded at Abbey Road Studios, where the Beatles recorded much of their discography. Released on September 21st, 2018, 'Iridescence' marked a new era for Brockhampton, and was their first album to top the US Billboard 200. One song salvaged from their summer was "Tonya," which came from the scrapped 'Best Years of Our Lives' album. After the release of 'Iridescence' the group went on their "i'll be there" tour, and was nominated for "Best International Group" at the BRITS.
     Between the release of 'Iridescence' and the announcement for Brockhampton's next album, Kevin Abstract released a solo album, 'Arizona Baby,' which clearly influenced the group's sound. After the release of 'Arizona Baby,' Abstract announced that the group was working on a new album. The group teased a song from the album on July 18, and announced that the new album, 'Ginger,' would be released sometime in August. After the release of four singles with music videos ("I Been Born Again," "If You Pray Right," "Boy Bye," and "No Halo"), Brockhampton released 'Ginger' on August 23, 2019, which brings us to the present. Now, the group is touring with 100 Gecs and Slowthai, and is starting up a new Youtube series, "Keeping the Band."
About the Contributor
Luke O'Connell, Editor-in-Chief


My name's Luke, I'm editor of the Lance this year, and I'm super excited to be a part of such a great program! This will be my second year in...