Knights Make History at State Cross Country Meet
Madeline Swanberg, News Editor
November 7, 2018
At this year's AA state cross country meet on October 20th, Hellgate girls' varsity made history in becoming the first Missoula team to ever win the state title. Bozeman girls have won first place for the past eleven years, making Hellgate's victory even more exciting. Coaches and parents of other teams could be heard congratulating the Knights on their race at the University of Montana Golf Course, with even Bozeman coach Casey Jermyn quoted in the Missoulian saying that "Hellgate put together a heck of a race on all fronts."
Hellgate scored a total of 37 points against Bozeman's 57 in the 5 kilometer race,  which senior Elise Stearns says "felt like four years of hard work just finally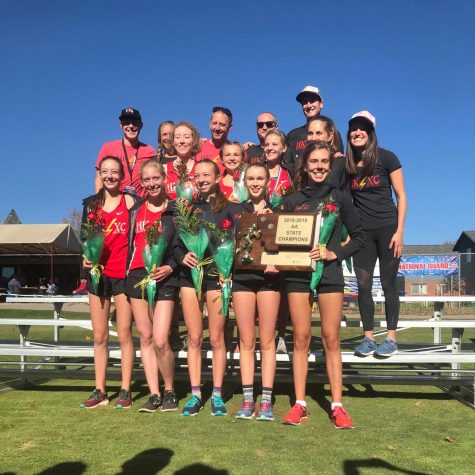 coming together." Five Hellgate girls finished in the top fifteen places of the race, and all seven runners finished in the top seventeen.
The state performance felt like the cherry on top of their season and high school career to many of the five seniors who ran at the meet, as the girls' team has placed fourth, third, second, and finally first over the past four years.
Hellgate coach Anders Brooker told the Missoulian after the race, "This group of seniors, we never had a group this committed early on, from their freshman year, just wanting to be great individually but also always seeing the big picture and wanting to do great things for their teammates. That's what separates them."
The exciting day for Hellgate continued as the boys' AA race ended with the Knights earning a second place finish behind Bozeman, who continues to hold a now twelve-year streak of state championships. Hellgate's Ian Curtis (sophomore) placed fifth overall at the meet, a finish he was happy with after a season of battling injuries.
After a loss to Sentinel at the Missoula city meet earlier this October, the boys' team scored 128 points ahead of Sentinel's 145. In the top fifteen, along with Curtis, was junior Dax Summers, and Hellgate's third runner Lukas Horejsi placed sixteenth.
The Knights will have one last meet on November 11 in Boise, Idaho – the regional meet that offers the chance for teams to qualify for the national race in December. The girls are ranked as the fifteenth best team in the nation – the highest Hellgate has ever been listed – and are hoping for a race that will qualify them for nationals.  Either way, the 2018 cross country season has been one to remember for Hellgate.