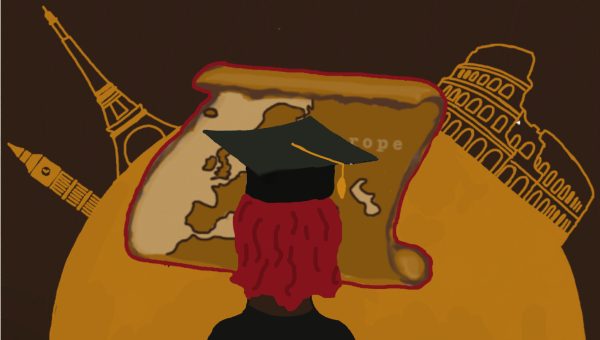 College prices here in the United states have been skyrocketing, and with few to no options left, many high school graduates are considering going international.
The rapid increase of tuition prices is no secret, with a survey by Higher ed dive stating that almost 77% of Americans claiming that college would be difficult, or impossible to afford. But the sheer amount of this increase can be staggering, with the education data initiative cataloging  a tuition cost raise of almost 750% since 1963, even when factoring in inflation.
This decision ends up with only the very wealthy being able to pay in cash, and causing most others to face a choice of lifetime debt, or not attending university at all. This has prompted many companies, like Google, to offer training programs for future employees as an alternative education to the expensive traditional university. But in these hard times here at home, many students seek better luck elsewhere. In fact, in 2021 almost 15,000 U.S. college students went to a school out of the country. Many seeing Europe as a potential safe haven.
These hopes are not entirely unfounded, as several nations in and around Europe offer free college, not only for locals but for international students as well, and although the chances of getting in can differ, acceptance rates tend to be similar to many higher-end local universities. For example, the Free university of Berlin, (a very prestigious European university) has a free international acceptance rate of about 15%, and while this may appear daunting, keep in mind that many ivy leagues have an acceptance rate closer to 4%, and harvard has a 3.5 acceptance rate. While these Ivy leagues can also end up being extremely expensive. On the other hand, quite a few European schools have far higher levels of acceptance. Aarhus university in denmark  has an international acceptance rate of almost 85% according to global scholarship. This has prompted many desperate American high schoolers to try to seek a better, and less elitist form of education abroad. Because while the American system does, at least in theory, give out scholarships, it is in general far more pay-to-play than that of more progressive nations like Germany and Poland. 
Hellgate High School's junior Addisyn Hendrick said that she would certainly consider an out-of-country education, although she admits that it would be hard without a friend, or someone that she knows. This is certainly a deal breaker for many students, who find it a daunting prospect to leave their friends and family and move across the pond. 
"I definitely considered it," said Gabriell Hendrix, who is currently going to Hellgate for his senior year after transferring from Big Sky. But he then admitted that he felt like moving schools was hard enough and couldn't imagine moving countries too.
The other important thing to consider is that every country has different laws, and free can mean different things in different places. For although upon a cursory examination more than 10 countries offer at least very cheap college, this changes once you look a little closer. For example Czech offers free tuition as well, but only for students who know, or are willing to learn the Czech language.   
It is also important to look at countries based on their quality of education, cost of living, and quality of life,  for many sources place colleges in the United Kingdom as some of the best in all of Europe, yet British university costs are an average of 22,000 pounds  (27,000 dollars), and this seems to be a general trend, with many  of the best European colleges also being in some of the most costly nations.
 So as college prices rise uncontrollably, many American students face this important decision, to chose what is familiar, or what is accessible.