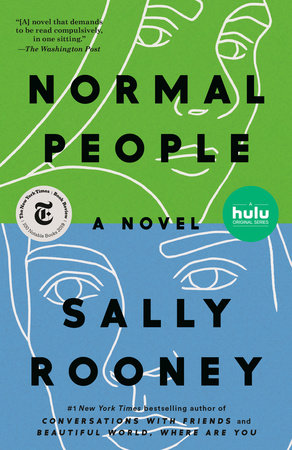 Normal People is Irish author Sally Rooney's third book. The touching story follows high school aged students, Marianne Sheridan and Connell Waldron, who are non publicly acquaintances. They live in a small Irish town, and eventually both leave for college educations They end up finding each other countless other times, all thanks to the string that eternally ties together their hearts.   
Despite being from very different social classes (Connell's mother works for Marianne's family as a housekeeper and their families are quite different) they connect through those differences and become very intertwined romantically. Throughout high school, they never officially date and Connell hides any interactions with Marianne from his friends because he's embarrassed to associate with her as she is cast into a specific role by her peers of the unlikable person. Without spoiling too much, I'll say that after the two were seeing each other for a period of time, still privately but nevertheless, Connell asks another girl to the debutante ball. Considering how heart shattering it is as a reader, one can imagine how betrayed and humiliated Marianne feels. She stops showing up to class for the remainder of the year, and the next time she hears from Connell is in college. 
The thing I love most about this book is the constant meander between timelines. It revisits events just as memories would organically come up in a person's mind.  At one point, Marianne recalls a time the two had found themselves leaving each other's lives again. Rooney so beautifully demonstrates a change in perspective when she later shows how Connell saw the situation from a completely different view.  
This book tackles the raw and real feelings of two people trying to love each other despite the pain they're going through individually, and how the relationship itself ends in pain. It also plays with the concept of people coming in and out of your life, leading to the question of if they ever do really leave. Rooney depicts two deeply damaged people in a very attention grabbing way. As a reader, Connell's darkness and Marianne's self-destruction are engaging and keep you yearning for more. 
I would recommend this book to someone who appreciates a relatable character and easy but phenomenal writing. This book is at least PG-13 as it contains some sexual situations, strong language and substance use. I would say it's appropriate for high school aged students, and some might find it comfortingly relatable.