2023 Oscars Recap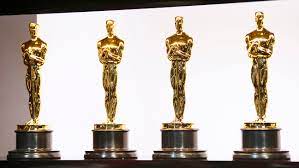 March 12 marked the 95th annual Academy Awards ceremony at the Dolby Theatre in Los Angeles, California. Talk show host Jimmy Kimmel hosted this year's Oscars, opening the show with a joke about Will Smith slapping Chris Rock at last year's Oscars. 
     Everything Everywhere All at Once dominated the ceremony, winning seven Oscars including best director, best picture and best original screenplay. The movie was originally nominated for 11 oscars. Actors Michelle Yeoh, Ke Huy Quan and Jamie Lee Curtis all received awards for their role in the movie as well. The movie won the highest number of Oscars since Slumdog Millionaire in 2009 won 8 awards. Co-Directors Daniel Scheinert and Daniel Kwan won best director. A couple weeks prior, Everything Everywhere All at Once broke the SAG ( Screen Actors Guild Awards) record of most wins by a single film. Junior, Sophia Nasgovitz watched this film and her reviews were similar to the rest. " I was surprised at how sad it was." Nasgovitz said, " I was confused a couple times but overall it was a really good movie." 
     "All Quiet on the Western Front" an adaption of the World War 1 novel, directed by Edward Berger, had nine nominations and won four oscars. These awards were international feature, cinematography, original score and production design. 
     The other major recognition was the award for best actor given to Brendan Fraser for his leading role in "The Whale". Fraser won over Austin Butler, from his role in Elvis,Colin Farrell for his role in Banshees of Inisheer, Paul Mescal for his role in Aftersun, and Bill Nighy for his role in Living. All of these were first time nominees. As for best Actress, Michielle Yeoh won for her performance Everything Everywhere All at Once.