Jimi Hendrix, Flash Back in Time
Jimi Hendrix, one of the best guitarists in rock and roll history, would've turned 80 years old on Nov. 27, 2022. Now, let's go back in time to 1966, when Hendrix started his career at only 20. In 1966, Hendrix was discovered in a small club in New York City and was brought to England. He started playing alongside two British musicians, Mitch Mitchell, drummer and Noel Redding, bassist. They formed the now called band "The Jimi Hendrix Experience."
Hendrix fused American traditions of jazz, rock, soul, and blues to create techniques of British rock and created his own image of the electric guitar. He was named the most successful and influential musician of his era. He drew the eyes of "The Beatles," "The Rolling Stones," and "The Who," which were all bands who he admired. 
The first album Hendrix and his band created was called, "Are you experienced?" Which was released in 1967. This album included top hits "Purple Haze," 'Hey Joe,"  and "Fire." Later that year, Paul McCartney (The Beatles), recommended that Hendrix and his band be flown out to California to appear at the Monterey Pop Festival, which would be the real big American appearance of Hendrix. 
The Monterey Pop Festival was a three day festival that took place June 17 to June 19, 1967 in California. Many artists performed during those three days. On the 17th, Simon & Garfunkel, Eric Burdon, Johnny Rivers, Lou Rawls, and The Associations all played friday. Then Saturday the 18th, The Beach Boys, Otis Redding, Jefferson Airplane, The Byrds, and Big Brother And The Holding Company. On the final day, the 19th, Hendrix played along with Grateful Dead, The Who, Ravi Shankar, Buffalo Springfield and finally The Mamas and Papas. 
At the end of Hendrix's performance, he went backstage to find lighter fluid. He began to kneel over his guitar and pour lighter fluid all over it to set it on fire and then began to smash his guitar. According to Far Out Magazine Hendrix said "I decided to destroy my guitar at the end song as a sacrifice. You sacrifice things you love, I love my guitar." In a later explanation he was said to do that because he wanted to "appease the gods," for good fortune and success.   
Hendrix and his band later released Axis: Bold As Love in 1967, and Electric Ladyland in 1968. Hendrix unfortunately only made three albums with his band. Hendrix ended up splitting from his band due to him having too much creative control in 1969. On September 17, 1970 Hendrix overdosed at the age of 27 joining the "27's club" which is a list of all of the artists, singers, actors and other celebrities who have died at the age of 27. 
Even after Hendrix died he is still making records and being alive through music. In 1992, he made the rock and roll hall of fame along with the members of his band. And they also got introduced into the UK Music Hall of Fame in 2005. Although Hendrix is gone, we will forever make him part of history and keep his music alive. 
About the Contributor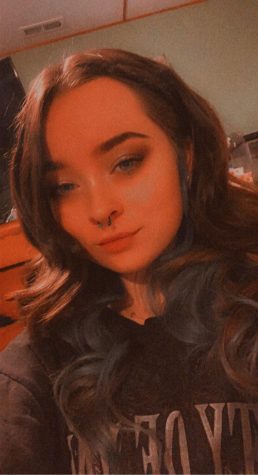 Trista Jean, Reporter
Hello! My name is Trista. I am junior at Hellgate high school. This is my first year being a reporter for the Lance. I am so excited to share stories and...