Hellgate – The Launch Pad for My Life
Trust the process – ah, the classic advice you get each time you move into a new phase of your life. It's cliche, but it perfectly encapsulates my high school experience. 
When I started at Hellgate High School, I had only lived in Montana for a year. I was entering a high school out of district. Everything was brand new. 
I remember the first time I checked my schedule. English 1 with Ms Lurgio in Room 351. Earth & Space Science with Mr Connelly in Room 287. My eyes skimmed through the names of my new teachers: Rholl, Zhinin Barreto, Cheney, Fields. I saw an elective class I had never heard of: Introduction to Journalism with Ms Derryberry. 
Last week, I gave many of those teachers my graduation announcements. I'm writing this piece in Room 351, as Ms Lurgio tries to keep her second year IB English seniors focused on our lit circles (sorry Lurgio, you know I love you!). And I'm finalizing my last print issue of the Hellgate Lance newspaper, after two years as Editor. 
In my four years with Ms Derryberry, I learned that journalism is my passion. I remember even in the Intro course I would go above and beyond, pushing boundaries past what was safe. As a 14-year-old I was knocking on strangers' doors for interviews – picking houses based on the political party of the 2018 election signs in their yard.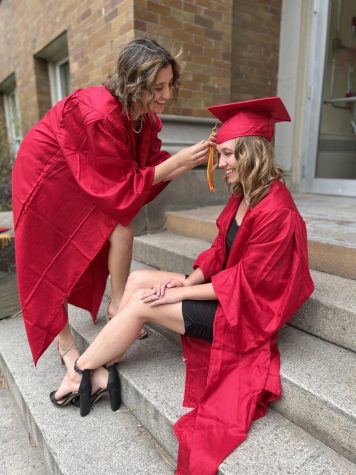 Sophomore year, I joined the staff of the Lance. I wrote some controversial pieces, including one on the culturally appropriative practice of Spanish names. (I still do) I covered school news and community events, took photos at sporting events. I wrote features on Hellgate alumni and op-eds about issues I was passionate about. Journalism became my thing. I loved every minute of it. 
I was devastated when the world shut down my sophomore year. I had just interviewed NYT reporter Nicholas Kristof, my team just placed 3rd at the 2020 Montana Academic World Quest competition, I had just competed in the MHSA state swim meet. But I refused to slow down. 
Junior year I took a rigorous course load as an IB Diploma candidate. I continued my sports, participated in national fellowships and worked with nonprofit organizations outside of school. I took on the role of Co-Editor with Luke O'Connell, even though I was taking Newspaper as an independent study because there was no room in my schedule. I pushed myself past what any high school student could reasonably do. 
This took a serious toll. I fell apart that spring. I've been open about my struggles, and for the first time, I'm sharing about them in this newspaper. I want other people in this school to know it's okay to share about your battles with mental health. We need to normalize this topic, because it's so prevalent among adolescents. It's a real crisis and it affects everyone; even, especially, students like me. 
I fell into a deep depression. I stopped sleeping, staying up late until the early hours of the morning to finish my homework. I cried a lot. I experienced a serious relapse of my eating disorder. 
But this school saved me. Teachers noticed the warning signs, took the time to talk to me and refer me to the school psychologist. I got help. I started therapy and medication. My teachers became my close confidantes, frequently checking in with me. My soccer and swimming coaches were compassionate and let me be the team manager, since I wasn't cleared for physical activity. The love and support I received senior year carried me through a really difficult period of time. 
If you asked me four years ago what I thought I would be doing now, it would be so different from reality. I was a different girl. School success and academic validation were my priorities.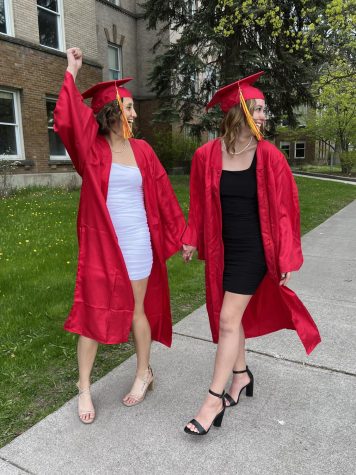 But my plans for this summer bring me so much joy. I'll graduate high school on June 4, after a joint party with my wonderful Co-Editor, Maggie. On June 9, I'll fly out for a three week backpacking trip across Northern Europe. I'll return to Missoula, spend some time soaking in the outdoors. I'll continue working as a lifeguard and swim instructor at the city pools. I'll take some college courses over an eight week term in July and August on Contemporary Moral Issues and Macroeconomics. 
Then the weekend before Labor Day, I'll pack up my belongings, ship them out east, and board a plane to Boston. I'll start a new phase of my life, as a Journalism major at Northeastern University. For the rest of my life, I will remember Hellgate High School as the launch pad for my life. It's a place filled with memories of many highs and lows, a place with people I love, a place that saved my life. I would not have traded my crazy four years here for anything. 
To those of you with more time at 925 Gerald Avenue, treasure every minute. And to the teachers and staff who pour so much energy into the students of this school: thank you. Thank you for everything.