Hellgate Graduate Zia Blue Impresses American Idol Judges
During your lifetime you've probably caught yourself gazing at the television in awe as singers from around the country made their appearance on American Idol, in front of the world's most famous singers. Zia Blue, a Hellgate alum, found herself doing the same thing. However, for Blue, this dream became a reality when the TV show sent her a surreal Instagram message and asked if she would audition on the 2022 season premier. 
After graduating from Hellgate High School in 2020, Blue took a gap year and is currently finishing her freshman year at the University of Puget Sound in Washington. She grew up in the small town of Ovando, Montana where she started her debut. 
Blue attended her first concert when she was around the age of two. "I've been singing ever since I can remember. I don't really remember a specific time or place that I began to sing. It's kind of always been incorporated into my life. I grew up in a pretty musical family and music has always been a passion in our family," she said. 
Aside from her family, some of the singers Blue took inspiration from were Lianne La Havas, Alicia Keys, Aretha Franklin, Cynthia Erivo, Cardi B and Lucky Daye. However, she has a huge list of singers and songwriters that inspired her. 
Blue's appreciation for music grew from solely singing into also playing the guitar. She has been playing for about 11 years, and although her voice is her "preferable instrument" her talent for guitar also shines through. 
While most singers have personal songwriters, Blue has also written a few of her own songs. She enjoys writing ballads, or songs narrating a short story through short stanzas. Her most recent song was written through yet another talent, the piano. It's "about a boy who kind of basically broke my heart. I shouldn't have been invested, but my poor little heart did get invested, and like glass, he smashed it."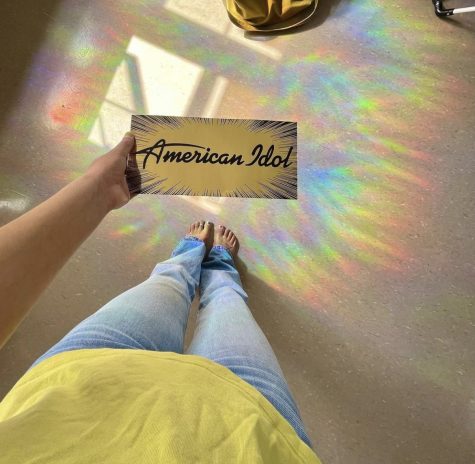 Blue's folk, bluegrass and R&B sole-style singing made her the ideal candidate for American Idol. She was identified through Instagram as a potential candidate and was surprised to be chosen to compete in one of the world's best singing shows. 
Before the in-person auditions that most people watch from their couch at home, Blue had two pre-auditions that took place on Zoom. After making it past the online auditions, she moved onto the next phase of American Idol. 
Blue said, at her first in-person audition, "I didn't really stay calm [and] I was very nervous."  But despite being nervous, She said, "It was so exhilarating and I was beaming from ear to ear when I walked up to the door." 
The first song Blue sang was "Man Like You" by Tom Misch, but after her nerves took over, Lionel Richie asked her to sing a second song. So, not only did she have to sing one song, but she was told by one of America's most famous singers that she should sing another. Although she was nervous, Blue nailed her second song, which was Ed Sheeran's version of "Rain". She said, "With that song, I kind of got more into the swing of things [and] in the hang of, you know, being stared at by Lionel Richie and Luke Bryan and Katie Perry." 
What most people don't see from the TV in their living room is the amount of waiting that goes into auditioning. She said, "A lot of what you don't see is that we were waiting for hours to just go and take a few quick photos or go and practice in a room solo for like 10 minutes. But we would literally sit around for five or six hours." 
However, Blue still had a phenomenal experience and said, "My favorite part was getting feedback from the judges and also meeting all the other contestants." Blue also met some of her favorite singers that were also competing and said, "It was just really crazy to be among those kinds of people." 
After the first in-person round of auditions, Blue received notice that she was awarded a Golden Ticket, which sent her to the Show Stop round in Hollywood. However, "Hollywood week was absolutely exhausting. I was not cut out for Hollywood week unfortunately. I couldn't fall asleep, I was so anxious," she said. "It was really hard being away from home and trying to live out of a hotel." 
So, although Blue's American Idol debut ended in Hollywood with a sickness that got the best of her vocal cords, she received advice from Bruno Mars' pianist, worked with John Baptist's vocal coach and met the next American Idol, whoever that may be. 
Blue is among some of the few Montanans to have competed on American Idol, among even fewer to have made it to the Show Stop round and the first Hellgate graduate to be on the show. She is still making incredible music, which you can find on her Instagram @ziablue. She is also hoping to make a Spotify account soon, which will be under the name Zia Blue as well.