Hellgate High School HOSA Students Succeed At State And Qualify For Internationals In Nashville, Tennessee
On April 5 and 6, 2022 the Health Occupations Students of America (HOSA) held their annual HOSA State Leadership Conference (SLC) in Billings, MT. The mission, according to HOSA, "is to promote career opportunities in the health industry and to enhance the delivery of quality health care to all people."  
Ashley Kim, co-president of the Hellgate HOSA Chapter, explained that the SLC is "an annual leadership conference, where students get to display their skills they've learned over the course of the school year. The HOSA State Leadership Conference offers competitive events, networking with other students, and celebrates the successes you've had throughout the year." 
In order to qualify for the SLC, students underwent a rigorous process. Ellen Parchen, the Hellgate Chapter advisor said, "I appreciate all of the work students have put in on their own time to study for the qualification tests to be eligible for the 1st round of competition. Based on those scores, all of our students qualified this year for the 1st round of judging which required a submission of either a skill video or their completed presentation 1 month before going to state. This is the most rigorous process we have had to qualify to travel to Billings, where students competed in the 2nd round judging." 
From the time Hellgate HOSA was founded in 2016, it has grown by over five times in participant numbers. Kim said, "I'm impressed about the way Hellgate HOSA is going. We had more people than ever before attend State from Hellgate. HOSA is one of those experiences that you never really forget so I'm glad that more people are finding out about it."
The fifteen students from Hellgate competed in a variety of events, including: Health Professions, Emergency Preparedness, Teamwork and Leadership. Around 300 students from the state attended the SLC and Hellgate students placed top three in over fifteen events. 
Students at the SLC also participated in symposiums with various activities, from cadaver labs to suturing to virtual reality, students were able to gain experience with different medical professions and skills first-hand. 
Mila McKay, co-president of the Hellgate HOSA Chapter, explained, "My favorite part from the HOSA SLC was the symposiums that all the competitors got to go to on the second day. I was first able to visit a virtual reality lab where I got to put on an oculus headset and look at a skeleton. I was able to change the settings to see different layers of the body. So for example, I could get a realistic view of the entire muscle structure of the body, veins, and nerves, just to name a few different settings." McKay added, "The second symposium I went to was a cadaver lab. There were three different cadavers at this lab with varying degrees of dissection. It was really amazing to see and touch different anatomical structures in a way that I've never gotten to experience before! Overall, the symposiums provided a unique learning experience very different from standard classroom learning."
Many students from Hellgate believe that HOSA and the SLC have helped prepare them for their futures in healthcare. McKay said, "HOSA has definitely set me on a path for success in attaining my future goals. I really hope to become either a veterinarian or a veterinary science researcher and joining HOSA has helped me to get a better idea of what my potential future career would look like. It provided me with more hands-on experience of what I would be doing on a daily basis as a practicing veterinarian. I also love being in HOSA because it allows me to connect with a bunch of people who are also interested in health careers and learn about their personal experiences."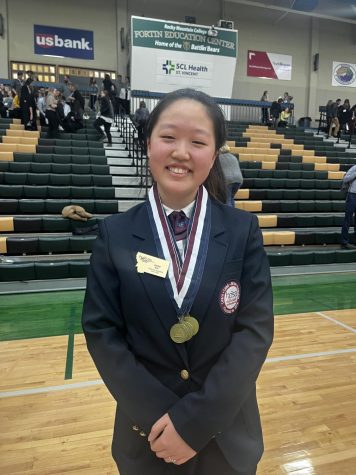 Aside from placing well at the SLC, Kim was also named the 2022-2023 State HOSA President. This is a huge honor that was achieved through hours of hard work, interviews and speeches. She said, "I'm most excited about helping plan and lead the different conferences throughout the year. I've already started a list of things I want to include in next year's State Leadership Conference as I want to make it the most memorable state conference." 
Thirteen students that participated in the state conference qualified for the International HOSA Conference in June of 2022 in Nashville, Tennessee. This is the first year Hellgate students in HOSA would qualify to travel and compete in Internationals. Parchen said, "What a great year for all of us; I saw great teamwork; great feedback and support for each other getting started, choosing events; and preparing for events." 
If you are interested in healthcare or science centered careers, consider joining HOSA. McKay explained that, "It allows members to get hands-on experience and an idea of what their potential career would actually look like. HOSA is also a great resume builder for anyone looking to stand out for their interest in health and science. The State Leadership Conference (SLC) is super fun and has provided me with unique learning experiences almost impossible to find in the classroom." 
For the rest of the 2022 school year, HOSA will volunteer with various organizations, learn more about health professions and will meet other students from the state who are interested in healthcare careers. They will also be working towards meeting their fundraising goals that will allow them to attend Internationals in Nashville. 
Awards from the State Leadership Conference are listed below: 
Lindsey Woody placed 2nd in Healthy Lifestyle. 
Chloe Caldwell placed 1st in Health Education. 
Silas Powers placed 1st in Health Education. 
Beatrice Shimanek placed 2nd in Public Health.
Kaitlyn Skinner placed 2nd in Public Health.
Laine Banziger placed 3rd in HOSA Bowl and 1st in Pharmacology.
Kaeleigh Starkey placed 3rd in HOSA Bowl. 
Juliet Geilen placed 1st in Health Education. 
Maggie Vann placed 3rd in HOSA Bowl.  
Faith You placed 1st in Biomedical Debate and 2nd in Family Medicine. 
Ashley Kim placed 1st in Biomedical Debate, 1st in Nutrition and 1st in Cultural Diversities and Disparities in Health.
Mila Mckay placed 1st in Veterinary Science and 3rd in HOSA Bowl. 
Anika Smith placed 1st in Biomedical Debate.