Mogul Ski Season Comes to an End
     As winter sports are coming to an end, mogul skiing is another sport that is more unknown than traditional sports at Hellgate. One of the mogul skiers at Hellgate is Rex Arnot. He said he has had a good year with lots of big competitions and he is currently looking forward to Junior Olympics and then Nationals, where he will compete with Olympians.
     Ollie Long, another mogul skier at Hellgate, is also excited about the coming competitions. "I've felt pretty good about my season so far. I started off with some good finishes but not quite what I was looking for with some second places, so then I started grinding more and ended up with some first place finishes, so that was fun to end the regional season at divisionals in Bridger Bowl," said Long.
     Long gave a run down on how the sport works, "You start with your top section of bumps which transitions into the top jump, I like to do a cork on that, then you transition into a longer middle section of bumps, then your bottom air, I like to do a big back mute, then you finish off with a final section of bumps."
     Looking back on his season he said, "One of my favorite results or competitions was the Park City competition, and I got second and first against a US ski team member which was a really fun competition with the Montana Crew there.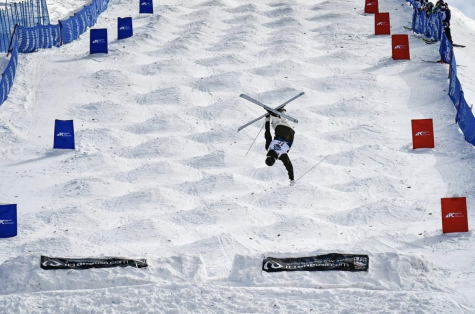 Both Arnot and Long have had impressive seasons, but the most significant upcoming competitions are the Junior Olympics before spring break and Nationals. Arnot explained, "Junior Olympics is the top 50 people under 18 in the US with only a certain amount of spots allocated for each state, so there is a singles day where you go down the run alone and the next day is duels day where you race an opponent." Asking Arnot about the scoring he said, "Judging is based on 60% turns (having your knees together), 20% airs which are your tricks and 20% speed."
     With the final competitions coming up, Long and Arnot have felt good about their seasons so far and are feeling prepared to compete at the national level. Long said, "I've already accomplished a lot of my goals but I think the main thing I'm looking forward to is just having fun because again. It's gonna be in Park City so I know that course pretty well, and I'm looking to lay down a sweet run and hopefully make the finals or even place top ten." 
     Even though mogul skiing is unique and slightly unknown, the sport is no joke and two of our Knights have a chance to place in the national arena.