Hellgate's Spirit Teams Shine at the Spirit Showcase
Hellgate's spirit teams, dance and cheer, showcased their routines on Friday, March 4. This was a performance to showcase the teams, the routines they had been working on, and the seniors, as this was also their senior night. 
This year the cheer team had one senior, Jacoba McAdam's, and the dance team had seven seniors: team captain Elena Vesovich, as well as Ana Ward, Adarra Decker, Sylvie Nelson, Audrey Kurz, Keiana Griggs and Gabi Wilson. Many of the seniors have been on the varsity team for four years including Vesovich, Ward, Decker and Kurz. Wilson has been on the team for three years, Nelson has been on the team for two years, and Griggs is a first-year member. The varsity dance team was 15 members, and because seven seniors will be graduating, the team will be losing almost half of their team. Fortunately, the team has a lot of talent and the junior varsity girls will be moved up to varsity next year.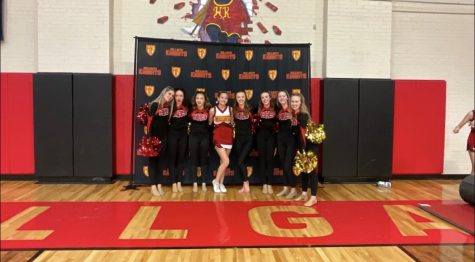 Jacoba McAdams, the only senior on the cheer team, has been on the cheer team for all four years of high school. She took a break during her sophomore year and joined again during her junior year. She is now team captain. She said, "The showcase went great! It was so fun having my closest friends and my sister walk me down for senior night, although my mom couldn't make it because she was sick it was still amazing!" When asked which routine was her favorite, she replied, "My favorite was either our last one or the one we performed with the dance team! The dance team is amazing and I love collaborating with them!" 
McAdams continued, saying her favorite part of the night was, "being noticed by the school and my team as a strong captain and leader, and recognizing how hard I've worked to get here in the last 4 years, along with the 3 bouquets of flowers and the rose I got from Lindsey!" 
When talking about being on the team, she said, "My favorite part of being on the cheer team was helping lead my team to be amazing. Being able to see them grow and know how much potential they have is amazing. They're an amazing team and I'm so excited to see where they go. I loved spirit wars and the showcase. And even though we didn't get to go to Florida for Nationals, it was still an amazing opportunity and we did an amazing routine for it." 
About next year, McAdams said, "I'm going to miss my coaches, Caroline and Oshi, so much! And my entire team. Over state we were all bawling just knowing it was our last game to cheer together at. It's been such a great time and I'm going to miss being a captain and having a team to lead. They're all such amazing cheerleaders and I'm so excited to see where they go in life!" 
She added, "Honestly, these last 4 years went by faster than I could have ever imagined. Freshman me would have dreamed to be the captain and would be so excited to see how far we've evolved now! Cheer isn't very well recognized and I appreciate being seen and people acknowledging our sport as much as they have others. It's a great thing to be a part of, and it isn't just a team, it's a whole family." 
McAdams said she's "excited because we have a cheer banquet over spring break and I can't wait to give my whole team one last hug and tell them how amazing they are. I honestly couldn't have seen myself doing any other sport for my 4 years of high school and I am so glad we got to collaborate with the dance team more this year! I hope next year cheer can go to nationals and there's more collaborations and more people actually join the team. Cheer has so much potential as long as people try. I had an amazing 4 years of cheer and being the only senior just showed me how much more I'm going to miss all of my cheerleaders and my team." 
Keiana Griggs, a senior and first-year member of the team, said, "The showcase went better than I expected it to honestly." When asked which routine was her favorite, she responded, "My favorite dance to perform was our seniors dance because they are my absolute favorite group of girls to dance with." 
She went on to explain that her favorite part was "looking at everyone's senior boards because there were so many cute photos and memories I forgot about." When reminiscing on dance team, she said, "My favorite part of being on dance team was having a whole family that has each other's backs and of course performing at games. I think I will miss the whole group of girls the most because I plan to continue doing dance team in college, but it won't be the same. My favorite part about being a senior on the team is having the underclassmen girls ask questions and look up to me for advice." When talking about next year's team, Griggs responded, "I wish them all the best of luck next year carrying on the dance team legacy!"
Sylvie Nelson, a second-year senior, said, "I think the showcase went great. It was super fun!" When responding about her favorite dance, she said, "My favorite was the senior dance to 'Pound the Alarm.'" She went on to explain her favorite parts of the night saying, "My favorite part was getting to walk across the floor with my family." It is a tradition for senior nights that the seniors walk alongside their family members. Nelson said, "My favorite part about being on dance team is the connection with everyone on the team. I love all of the girls so much and they make it so fun. I will miss all of the dancers so much next year!" 
Ana Ward, a senior, said, "The showcase went well. I cried very hard because I have been on the team for four years and I've devoted so much time to the team." She went on to talk about her favorite routine saying, "My favorite dance was the senior dance because we have all been dancing together for so long we've learned how to move together." Ward concluded, "I'm going to miss the early morning practices because there was so much laughter. I always brought coffee to my friends in the morning and that became a special thing for me and Elena." 
The Spirit Showcase was a successful night for the teams. The dance team performed three dances they had been working on for a few months. First was a dance with just the seven seniors to the popular song, "Pound the Alarm" by Nicki Minaj. Next, cheer performed a routine performed by everyone. Dance team was up next with a routine they used for the Golden Goat game choreographed by senior team captain Vesovich. The performance was a mashup of three songs: "Gold Digger" by Kanye West featuring Jamie Foxx, "Trophies" by Young Money featuring Drake, and "Give Me Everything" by Pitbull featuring Ne-Yo, Afrojack, and Nayer. 
The night continued with a performance by cheer. All of cheer's routines were to music by Thunder Music Productions. One of them was "Hammer Time" as well. Dance performed their last dance, which was used for a state basketball routine, to "Beggin" by Maneskin. Cheer performed again and the night was wrapped up with a routine performed by cheer and dance combined. The routine was to "All I Do Is Win" by DJ Khaled featuring T-Pain, Ludacris, Snoop Dogg, and Rick Ross. 
The Spirit Showcase senior night was a large success. A few students came to support their spirit teams and many parents were there to support as well. The spirit teams had a great year this year.