Brand New Play "The Castle With A Thousand Lights" Opens March 12 and 13 at Zootown Arts Community Center
Michael Legg, Montana Repertory Theatre Artistic Director, knows how difficult it is for high school students to find plays actually directed at their age group. That's why the theatre is putting on a brand new show titled "The Castle With a Thousand Lights" on March 12 and 13 at the Zootown Arts Community Center (ZACC). 
There are three local performances this upcoming weekend: 2:00 p.m. and 7:30 p.m. on Saturday, and 2:00 p.m. on Sunday. Tickets are on sale through GrizTix at a "pick what you pay" price level. After this weekend, the company will begin a statewide educational tour of the play and visit 30 to 50 middle and high schools across the state. 
The Montana Repertory Theatre is the only "full season professional theater in the state of Montana." The theater puts on a four-show season annually. They work with professional unions, hire professional actors to work with the students and even pay its actors and artists at the University of Montana. 
The decision to perform "The Castle With a Thousand Lights" was made, said Legg, after they "took a hard look at our mission and decided that what we really wanted to do was make sure that we were giving space for… stories that were for and by and about the people of Missoula and the entire state of Montana." 
This play was the result of discussions with teachers from around the area to get a better understanding of what would be important for middle school and high school students. Ultimately, they decided the goal was a play that could simultaneously entertain and teach teenagers relationship skills.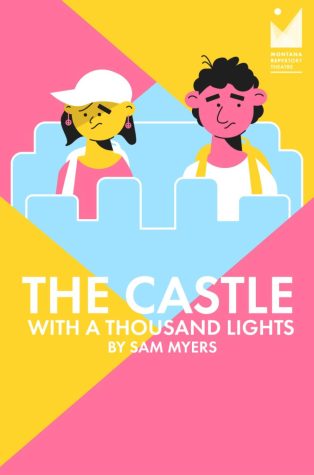 Once Legg had a grasp on the issues he wanted to delve into with a play, he set off to find a playwright who could bring his vision to life. He connected with Sam Myers, a playwright who grew up in Northern Wyoming and "really understood what it meant to live in a rural area." Myers had fresh ideas about what he wanted to write a new play about: friendships and income inequality. Before long, "The Castle With a Thousand Lights" came to life. 
"One of the cool things about working on a brand new play that's never been produced is that the playwright's been a real part of this process. He's been hanging out in rehearsals, via zoom and stuff, and he'll be in here in person [for the first performances this weekend]," said Legg.
The play centers around the ideas of "friendships and how friends stay together, have really hard conversations during hard times and how they maintain the friendships." The social and emotional learning surrounding the play is combined with the ideas around income and inequality and how it's affected regions like Missoula. 
It follows two best friends, Toby (David Miller) and Melissa (Ricky Johnson). They're about to start high school and life is pulling them apart. Crazy things are happening in Missoula, and they start telling each other a story about an evil warlock. The play shows their process of learning how to make a decision to stay together and stay friends. 
This play also teaches key skills such as learning to be present and available in the moment. "Being alone in a group is not really helpful or productive to relationships. I think that sticking through conversations, even when they're hard, and trying to find ways to actively listen to one another and respect each other's place and position in a relationship is super important," said Legg. "All of those are things that this play tackles." 
The lead actors are both University of Montana students: Miller is a freshman and Johnson is a sophomore. The characters in the play are fourteen years old and just beginning their high school careers. Artistic director Michael Legg said, "I wanted to cast actors who were close in age and experience" to the characters in the play. 
Legg ran a postgraduate theater training program in Louisville, Kentucky for 11 years before coming to Missoula, Montana. He is currently in his fourth season with the Montana Repertory Theatre. 
Although Legg has many favorite parts of the play, he said his favorite is how "we've worked with a couple of student animators here at the University of Montana and they've created some really stunning, original animation for this play." He also explained, "Our costume designer has made these really cool backpack puppets that we're gonna use too. And so there's some really inventive and creative storytelling that's happening in the play." 
Even Hellgate alumni are involved – the stage manager, Iris Jandreau is in her last year with the Montana Repertory Theatre and will be stage managing this show. 
Hellgate students are encouraged to attend this weekend's performances; in fact, they're the target audience. "Plays that are supposed to be for young people or for kids I think can be pretty cloying and disrespectful of your experience and your age and where you're at in the world," said Legg. "A lot of theater for young audiences misses the boat in terms of where you guys are at… and the things that you care about and the things that you want to talk about." 
"I would rather talk openly and honestly with you through theater about what's happening in Missoula right now, and income inequality and how hard it is to hold on to friendships," he added. "I believe that theater can be transformative. I believe that theater can help bring change and still be fun. Those things are not mutually exclusive." 
The full synopsis, written by Myers, is below: 
The Castle with a Thousand Lights," written by Sam Myers, follows Toby and Melissa, two friends who have been close since they were young. Now they're in high school, and something's changed—they're starting to wonder if maybe they don't actually have that much in common. As they try to figure out who they're becoming, they tell each other a story: in a remote little town nestled in the mountains of a magical faraway land (which looks a lot like Montana), an evil warlock builds a castle on a hill and starts causing trouble. It's up to two kids (who look a lot like Toby and Melissa) to figure out how to stop the warlock. Is there a story big enough and true enough to bridge the space between two friends?