Say What?! A Peek At Some Of The Hellgate Teachers' Pets
Pets are a huge part of almost everyone's lives. They make you smile on days you're feeling down, can help manage depression and loneliness and ultimately become family members. Pets vary in size, shape, species and personality, from bearded dragons to dogs to goats and llamas, they are sure to cheer you up. Here are some of the pets owned by the teachers at Hellgate High School.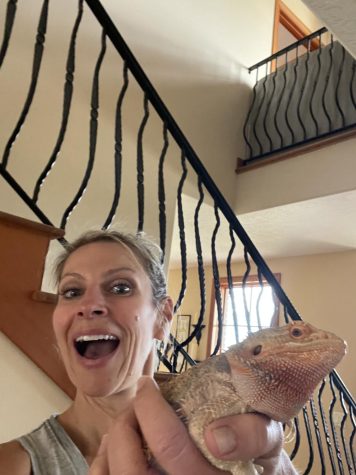 Gym and Health Teacher Heather Cheney-
"I have a bearded dragon named TJ2. The original TJ was named 'thea junior' after our dog Thea (my kids really like that name apparently) but she died the first day we had her, so TJ2 is her replacement. Bearded dragons are considered the 'dogs of the reptiles' in that they love their people and have pretty funny little personalities. Ours definitely knows our voices and gives good side eye looks when annoyed.  She wanders around the house and finds random places to hide or hang with the dog."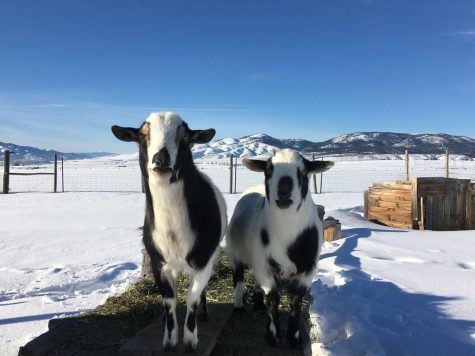 English Teacher Jason Van Hyning- 
"My crew of fuzzballs. . .Two pups (Butters and Biggy the Butterscotch Bear), four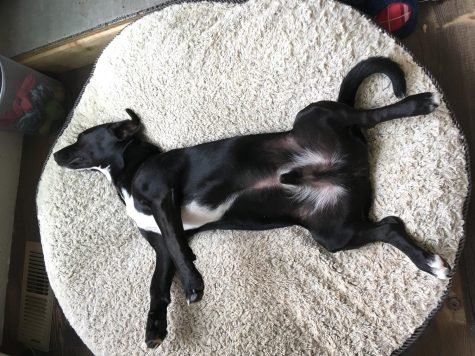 kitties (Boy and Wendy a.k.a The Princess of Darkness, Tesla, and Mamba), one llama (Raj), two goats (Bouncy and Bucky), and twelve robot chickens from outer space (Raven and crew). With the exception of the chicks, all are rescue babies.
If I told you about everyone I'd be typing til spring- so I'll speak to a few. . .  Raj came to me from the llama sanctuary out of Corvallis several years ago when my old llama, Willy, passed away.  Raj's first job was to rescue my goat Trixie (since passed) from dying of sadness when she lost her llama, and he did, admirably. But Raj does more than just rescue goats, he rescues anyone who's having a bad day. 
Wendy (black and white kitty) came to me from Animeals a few years ago. I soon learned I was the priest who exorcized a demon from their shelter.  She's straight out of Dante's Inferno, somewhere abouts the Ninth Ring. Seriously. But they kicked her out for being supremely naughty, so I took her in:)
Fun fact- Bouncy and Bucky like to ride around on Raj's back. They enjoy it tremendously, Raj, not so much."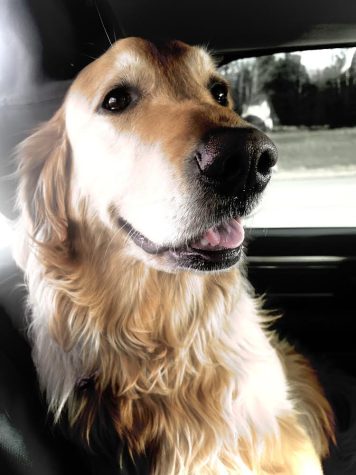 Art teacher Kasey Arceniega-
Arciniega has two dogs, a Golden Retriever and a Lab/Akaita mix. Their names are Biscuit and Perri. She said,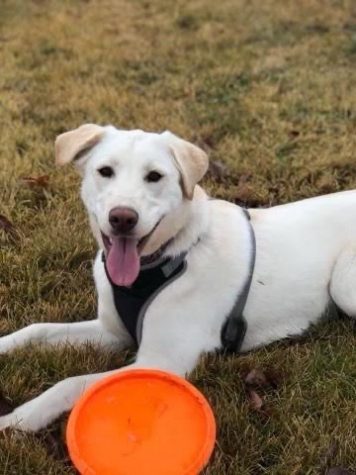 "Biscuit loves her stuffed animals, swimming, people and food. Perri is athletic, she loves her frisbee and gives good hugs. They love each other but there is one toy (out of several) they are constantly fighting over- a stuffed pig with its ears chewed off. I don't know what it is about that toy but I've had to put it on top of the fridge several times because they each have gotten too possessive over it. They make us laugh everyday and are truly part of our family."
Spanish Teacher Milton Zhinin-Barreto-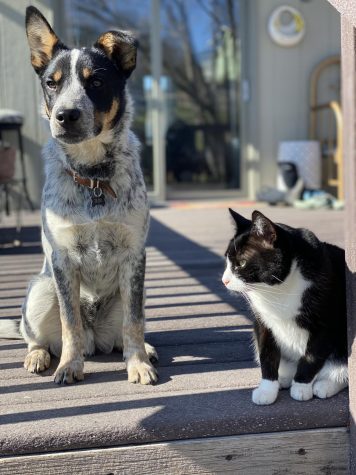 "What do you mean pets? Taita and Pacha are my best friends!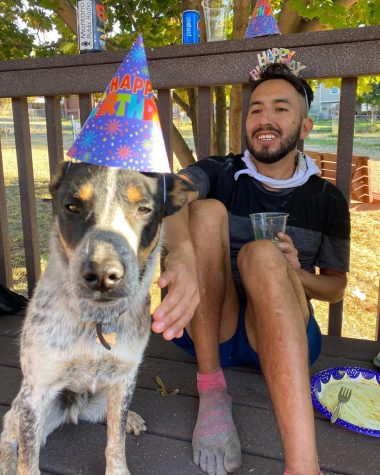 Ain't no pets en mi casa, we are all fam. Taita is a mix of craziness (border collie/mini aussie/blue heeler) and Pacha is a wild kitty. Taita likes to cuddle and run as much as he likes deer poop. Pretty much the only reason why he runs is because he gets to nibble some deer poop on the way. Pacha is the bully of my neighborhood even though she is only 9lb. You know, she never wins a fight, but always attacks first. She is kinda cool with me most of the time. Yo, get this, Taita can throw his own frisbee for himself. For realz, he runs fast with it in his mouth, throws it up to the air, and catches it! He's just a cool guy living his best life, and needs no friends to have fun."
Principal Judson Miller-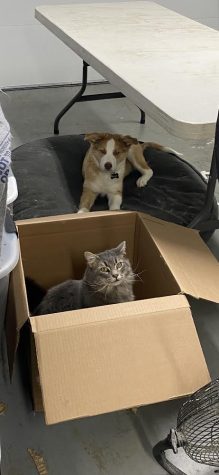 "We have 2 rescue pets: The cat (Hobbes) is from the Humane Society and is 8 pounds of mean. He rules the downstairs  and only allows the puppy to come inside. All of our friends' dogs are attacked on site and now afraid to come to the house. He is great with people though. The puppy (Rally) was a rescue from the Missoula Animal Shelter and is now full grown. She is a Catahula, Husky, Cattle Dog mix from the Hiline and has a ton of personality. She is very stubborn, playful, and loves exercise; she also loves the cat. They play together all day everyday.  This picture is from about a year ago and Rally is full grown at 50 pounds now."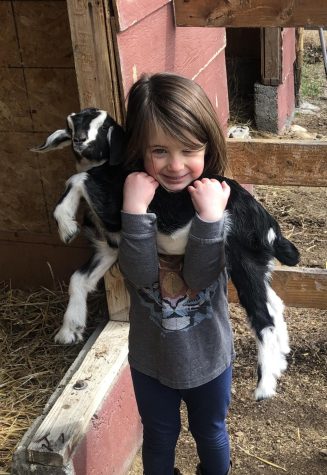 French Teacher Kathleen Wyskiver-
"I have three dogs- Otto, Greta and Shady Grove; a cat- Annie; ten chickens; two goats named Jack and Earl after my grandfathers, and a rescued Canadian goose named Fern.
Earl is a sweet, loving goat- he likes to be held, pet, and will only take food and medicine if you hold him. Jack is stubborn, loud and in the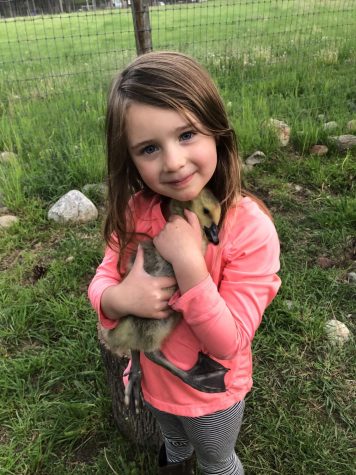 way- he will eat your shoe laces and zippers on your coat if he can. They love to eat everything, and they go crazy for pine needles. They love to go on walks and follow us everywhere.
We found Fern in our yard when she was a day old, and we think she was washed away in the irrigation channels at the ranch across the street from where we live. She "attached" to my daughter, and they spent hours together during quarantine cuddling up. Fern can't fly because her left wing flaps out (a result of a domestic diet), but she guards the chickens. If a hawk or eagle flies over the pen, she honks loudly until the chickens head into the barn!"