Hellgate Wins the Golden Goat for the Third Time
From Feb. 7-11, 2022, Hellgate showed off their school spirit in the lead-up to the annual Golden Goat basketball game. Monday was a normal day as the spirit officially started on Tuesday with "bring anything but a backpack" day. Students were encouraged to carry their books in anything but a backpack. Those who participated showed up with suitcases, recycling bins, pillow cases, crockpots, laundry baskets, trash cans and more. Everyone was very creative with their non-backpacks.
Wednesday was "red and gold" day. The halls were filled with red and gold as the students showed up in their best school colors. There were gold pants, red and gold beads and glitter everywhere.
Thursday was "beach out" where people dressed in beach clothes. Students and teachers were dressed in their best floral patterns and shorts. They were "freezin' for a reason," and students from each class were dunked in tubs of ice during lunch to support the Poverello Center.
Friday was the day we were all waiting for for weeks, GOLDEN GOAT! Almost everyone showed up in their Golden Goat shirts and many wore hefty snow gear to school to support the Winter Olympics theme. After school, everyone gathered at the Adams Center at 5:00 p.m. for some pregame activities.
The first game started at 6:00 p.m. with the Sentinel and Hellgate girls playing each other. The Zoo Crew, cheer team, dance team and teachers for Hellgate performed at halftime with an enchanting performance. The Hellgate girls won with a score of 52 to 31.
Next was the boys game, with Sentinel and Hellgate boys ready to compete. Zoo Crew, cheer team, dance team and teachers came back for another performance during halftime. The Hellgate boys won with a score of 45 to 32. The Hellgate Knights won Gertie the Golden Goat with a spirit score of 438 to 412.
Ian Rasmussen, a junior at Hellgate, enjoyed the game from the student section. He said, "I think spirit week was fun and it definitely led to more hype for the Goat Game which everyone loved." When asked which spirit day was his favorite, he responded, "My favorite day was definitely beach out or bring anything but a backpack day, except I brought a bucket and it started to get annoying quick."
He went on to talk about the student section saying, "The student section was so dope at the game. We turned up and we beat Sentinel which is always nice. My favorite part was when they announced that we won, or coming into the stadium." When asked if he thought we would win, he confidently responded, "Oh I thought we would win 100% and once we won, it was game time to rush the court and give Gertie a kiss."
Mia Jakob was also in the student section and got to have a front row view as a senior. She said, "This year's spirit week was extra fun because of the out-of-box spirit days." When going on to talk about the game, she said, "I was so happy to see our student section give it their all at the game. I was ecstatic we won for our senior year. It was a super fun experience overall and I loved our theme. Hopefully we can keep Gertie safe and at home in the years to come."
Brogan Callaghan, a senior at Hellgate and the Student Body Vice President, got to experience the game from the court. When talking about spirit week, he said, "Spirit week was super exciting and fun. It was awesome to see all of the participation every day and I think it showed how strong our school spirit is. My favorite day was definitely anything but a backpack, there were some super creative ones."
When going on to talk about the game, he responded, "The game itself was insanely fun. Our student section was super loud and it really helped us on the court. It always feels good to beat Sentinel and even better to win both games and Gertie. I didn't think there was any way we could have lost because we were better than Sentinel in every way." He added, "I'm honored to be in the class that never lost Gertie."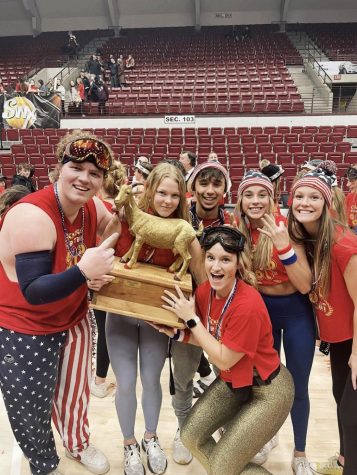 Braydie Neil, a freshman at Sentinel, said, "My experience as a freshman being a part of the Goat was really fun. It definitely created some memories I will never forget. My favorite part of the game was cheering as loud as I could and even though we lost it was still fun to be a part of." When asked about the whole Big Sky deal, Neil responded, "I think it's stupid. Hellgate and Sentinel have always played each other until Big Sky wanted to, which I understand but I guess I was wanting to be a part of it next year." It is a bummer for the Sentinel students who will not be able to participate in the Golden Goat next year, as the winner gets to play Big Sky next year.
Neil continued, "I had so much fun and it was fun being with friends. Everyone was connected with each other just having a good time. That's what I'll miss next year. I think Sentinel did a good job of trying not to swear or boo but sometimes it was hard not to, but we still did good." When asked what Sentinel could have done a better job of, she responded with, "I think we could have done a better job of creating more chants and everyone yelling and getting hype. I'm honestly sad about the outcome. I really wanted to be a part of the GOAT again next year. In the end, it was fun and a good experience. The Sentinel crowd was bummed but I think we took it well and got over it."
Alta Murray, a senior and the Sentinel Student Body President, said, "Sentinel's reaction to losing was pretty disappointing. Our entire student section, parents, teachers all thought we did as much as we could. Everyone realized that no matter what we did we couldn't have won by losing by that much. It just kind of overall sucked. It showed that even though our student section was louder, the basketball games just really influenced decisions because we were down by 15, but still cheering and that was enough."
When going on to talk about her own experience with Golden Goat, she said, "My experience was pretty hectic. My life revolved around it for two weeks through news interviews, getting supplies, making videos for our school, emailing people, getting everyone excited, making signs, posting cheer videos. It was a lot, but I loved being there and it made some good memories. I lost my voice and cheered my heart out. Our whole front rows of the student section were a lot of seniors and we all worked together to help make the cheers as best as they could be."
When asked what Sentinel did well on, Murray responded, "I think Sentinel did well on cheering. We're never that positive. We received so much good feedback about how impressive we were. Even though we were down by so much we were still cheering on our team and saying "We still love you!" I think we did well on the halftime performance including parents, teachers, kids, future and past alumni."
When talking about the outcome she responded, "I didn't think the outcome was fair. I think Gertie should have gone to Sentinel. I don't think in two years when we get the Goat back it's going to be anything like this unfortunately due to the decision that was made this year." Murray went on to talk about Big Sky's involvement in the Golden Goat saying, "I think Big Sky should not be in the Golden Goat. Unfortunately that was not my call. It almost was canceled and the student body from both Sentinel and Hellgate came together to help fight that and ended up winning. There's no way that Big Sky is going to make it as fun."
When talking about what Sentinel could have done better, she said, "I think Sentinel could have had a better dance team halftime performance. I think they could have incorporated the theme a little more. I think we could have been more together overall." She finished with, "I think overall the Golden Goat was super fun and I'm so glad we got to do it. I loved our beach theme and thought it was super nice especially because it was so hot in the gym."
Spirit week was wrapped up with a winter dance hosted by the National Honor Society on Saturday. Many students showed up and had a blast with some fantastic music and dancing. Spirit week and the Golden Goat was a crazy experience that many at Hellgate will never forget. Congratulations to everyone who showed up and brought Gertie back home. Go Knights!