Cyclocross Racer Elsa Westenfelder Competes In Worldwide Competitions
     When thinking about a high school athlete, some sports that come to mind may include volleyball, football, basketball or track. However, rarely does the sport cyclocross pop into one's head. Elsa Westenfelder blows high school sport stereotypes out of this world as she navigates her bike on both paved and unpaved roads, conquers hurdles while lifting her 15lb steed, climbs stairs and hills and traverses other obstacles. 
     Ever since the high school junior was eight or nine years old, Westenfelder was immersed in this marriage of mountain biking and road biking. She said, "We have a great cyclocross community here in Missoula, and it was easy to get into because of that."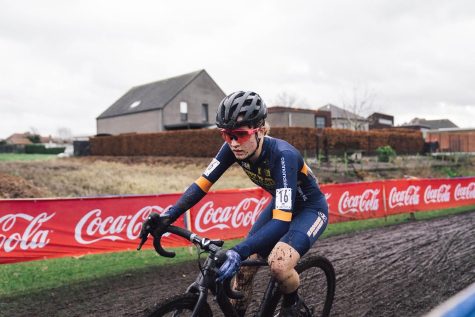 Westenfelder decided to immerse herself in the unique sport, "because it's incredibly physically demanding, but also very technical, with many different features like tight corners and off-camber descents. I really enjoy pushing myself physically and mentally, and cyclocross is a combination of those."
     The modified road bike used for cyclocross has skinnier, knobby tires and slightly different geometry. Because of the rough terrain, if Westenfelder requires a bike with a different tire pressure or if her bike is having mechanical issues during the race, another bike is onsite ready for her to exchange and continue her trek. 
     The closed circuit races last anywhere from 40 minutes to an hour and her season lasts from September to February. Although the season is limited to these five months, Westenfelder trains throughout the entire year.  Whether she is riding a stationary bike, running or Nordic Skiing during the winter months or mountain biking and road racing during the spring months, Westenfelder focuses on "getting in lots of miles and time on the bike." 
     During Hellgate's winter break, Westenfelder competed at the highest level possible for her age group at the Namur and Dendermonde World Cups, the Zolder-Heusden Superprestige and the GP Sven Nys in Belgium. She competed in five races during the three and a half week time span and placed 26th at Namur, 20th at Dendermonde, 14th at Zolder-Heusden and 12th at GP Sven Nys. 
     After racing in Belgium Westenfelder was asked to compete with Team USA in the Cyclocross World Championship in Fayetteville, Arkansas on Jan. 29. She placed 24th for her 16 and 17 year old age group and 9th for 16 year olds. Westenfelder has many aspirations for her future in cyclocross and stated, "Next year I'd like to travel to Europe again for the Christmas Block and race there. I'd also love to make the Worlds team again." Her main goal for the sport is to improve her European race results because, unfortunately, cyclocross isn't an Olympic sport. However, she said, "In the long-term, a World Cup or World Championships podium would be very cool."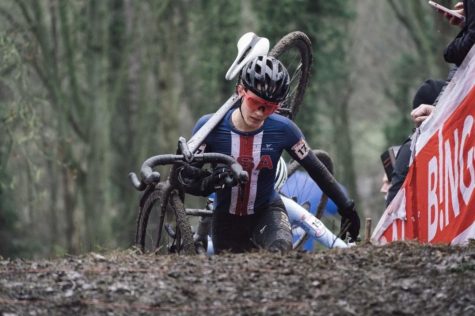 In a sport that is this physically demanding, the thought of giving up would run through the minds of almost any competitor. However, Westenfelder pushes through these barriers and said, "During a race, I always try to focus on what's in-front of me. It can be mentally really difficult to keep pushing, but at the finish you can always be happy if you give it your best effort in the race." 
     Although Westenfelder seems to be made for the world of cyclocross, she said, "My biggest influences in the sport are probably my dad and my coach. They have been super supportive this year, and traveled all around the US for races. I definitely would not be where I am now without their support." 
     Westenfelder is an inspiration for not just high school athletes, but also anyone working to achieve their athletic goals. If everyone pictured the small goals she sets for herself, such as, "Catch the rider in front of you" or, "Go as hard as you can up this run-up", then more individuals would be able to achieve not only their athletic potential, but also lifelong potential.