Marvel's "Eternals" receives lowest rating of any MCU movie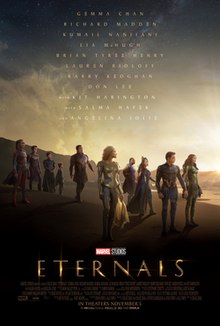 The new Marvel movie "Eternals" received the lowest rating on Rotten Tomatoes out of any film from the franchise. Will this affect the viewership and overall performance of the movie?
     The movie, which was released in the U.S. on Nov. 5, received a score of 48% on the Rotten Tomatoes 'Tomatometer' which is the lowest score of any of the franchise's movies after "Thor: The Dark World" which received a score of 66%. 
     According to Rotten Tomatoes, "Eternals is messy but there is beauty in its parts if not necessarily the sum."
     Even though the reviews were mixed, will this stop the fans from watching the movie? Sophomore Audrey Baldwin said, "I'm totally still planning on seeing it." She continued, "I think the ratings could be low because of the actual diversity in it and things like LGBT representation."
     This idea of the film getting bad ratings because of diversity is not an unpopular one. Many other Marvel fans also believe that the diversity could be the underlying reason for the less than great critic review. 
     "I definitely think that diversity could have had a part in the bad ratings," said Anika Smith, sophomore. "I feel like the reviews don't necessarily define how the movie is going to be. I don't think that the reviews are going to keep me from watching it at all." 
     "Eternals" is still expected to collect $75-80 million domestically at the box offices within the first three days of its release. Some box office prognosticators predict that it will collect upwards of $85 million which could give "Eternals" the biggest pandemic launch for any Marvel movie.
     Another potential issue critics had with the movie was its length. Marvel movies are notoriously long movies with an average run time of about 2 hours and 15 minutes. The longest is "Avengers: Endgame" with a run time of 3 hours and 2 minutes.
     Rotten Tomatoes said, "Eternals doesn't last forever, but at 157 minutes it sure feels like it."
     Despite the reviews surrounding the film, Eternals still seems to have a bright future at the box office.