Carlino Hopes to Provide New Perspective on City Council
     23-year old Daniel Carlino is vying for a seat on Missoula City Council as a representative of Ward 3. This ward includes the riverfront, Rose Park, and university neighborhoods. Last year, he ran in the Democratic Party's primary for Montana's Public Service Commission (PSC).
     The incumbent representative, Councilwoman Heather Harp, has decided not to run in this year's election. Dori Gilels also announced her candidacy for the seat, and the filing period is open for the next three months. The election will be  Nov. 2, 2021.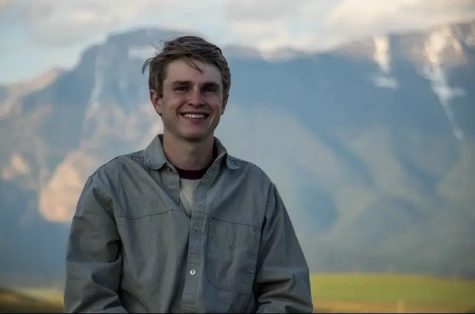 Carlino is a member of Missoula's youth-run Sunrise Movement working to "stop climate change and create a more just world." According to Carlino, Sunrise Movement is working "to help stop climate change and create millions of good jobs in the process." Initially created in 2017, the organization strives to make climate change a top priority across the country, and has roughly 500 groups led primarily by people aged 30 or younger.
      The 23-year old's main priorities are climate change, the housing crisis, and racial inequity. Regarding climate change, he believes his perspective is invaluable to Missoula City Council. As he put it, he's "got a lot of stake in the game" when it comes to the climate crisis. He studied environmental studies and wildlife biology while attending the University of Montana, and ran in the aforementioned PSC election. 
     Carlino signed a pledge not to accept campaign donations from the fossil fuel industry, and worked to get Montana lawmakers to do the same. "I realized quickly that we have the tools through switching our economy off of fossil fuels to renewables. The tools are all [available], but there's a lot of reluctance in our politics to actually put those tools into place," he said.
     He continued, "That led me to getting started with the No Fossil Fuel Money Pledge campaign in Montana, where we basically asked all of our politicians to sign a pledge to not take money from fossil fuel industry executives, fossil fuel political action committees, or fossil fuel lobbyists."
     Initially, Carlino believed it would be easier to get Democrats to sign on, though he soon found this was not the case. "After talking to all of our Montana federal level politicians, like our senators and congresspeople and our old governor who was Democrat, none of them would sign the [pledge]," he said. 
     While the pledge didn't see much success with Montana's federal representatives, the pledge's website cites 26 Montana political candidates that have signed on. Some notable state and local signatories are state congressman Danny Tenebaum (HD 89) and Missoula City Council member Gwen Jones (Ward 3). 
     While many of the federal level politicians Carlino spoke with ran on climate reform, he believes "corrupting fossil fuel money stands in the way." He pointed to Montana politicians supporting "big fossil fuel projects coming through Montana, like the Keystone XL pipeline," specifically Senator Jon Tester's proposal to overturn President Joe Biden's executive order halting construction on the pipeline.
     One of Carlino's climate concerns is the future of Northwestern Energy. "Northwestern Energy is where most people in the state get their power – definitely the vast majority of Missoula goes through Northwestern Energy – and they're trying to double their energy portfolio in the next few years by making four new gas plants in Montana," he said. Carlino hopes to "use Missoula to help pressure Northwestern Energy to not invest more into fossil fuels."
     He continued, "Investing more into fossil fuels at this point is going to send us off some major climate tipping points, so I'd like to see Missoula City Council mandate no more gas heating on new buildings and phase out single use plastic and styrofoam in our city." 
Roughly half of Missoulians are renters. Numbers vary, yet if elected Carlino would be one of only a handful of renters on City Council. Carlino says he would "bring the perspective of how hard it is to live in Missoula, it's so expensive." Additionally, he believes renters and young people have "different issues than people who are older or more economically safe." 
     One thing Carlino hopes to change is Missoula City Council's efforts to address the housing crisis. "Currently, when city council is talking about affordable housing and things like that, they're trying to build more and more. We're limited on how much we can build, and when they are building is it really truly affordable? It's really not for most people. We can't just keep building our way out of the housing crisis, we need to set in regulations around housing that makes it to where everybody has housing," he said.
     Carlino wants to focus on programs like inclusionary zoning, housing vouchers, universal rent applications, and decreased utility costs. According to Carlino, inclusionary zoning "would mandate that developers would have to set aside a certain percent of all new housing developments to be affordable for low income Missoulians. So, ideally that would be people that are making minimum wage. They would be paying less than 30% of their wage towards housing." 
    While Carlino supports inclusionary zoning, a law signed by Governor Greg Gianforte on Apr. 20 outlawed the practice on a state level. Inclusionary zoning had already been implemented in Whitefish and Bozeman, and the law will make it impossible for it to be implemented here.
     Carlino also wants to focus on other aspects, like homelessness, vacation rentals, and rent costs. "I would be happy to help put funding towards getting adequate housing to our homeless population, and give resources to people that are experiencing homelessness," he said. Carlino continued, "The more and more Airbnbs and vacation rentals there are in Missoula, the less housing availability there is, so I'd like to put restrictions on [vacation rentals] as well." 
     Another policy Carlino would like to influence is Missoula's housing choice vouchers program. "Families put in a request to get subsidized rent – to have some of their rent paid – and I'd like to see [City Council] help fulfill more of those vouchers," he said. According to Missoula Housing Authority's website, the program has helped 774 families secure "quality housing in neighborhoods of their choice in Missoula." 
     Missoula Housing Authority pays a fixed amount towards rent based on "the tenant's income and MHA's approved payment standards," and tenants initially pay no less than 30% and no more than 40% of their income on rent and utilities to be eligible. Additionally, household income must be "at or below 50% of the area median income" to maintain eligibility. Applicants are chosen from a waitlist. 
     As a member of Missoula City Council, Carlino would also like to facilitate a change in the renting process. Under the current system, future tenants need to pay application fees each time they apply for a rental. If a tenant applies and is denied, they're down the cost of the application fee without anything in return. One company, Missoula Property Management, charges $50 for each application. 
     Carlino wants to implement a "universal system for renters in Missoula where you wouldn't have to pay the application fees each time. Property management and [landlords] would all just share a database of renters, and that would make it easier for people to apply for homes."
     Another one of Carlino's main concerns is racial inequity. He wants to ensure that Missoula's local government does a better job at "listening to our BIPOC community" and "actually doing what they're asking for." He said, "People were protesting for racial justice in Missoula everyday for months… People were asking for things like funding for mental health services, making new crisis response teams rather than [just] using policing. People were asking to fund jail diversion programs, fund housing."
     Carlino continued, remarking on how last summer's protests coincided with the local government's budgetary process. "This was all going on at the same time that the city was doing their budget for the year… and that should reflect Missoulians' priorities." Budgetary reforms were a primary component of the summer protests. "They wanted to see change to where we spend our money, change to the way we do our politics." 
     Carlino pointed out, "Even after [public comments] and months of protesting, the budget was the exact same before the protests as it was afterwards. They passed the same budget, completely disregarding our community's input." He added, "When all we have is policing to keep our community safe, we really miss out on things that actually prevent crime like getting people their basic needs. Making sure that people have their basic needs met goes a lot farther than doubling down on the same system that punishes crime. We need to help alleviate the reasons that people commit crime, and a lot of it is because they are under economic stress. They can't afford to live." 
     When it comes to the issues of police reform and racial inequity, Carlino believes that Missoula City Council should "listen to Missoulians, not just do what they want."