Hellgate Cheer Team Faces Obstacles and Dreams Big in their Pandemic Season
     Hellgate's cheer team had high hopes for this year. 
     Last season they competed in CheerFest–a Montana cheerleading competition–for the very first time, and finished in first place in their division. They were going to cheer at the state basketball game after a long season cheering at pep rallies and football, basketball and volleyball games. 
     Then the world turned upside down as the COVID-19 pandemic spread like wildfire. This spring and summer, Hellgate's cheer team didn't even know if they would have a season. Against all odds, they've made it work while obeying directives from the Missoula County Health Department.
     They started the season online. Tryouts were done virtually as prospective cheerleaders sent in prepared videos. The team began practices via Zoom.
     "We started practicing with virtual practices until we knew for sure school would be open and that we would have a season and all that stuff. So we just did like Zoom practices as a team. That was interesting! I think everyone was anxious to be actually together," Head Coach Caroline McCormick said.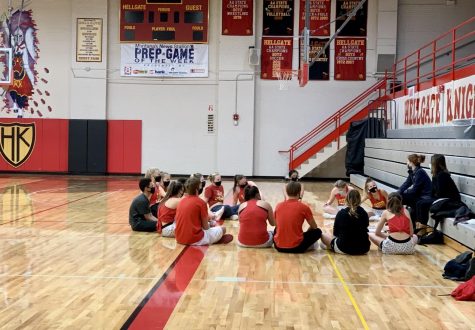 "And [now that we're in person], obviously there are some more regulations about wearing masks and social distancing at practice whenever we can. It's a little bit harder for us when we're stunting because we're literally holding people in the air, right next to each other. So we're just good about making sure we're wearing our masks, spreading out whenever we can, washing our hands, all of that stuff," she added.
     Like all sports, cheer is subject to new regulations to protect against the spread of COVID-19. Athletes have to wear masks when not performing strenuous exercise–for the cheer team, this includes parts of their indoor practices like stunting. They need to be wearing masks the majority of the time, and are required to attempt to keep some distance between athletes at practices.
     Senior Captain Cassidy Martin explained that though necessary, it's not always easy to adhere to the guidelines. "It is definitely strange cheering with a mask, because you cannot yell as loudly or frequently due to masks slipping down, and when you have your hand in a Pom, it makes it difficult to fix your mask and then adjust your Pom so your hand fits again," she said.
     Also, much of their season has been taken away. There were less football and volleyball games because the high schools decided to only do in-conference games, and pep rallies are out of the question. 
     "Our season has definitely been shorter. At least, fall this year. We've had less football games to cheer at, less volleyball games to cheer at… We're really hopeful for a basketball season, I know that it might be delayed. It's kind of up in the air. So we're just trying to stay as normal as possible with all of what we can do," said McCormick.
     The other aspect that the team has lost this year is the student section. Without a loud screaming mass of high schoolers in the stands, the stadium feels empty and the cheerleaders have to do double the work to keep the energy up.
     "Not having our students there hyping up the crowd as well has been weird and different. We miss them. But hopefully we'll get everything a bit more normal in the future," said McCormick.
     Martin said, "We are thankful that we get to cheer on our players at games, and cannot wait until hopefully the student body can participate in spreading the cheer at games as well."
     There's still a bright side to all this. "Since we also have less routines to work on since halftimes are cancelled, we have been focusing on our competition routine. Last year we won first place in our division and we plan on keeping that title–so we are working hard for when we compete in a few months," Martin said.
     She is hopeful the competition will find a way to go on. Her teammate, sophomore Chloe Caldwell, agrees. Caldwell said, "This year is pretty uncertain. Normally we would have a makeshift competition in December, spirit war in January or February and the big competition in March or April. We aren't sure how this is going to change this year, but we are still preparing routines for competition so we can work on them all year."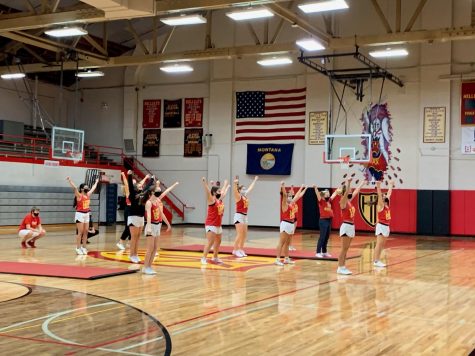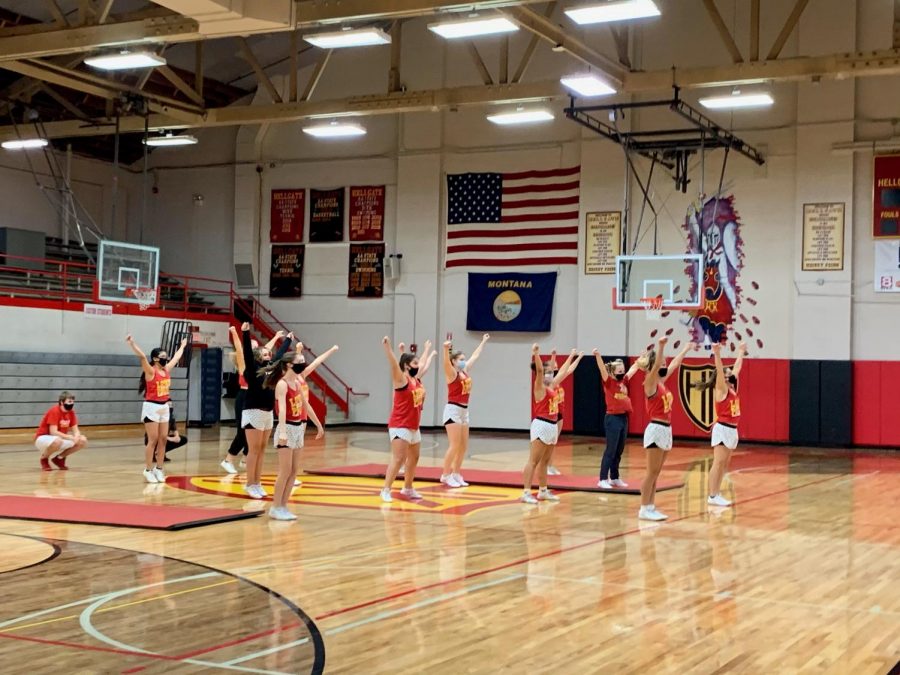 McCormick has been coaching the squad for three years. She loves the team and believes that they will be able to perform at Cheerfest in the spring. 
     "Competition is our biggest thing, that's what we are always so excited about. These kids work so hard, they're here for two hours, Tuesday's and Thursday's, sometimes more to get ready for competition. And when they're here they put their whole heart into it," she said.
     She added, "Next year we want to try and earn a bid to the national championship competition with UCA. So we're hoping this year we can get some pretty solid skills and continue to build throughout the end of this year into next year and do some big things."
     As the cheer team continues to grow, their dreams are growing too. Caldwell said, "In past years, the team has been quite small, but we have increased our numbers and the interest in the team greatly over the last year. Our abilities have also grown immensely." 
     Even if this season hasn't gone according to plan, it's allowed the cheerleaders to learn some valuable lessons. They've had to adapt to ever changing rules and schedules, all while planning for an event that might not even occur. This season has made the cheer team tougher, and they're prepared to take on their competition as soon as they can.
      The perfect metaphor for this cheer season lies in Martin's love for the sport. She said, "Cheer is a sport that requires confidence because as soon as you doubt yourself that is when stunts fail and people get hurt. So you not only have to trust in yourself, but trust in other people to catch you… When people don't catch you… you have to get up and persevere."
     No matter what comes their way, the Hellgate cheer team is ready to persevere.