2020 Hellgate Graduates Take On College From Home
     As most people know, the 2021 school year is unlike any other. Many colleges have already been forced to go completely remote due to a rise of COVID-19 cases. While, on the other hand, some students who had the option of attending in person, made the decision to complete the semester virtually or take a gap year.
     Piper Pfister, a 2020 Hellgate graduate, made the decision to start her freshman year at Northern Arizona University (NAU) virtually. Pfister was a state champion at javelin in her high school career and hopes to be able to attend school in person second semester to begin working out with the track team., "I do really hope I'll get to go to school in person in January, but also have come to understand how things can change extremely fast. I've started to just kinda live week by week and not think too far into the future, at least until things settle down more," Pfister said.
     Although Pfister thinks online school is harder than in person, she made the decision to attend school virtually because she is an out-of-state student, which makes staying at home a more cost effective route. Pfister also said there were "definitely some benefits I didn't expect. All the job opportunities have been great to compile a bigger savings account." She is also content with having more time in Montana to backpack and camp.
     When Pfister decides to attend NAU in person, her academic scholarship and WUE scholarship will still apply; this will save her thousands of dollars in the future. When it comes to whether she recommends the online college route to others,  Pfister said, "I think it is totally a case-by-case evaluation and you should really think about what will work best for your lifestyle and learning needs."
     Some students are also making the decision to take a gap year or only take a few online classes. Hamilton Smith was supposed to attend Middlebury College in Vermont in the fall of 2020 but chose not to because he wants everything to be 'normal' before he heads to college. "I really wish I was there, meeting people, and having the experience that I worked pretty hard during high school for," Smith said. However, Smith enjoys that it's "like summer all the time" and that he has minimal school work which allows him to mountain bike or do the activities he loves.
     Eliana Lambros planned on attending Loyola Marymount University in LA; however, those plans changed when COVID-19 cases continued to rise, especially in California where she planned on going to college. Lambros decided to defer for the whole year and hopes school will be able to open up next fall. She chose to take a gap year because she doesn't learn well online and it's expensive. "I'm happy to be staying here and working. And a lot of my friends are doing the same thing so it's fun," Lambros said.
     Lambros picked her school based on all of the scholarship money she earned to attend Loyola Marymount. Unfortunately, now none of the money is guaranteed for next school year. Although Smith wasn't directly affected by scholarships, he did qualify for financial aid for his freshman school year, and now that he has a job, all of the money will be re-evaluated.
     According to a recent survey done by Scott Jaschik for Inside Higher Education 40 percent of incoming freshmen at four-year colleges are likely or highly likely to take a gap year. "I am taking online classes and know a lot of people who are doing all online, and I would strongly advise to just take a gap year!" Smith said.
     Whether students are deciding to take all online courses, some online courses, or take a gap year, everyone is learning to take each week day by day. This year is unlike any other, and students are learning to embrace what they have right now, because who knows when a killer virus could take over the world?
About the Writer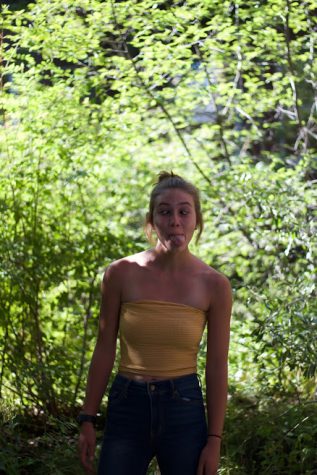 Maggie Vann, Reporter
Hi, I'm Maggie Vann, a junior at Hellgate high school. This is my second year in Lance, and I've enjoyed writing since before I was in middle school....