Trump's Key to Reelection: Spoiled Brats and MAGA Hats
Hannah Rafferty, Guest Writer
September 20, 2020
     Over the last 4 years, President Donald Trump's derogatory comments toward well-respected politicians, celebrities, and news outlets have only contributed to his massive popularity among conservatives. To his "superfans", his non-traditional perspective on everything from foreign policy to domestic affairs is a breath of fresh air from routine politics that they say left America in an economic standstill. Many of his voters are willing to overlook his status as an impeached president and inexperienced politician, rather embracing his unconventional approach to the Oval Office. This energy created around the former businessman may be enough to propel him into a second term.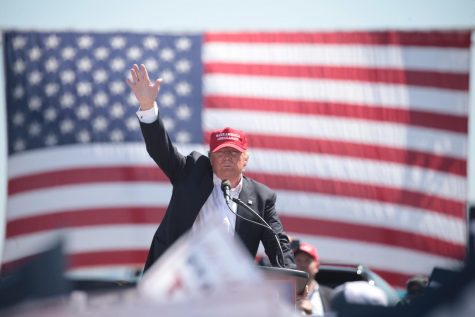 Trump's fanbase is unparalleled; hats embroidered with "Make America Great Again" flood rallies with a sea of red and flags embossed with "Trump 2020" hang from flagpoles across the country. How did this man, who has called senators "spoiled brats" with "extraordinarily low IQs", become an idol for so many Americans?
     For some, his assertive demeanor offers a change of pace from typical establishment candidates with empty campaign promises. While these voters might not agree with Trump's statements, they admire his ability to challenge the status quo. In a 2016 New York Times letter to the editor, reader Tracy Lawrence writes, "We don't know what the future holds if we elect Donald Trump, or another 'outsider,' but most of us feel we know what it holds if we don't. More of the same." 
     The President's past as a businessman and celebrity not only allows him to lure voters looking for an out-of-the-box politician, but gives him a significant advantage when it comes to marketing his campaign. Trump has monetized his platform in a way no politician ever has, slapping his name on anything from straws to wrapping paper, and turning MAGA into a cultural symbol that graphic designer George Lois calls an "American staple." Trump's marketing strategy allowed him to gain exposure in 2016, secure a base, and expand on it for the next 4 years of his presidency.
     Trump's transformation from person to product gives him a Teflon-like shield against criticism as well. When he presented a map of Hurricane Dorian's path in 2019, a black marker line suggested that Alabama would face the impacts of the storm. Immediately after the President's display, Alabama's National Weather Service disputed his claims, tweeting, "Alabama will NOT see any impacts from #Dorian." Media outlets quickly reported on the misinformation provided by the administration, which had rightfully sparked outrage in the scientific community. In response, the campaign released "the official Trump marker", designed to "drive CNN and the rest of the fake news crazy!", according to the President's campaign manager.
     Donald Trump's unique ability to capitalize on controversy is what allows him to continuously break norms that would be impossible for other presidents to do. Many of his ardent supporters indulge in the satirization of his mistakes, buying roughly $50,000 worth of Trump markers and $823,000 worth of his straws.
     Who are these supporters? The predominantly older, white male fanbase has been vocal about its approval of the President since his inauguration in 2017. The familiarity of red baseball caps and chants against "fake news" unite these superfans at rallies across the nation, many of whom have gone to upwards of 60 rallies. The Front Row Joes, avid proponents of the President, camp out at these events days before Trump speaks. The sense of community created within the fanbase has convinced many to stick with their candidate for the 2020 race. Jennifer Petito, who attends rallies across the country, said in a 2019 Christian Science Monitor article, "We were all strangers, but now we're lifelong friends. We're family."
     Despite polls showing a general dissatisfaction with Trump's handling of the recent COVID-19 pandemic, his base remains strong. His voters believe that the President has taken the necessary steps to ensure public safety and economic stability. No amount of criticism from "fake news media" or "spoiled brats" seems to dissuade supporters of the norm-breaking businessman. It may just be enough to secure him a second term. "Everything he is doing is for the good of the country," says Cindy Hoffman, sporting a MAGA hat and American flag button-down, "It feels like he's my father. He's going to protect me."