COVID-19's Effect on Hellgate Soccer
     As students around Missoula begin an altered 2020-21 school year, many different extracurriculars have been affected by protocols implemented to slow the spread of COVID-19. One of these is Hellgate's soccer program, which has experienced both the creation of new problems and amplification of old ones. Boys varsity goalie and Hellgate senior Brendan Oberg said the season is "going to be a little bit weird," highlighting restrictions on post-game outings, spectator attendance, and travel protocols. He added that the season won't be as exciting as past ones, but he's hopeful "it's still going to be a good season."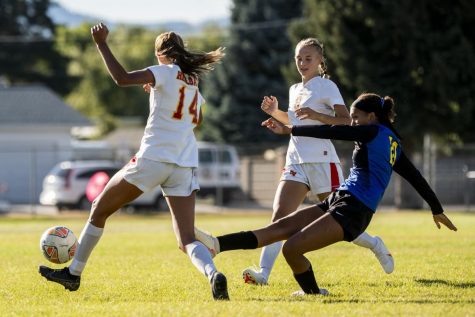 Other players share Oberg's sentiments, including fellow Hellgate senior and girls varsity player Avery Maxwell, who added, "I am just extremely excited to play, and appreciate the state, MHSA, and Missoula County Health Department working to give us a season and keep our athletes safe." 
     Clearly, both players and coaches care deeply about the game and this season, as, according to boys varsity coach Jay Anderson,  "We will follow any protocols necessary in order to allow the athletes to play." Soccer allows the athletes to remember life before the pandemic, a little bit of normalcy. Girls varsity coach Natalie Hiller-Claridge said, "To me, soccer, and any sport, is where you get to step away from whatever else is going on in your world. When you step between the lines, all you have to worry about is the game and your team… Between the lines they can take their masks off and they get to just play the sport they love."
     One interesting and complicated change is the new JV-Varsity swing protocols. Anderson said, "In any normal season, I have 'swing players' that go between varsity and JV fluidly.  Usually, swing players are allowed to play 3 halves in a single day (for example, they would play both halves in JV and 1 half in varsity).  This year is different because each school district has their own guidelines because of [COVID-19]." He continued, adding that in order to reduce the spread, players are "not allowed to swing between teams on the same day" and that "in Missoula, our rosters have to be hard set and no more than 22 people can be on the bench, including coaches." 
     In the past, being able to swing players to substitute has been huge. According to Hiller-Claridge, "Last year, had they not been able to swing players, they might not have been able to field a JV team every game." Hiller-Claridge recognizes that this could potentially become a problem, but is hopeful that with the number of players this year, Hellgate will be able to field both a JV and varsity team for the entirety of the season. In fact, this year, the girls team had 35 players come out, which she is "very thankful for." 
     Another change Hellgate's soccer program has dealt with this year regards the scope of their season. The program has begun looking at the season game by game, rather than overall, as they have no idea when it could be shut down. With the change in scope, Hiller-Claridge believes that it's important to "remind the girls that we have to leave it behind when we're on the field."
     Anderson is optimistic for the season, believing in the quality of players on the team, but is anxious as "we could be told that the season is suspended at any moment." Echoing Anderson, Maxwell understands that the season "has not been shortened due to COVID-19, although this could change."  Players are taking the season moment by moment, grateful for what they can get, as they're aware that with just a few cases of the coronavirus on the team, they could face a premature ending.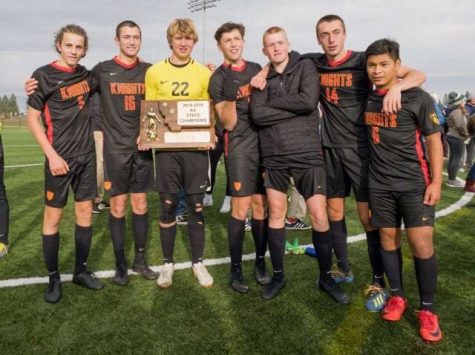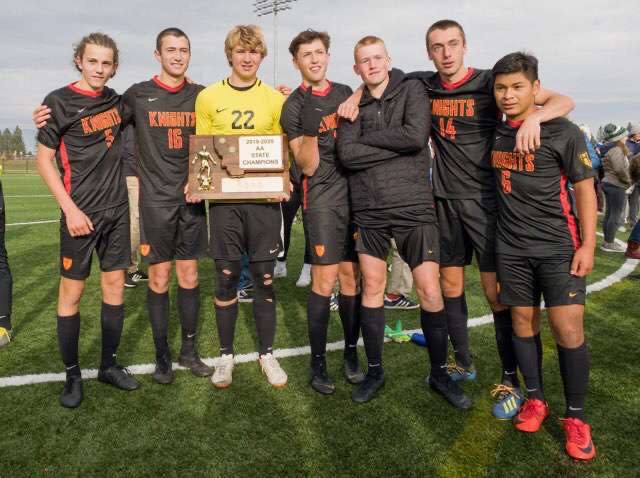 Hellgate senior and boys varsity player Jonah Teasdale has found that, although he agrees the season is still worth playing, certain travel arrangements including assigned seats and no post-game outings, may prove troublesome for the team. "Those little things, they don't seem like a big deal to the outside eye, but a big part of the season is the camaraderie … and you just hope that it won't affect team morale and chemistry."
     Over the summer, players were still allowed to practice during "open fields", and the season began on schedule, with tryouts starting on Aug. 14. The season is set to end in October with state playoffs.
     This will be Hiller-Claridge's first year as a coach at Hellgate, but she's ready for a challenge. Though she enters the program during a time of uncertainty, she has a lot of hope for the team going forward. "I'm mostly just thrilled to be a part of the program. I'm working with some fabulous young women and I couldn't be more excited about where we're going as a program now and into the future," she said.