MHSA Cancels 2020 Spring Sports
On April 22, the Montana High School Association announced they are cancelling all spring sports for 2020. Members of the MHSA agreed that it would be too difficult to deal with social distancing guidelines during sporting events. Although it was a difficult decision, most athletes, parents, and coaches agree that it was the right one. 
Spring sports had originally been postponed with the possibility of resuming later. However, it was agreed that the season would be cancelled if school didn't reopen by May 4. Governor Steve Bullock's recent order gives schools the choice of reopening on May 7 at the earliest, so spring sports are no longer an option. 
Many athletes were shocked and disappointed when they learned there wouldn't be a season this year. "At first I was really nervous and upset because junior year is the biggest year for recruiting," said Abby Kendrick, a track athlete who competes in the mile and two mile. Kendrick hopes to continue running in college, which makes this year's results especially important for her. 
Kendrick had a very successful cross country season in the fall, though, which will likely help with recruitment. She placed 5th at the Mountain West Classic and competed at Foot Locker Nationals. "I am very grateful I was able to perform the way I did earlier this year," she said. Kendrick also said her coaches reminded her that she is not alone in this challenge. Everyone has been affected. 
Hellgate junior Marion Jones was disappointed but is trying to be positive. "I'm bummed for sure, but it's not the end of the world," she said. "I still have next year to compete and I will keep training for then. But I do feel bad for our seniors who lost their final season in high school."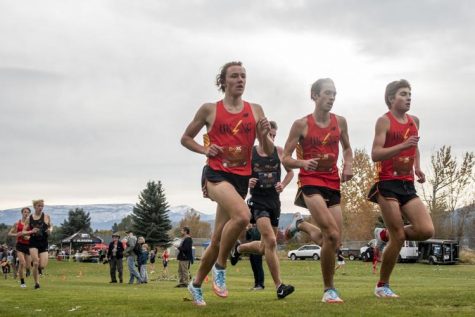 Many of those seniors had strong performances last year and were expected to do even better this year. As a result, many track athletes had high hopes for this year's competitions. "We were really excited to see what we could do this track season as a team," said Ignatius Fitzgerald, who competes in the 1600 and 3200 meter races.
 Jones had similar expectations for the distance team. "I bet a few of my team members could have won state titles this year. And I know some of our throwers were expected to do really well this year," she said.
It's not just the track athletes who are disappointed. Tennis and softball players, as well as numerous club teams, have had to deal with the cancellations as well. 
Colton Quirk, a member of Hellgate's tennis team, was looking forward to the new season. "I really did have high expectations for us," he said. "Last year we went undefeated during the season. This year we had a ton of amazing singles players. And we had Tomo, a Japanese exchange student who is absolutely ridiculous at tennis. I really thought that this year we were gonna do amazing."
Despite the disappointment, Quirk recognized that it would have been unsafe to continue playing. "I think that it is the right decision. The safety of our community is more important than playing a game."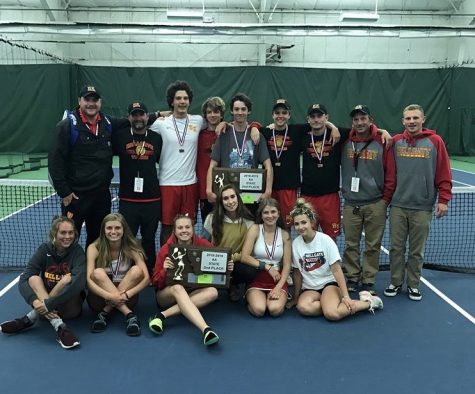 The last time a Montana sports season was cancelled was in 1943. The U.S. had recently entered World War II and state competitions were cancelled in order to focus on the war effort. War recruitment made many teams smaller and gas rationing made transportation difficult. But although there were no state tournaments in 1943, there was still a regular season. This year, there aren't even practices.
Many athletes have continued training hard despite the unusual circumstances. Fitzgerald said his coach has kept him in a consistent routine by posting workouts online. "I've been able to keep training about the same as I would have if we still had a season," he said. Jones has been giving herself time goals to stay motivated. "I have been training a lot on my own, going to the track a few days a week and running consistently," she said."My easy run pace has been getting faster which is very motivating for me, but I have mostly just been competing against myself." 
Despite their efforts, training solo can be lonely. Athletes are looking forward to having some more company and getting encouragement from teammates. For Quirk, tennis is an opportunity to hang out with his friends, and the absence of that has been tough. The social aspect of sports makes them more fun, but it also makes it harder to follow social distancing guidelines and contain the spread of a contagious virus. 
Hellgate's athletes are coping with the present by looking to the future. The thought of next year's cross country season has motivated Kendrick to keep running. "I am very excited for next year because I think we can have a very strong group of girls that is willing to put in the work in hopes of some big outcomes," she said. "I also think that if everyone continues with their training we can have a very big year."
Fitzgerald has high hopes for next season as well. "I hope that I'll be in a position where I can take a shot at winning the state cross country title," he said. "There are a lot of good guys from Bozeman and Billings who I know have been working just as hard as I have and want it just as bad as I do, so I know it'll be a real challenge, but I'm super excited to see what we can all do."
Competitors are used to dealing with setbacks and adversity. Hellgate's spring athletes will face this challenge the same way they have faced many others: with patience, determination, and positivity.