New York Times Reporter Educates And Inspires Hellgate Students
On March 10, 2020, Hellgate students had a once-in-a-lifetime opportunity to attend a lecture by the renowned New York Times reporter, Nicholas Kristof, who has been all around the world writing and sharing his incredible stories.
Kristof believes that luck compounded on luck enabled him to get where he did in life. He said, "Luck kind of piles on top of itself… To some degree, both good luck and bad luck feed on each other."
The first time he got lucky was at birth. He said, "I think fundamentally the answer is that I won the lottery of birth with my parents and family. I was read to constantly, hugged constantly, surrounded by children's books, and my parents cared deeply about education." This enabled him to succeed throughout his life and career.
 Kristof began his ambitious writing career in the eighth grade when he was elected editor for his school paper. At first, he didn't think he wanted the job. Kristof said, "There was an organizational meeting to start a school paper, and I didn't go to it. A bunch of kids wanted to have a school paper to write for, but nobody wanted the burden of editing it. So they chose me as editor in absentia."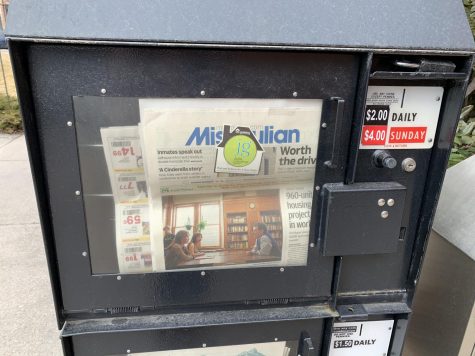 Luckily, he liked it, and once in high school he jumped headfirst into reporting. As soon as Kristof received his driver's license at 16, he started writing for a local county paper in Yamhill, Oregon.
His interests in journalism continued throughout high school, and even into college, where he held several internships and wrote for his college paper at Harvard University. Although it seems as if Kristof had his career layed out for him since middle school, he received a Rhodes Scholarship that allowed him to attend law school at Oxford University. Kristof said, "I was in some danger of becoming a law professor, but I escaped that."
Currently, Kristof works at the New York Times as a columnist, and he writes two op-ed columns each week. He previously served as a Times correspondent based in Los Angeles, Hong Kong, Beijing and Tokyo.
He has also won two Pulitzer Prizes, the first with his wife for their coverage of Tiananmen Square, and the second for his columns about the genocide in Darfur. Out of everything he has accomplished in his illustrious career, Kristof identified drawing attention to Darfur as his proudest accomplishment.
"I heard that there were some atrocities under way in Darfur and didn't really know if it was true. I made a trip out there and was just truly haunted by what I saw. I never imagined I'd make another trip but I just could not get out of my mind what I had seen, and so I went again and again," he said.
His line of work does not come without risks. Kristof has placed himself in danger many times in the name of journalism, but each time emerged intact. Once, he traveled to Congo during a civil war in 1997. He said, "That was a visit from hell."
The trip began on the wrong foot when his plane crashed while flying in. Then, while driving through the jungle, he encountered a dangerous warlord.
"On the very first day, I ran into a warlord who was busy massacring people of one ethnic group. The basic rule of journalism is that you never lie. The one exception is if you're being held in the jungle by a warlord who is busy massacring people," Kristof said.
"So I told him that we had permission from his uber warlord, and he didn't really believe this, but he couldn't get the uber warlord on the radio, so he let us go after about an hour. Later that day he did reach his boss warlord who had never heard of us, and so then we spent the next week being chased through the jungles of Eastern Congo by this truck of soldiers and a warlord."
Not only has Kristof become extremely successful in a notoriously difficult career, but he has written several bestselling books alongside his wife, Sheryl WuDunn. His most recent book, Tightrope, was published in early 2020, and was the reason he came to Missoula.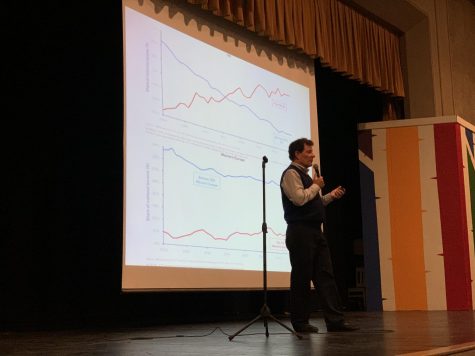 The University of Montana hosted Kristof at a Mansfield Lecture to help promote the new book. Lucky for the students of Hellgate High School, Kristof agreed to come speak to a select group of students – juniors, honors, and IB students – about the topics explored in Tightrope.
Tightrope is the story of rural America. It is based in Kristof's hometown, Yamhill, Oregon, but the troubles facing Yamhill reflect struggles in rural communities all around the country. 
Kristof explained that the most difficult part about writing this eye opening book was telling stories about old friends. In Tightrope he talks about several families he grew up with. One was the Knapp Family, whose five children rode the school bus with Kristof back in the day: Farlan, Zealand, Rogena, Nathan, and Keylan. All five died "deaths of despair", also known as death from drugs, suicide, alcohol, or reckless accidents.
Another family Kristof wrote a lot about was the Green Family: Tom and Irene, and their children. Tom Green was illiterate, but got a solid union job and took care of his family. By the time their kids grew up, jobs like the one their father had didn't exist anymore. One of them, Clayton Green, turned to cooking meth. Kristof said, "The Green family was very close to me and I worried about how the family would see, what they would think of what I had written. Clayton had allowed me to write about him cooking meth, but I didn't know what the rest of the family would think about him being identified as someone who was cooking."
 Kristof also said it was hard to write about a town that was so close to him. He said, "I also worried about Yamhill, and people in this town that I really treasured, how they would feel about having the dirty laundry aired across the country."
Although Kristof explained there were some struggles with writing and publishing the heartaches of his hometown, he said that the response from the community was mostly positive, even if the audience held completely different political views. He said, "I tend to be quite hostile to Trump, and they tend, I mean, as a result of their pain, they tend to be pro-Trump. And as a result of similar pain, I tend to be anti-Trump. So our interpretations, politically, are completely the opposite. But they were still enthusiastic about the book."
Other topics were also touched on by Kristof in Tightrope, including poverty, drug abuse, unemployment, suicide, race, education, homelessness, domestic abuse and many other difficult topics that make readers wonder how these problems developed when America seemed to be so prosperous and perfect.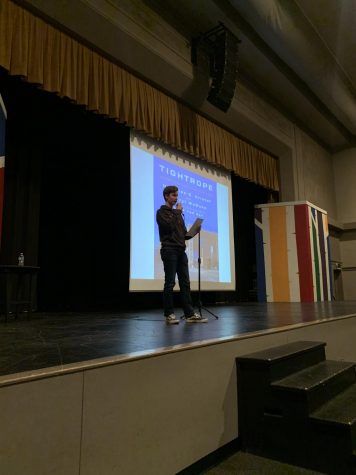 The reason Kristof and WuDunn used the metaphor of a tightrope when titling their latest book, was because they thought it was a perfect metaphor to explain why so many Americans are struggling. "We think about money, and we understand that money matters. We understand that race matters. I don't think we fully appreciate that if you are in a troubled home with parents who were high school dropouts, who are abusing meth, maybe only borderline literate themselves, that the moment you are born, the odds are against you," he said.
"For me and for a lot of people, we're on this nice broad path, we're unlikely to slip; if we do slip, we'll pick ourselves up pretty easily. For a lot of my classmates, they were on a tightrope. And some of them made it, and you know, that's fantastic. Three cheers for them, that's heroic when they do that. But they're more likely to slip, and when they do slip, then there's no safety net, and we point fingers and say, 'Oh that awful person' and we don't give them help."
Kristof said that the biggest issue facing the youngest generation of Americans is how to help all Americans live up to their potential. "Roughly half of Americans get a pretty good education and do generally live up to their capacity, but I think, the other half of Americans, their talents are never developed. And that holds them back and it hurts them, but it also holds the country back. And we try to preserve America's competitiveness with our negotiations with China, but truly the way to be competitive is to make sure that every kid gets an education and graduates from high school, and ideally goes to college," he said.
Nicholas Kristof certainly touches the lives of everyone that crosses his path. Hellgate students were lucky enough to attend his thought provoking lecture and they learned more about the difficult issues facing their generation and many more generations to come. Armed with this knowledge, Hellgate students can begin to take steps to address these issues through following Kristof's advice: place more emphasis on collective social responsibility rather than personal responsibility.
About the Contributors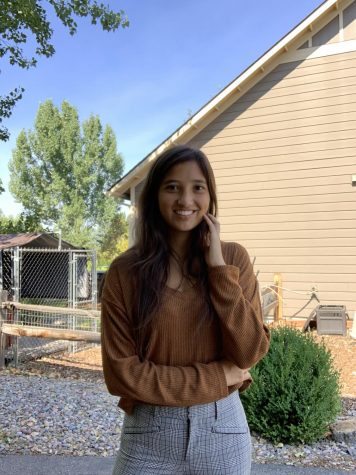 Ali Caudle, Co-Editor
Just a girl who fell in love with journalism and never looked back. This is my second year with the Lance, and I also play soccer and swim for Hellgate....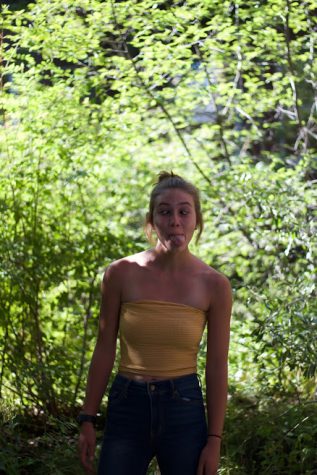 Maggie Vann, Reporter
Hi, I'm Maggie Vann, a junior at Hellgate high school. This is my second year in Lance, and I've enjoyed writing since before I was in middle school....