Crumbl Cookie Review
The chain Crumbl Cookies opened up its first Missoula store on March 5. This is Crumbl's second Montana location, the first being in Billings. The next day was 'Free cookie day' which did its job attracting customers to the store, because by 3:30 the line was out the door. 
Crumbl is located in a strip mall off Reserve, which could potentially cause problems for the store due to its far proximity from town. The interior of Crumbl is also rather small, and there is no eat-in space at this location. However, the aesthetics of the shop could be described as a 14-year-old self proclaimed 'insta-influencer's' dream. A clean white interior with details of millennial pink, even I had to admit I wanted to snap a picture for my Snapchat story. Another genius marketing move by Crumbl. Know your audience, I guess.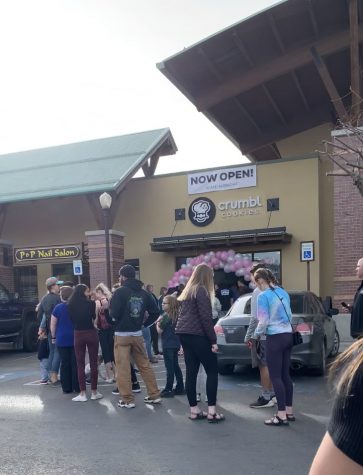 Speaking of the audience, I suppose today's is one that will support such thing as a gourmet cookie shop. I did notice plenty of high school girls (myself included), as well as a fair amount of young moms with their broods of shrieking children. Seems about right for the expected crowd in such a store. However, anyone can appreciate a good cookie so let's talk about the actual product. 
Crumbl operates on a rotating menu of extravagantly unique cookies. A few of this week's featured picks were the waffle cookie that actually came with syrup on the side, dirt cake, and pumpkin roll. The free cookie day only included chocolate chip, one of two permanent flavors, alongside chilled sugar. The cookie I tried was Dirt Cake, which, despite its unappetizing name, was actually rather good. Decently sized, and incredibly decadent, eating it was certainly not a feat to be accomplished in one sitting. Overall, I'd give Crumbl's cookies an 8/10.
Believe it or not, Crumbl is actually not Missoula's first gourmet cookie shop, as Mery's Mountain Cookies opened downtown a few years ago. Whether there's room in town for two of these stores, we will find out.
About the Contributor
Sophia Geranios, Reporter


My name is Sophia, I'm a Junior, and this is my first year on the Lance. I play tennis, and I'm in Badminton and Key Club. I like photography and...