"The Lion, the Witch, and the Wardrobe" Roars Into Hellgate
The Good Knight Theatre Company, Hellgate High School's own performing arts group, performed three spectacular performances of The Lion, The Witch, and The Wardrobe on Feb. 27, 28, and 29. 
The play, also referred to as 'Narnia,' is based on the first book in the "Chronicles of Narnia" fantasy series by C. S. Lewis. The story follows four young children, the Pevensies, who walk through a wardrobe and find themselves in a mythical land, Narnia. They are called upon by the creatures of the forest to fulfill a prophecy, ultimately becoming the rulers of Narnia and disposing of an evil witch.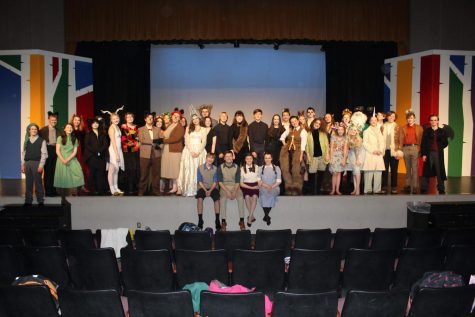 The play was directed by Laramie Dean, who has been the drama instructor at Hellgate since 2012, and has had extensive experience in the theatre industry. His favorite part of working at Hellgate is the students.
He said, "We have so many students who are interested in the arts, not just theatre, but the visual arts, design, and music. I try to give my students as many opportunities to be creative as I can… I have a great group of actors, but I also have excellent costumers, makeup artists, and stage managers, and I thought it would give everyone an opportunity to be creative."
"The super cool poster you've probably seen around school was created by sophomore Caroline Wright, who also plays the White Witch. Junior Kara Sanders volunteered to write music for the play and accompany us. I love it – people want to be involved.  I have the best job in the world."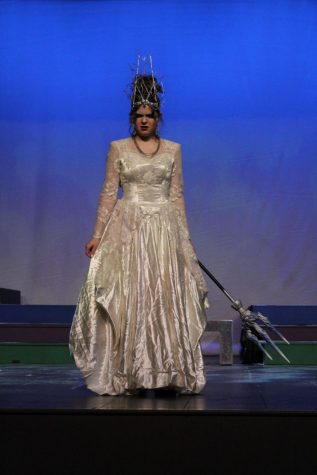 He added that the students were responsible for creating and choosing all of the props and costumes for the shows. He said, "Corinn Morgan is a genius prop builder and built many of our props. Some we pulled from our prop storage. Matthew Miller, Alexis Elensky, and Hailey Chabotte were our costume designers. They pulled from storage, but they also built several pieces, including the Wood Nymphs. Maille Moynahan is an awesome seamstress, doing lots of repairs, but also creating tails and ears for the more animalistic citizens of Narnia."
The work to put the show together began in December. Dean held auditions for the show in early December, and the cast list was posted the next day.
The audition process was straightforward. The prospective actors were gathered into groups of four, and had to perform the opening scene as the four Pevensie children. Interestingly, three of the four actors who ended up playing the Pevensie's were in the same original audition group.
Hazel Seagrave, who plays Lucy, said, "I was in an audition group with Natalie and Nick, and Natalie plays Susan and Nick plays Edmund… I always wonder what might have happened if we weren't in the same group, or if I didn't audition with Lucy, if that would have changed anything."
Seagrave is grateful she got the part. She said, "I like playing Lucy because I've grown up watching the Narnia movies and I was that young girl with short brown hair, and I always dreamed of myself being Lucy, so now actually getting to play her is such a dream come true. And it's also fun being an 8 year old on stage."
Everyone who went to see the show could tell you that the actors had a lot of fun performing on stage. However, that doesn't mean many of them weren't nervous.
For Oliver Hughes, a sophomore who played Mr. Beaver, this was only his second theatre show ever. He expressed that right before the show, he couldn't stop thinking about everything that might possibly go wrong. He said, "I think the nerves really show up when you hear the audience. You think about it all day, and then when you're standing backstage you're like, oh god, there really is an audience out there. Right now. Everything runs through your head, like do I know my lines, am I going to forget my lines, what if this happens, what if someone skips over a line, you know. You just kind of gotta deal with it as it comes."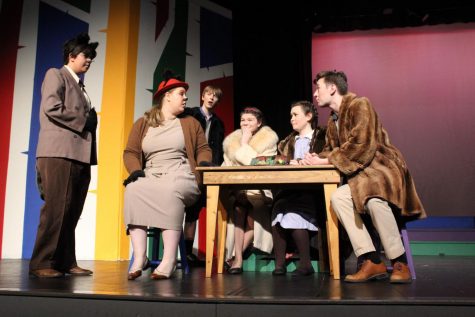 Hughes explained that during the show, actors were supposed to stay in character. This means that they were not supposed to look at the audience, not even to wave at Grandma. However, sometimes it was difficult. He said, "They look at you, and your eyes are drawn to look at them, and you can't because it makes you break character. But, like, there's nothing more amazing than having all of these people look at you when you've practiced it for months and months and months… So you wanna look, and it's hard to not."
One aspect of theatre that often goes overlooked is the blocking. Every step, every movement the actors make on stage was meticulously decided, planned, and practiced. Even simple decisions such as the Pevensie's entering through the house, Tumnus the fawn entering from stage right, or Edmund standing by the lamppost for one line and then walking forward in a dance with the winter nymph, were all chosen by Dean.
Morgan Best, who played the autumn nymph, described how important blocking was for both the show and her character. She said, "With my character, it was a lot different because I don't have very many lines, but there's a lot of blocking that's involved. In the past what I've done is I've related my blocking to my lines, and then I'm like, 'Oh yeah I move when I say this.' This time, though, it was all based on movement."
"Also, my character moves all of the furniture on and off stage. So you just had to know your cues and listen to what people were saying onstage, backstage, in order to know when to go on and off, and when to take things off. It can kind of get chaotic but it works."
Blocking was also responsible for little moments that made the audience laugh. For example, Hughes and Dean shared the same favorite moment in the play. Dean said, " I love when Oliver Hughes pats Nick Monsos on the head… I love it."
Hughes elaborated, and said, "My favorite part is when, Hailey hugs Nick, well, Mrs. Beaver hugs Edmund. It's been a really tense time and Edmund finally showed back up from the White Witch, and I go 'Auhh' and pat his head twice. It's just kind of like a silly little interaction and I love it."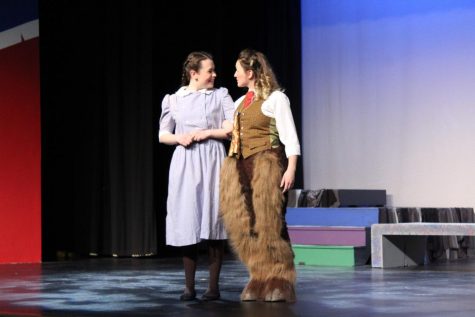 Another interesting fact to note is that Hellgate's theatre department has way more females than males. In the books and movies, Aslan the lion and Tumnus the fawn, both major characters, are male. In Hellgate's show, they were female. Aslan became the almighty Queen, rather than the almighty King. Best said, "There were females playing male parts and it was just really interesting and cool."
However, this made it hard to memorize some of the lines, because in the script, they were all referred to with male pronouns. Seagrave said that it definitely took a little extra work at first. She said, "Another hard thing about memorizing my lines is that a lot of my lines are pretty similar, just with little tweaks so you have to remember which one is which and which scene it comes in."
Seagrave also explained the ending of the show. If you weren't familiar with the original "Chronicles of Narnia", it could be confusing.
She said, "So the end of Narnia, the last scene, starts with the Pevensie children running in from the aisle just like they did in the beginning. But… time works differently in Narnia. You could be in Narnia for years and years and it was maybe a minute in the real world. So the Pevensie children, by now, have aged a lot in Narnia. They're all adults, they're all queens and kings of Narnia, they're grown up, and they're hunting the stag at the end. And they end up in the same spot that they came into Narnia, around the lamp post, but it's been so long that they've forgotten all about it. So when they see the lamp post, it's deja vu almost, and then they find their way back into the real world and they're kids again and almost no time has passed."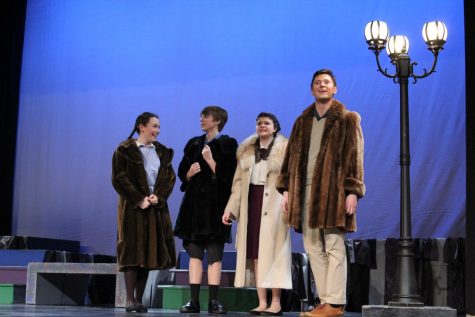 Opening night was on Thursday, Feb. 27, and they performed it again on Friday and Saturday. However, the show began each night at 7:30 p.m. and it ran for roughly 120 minutes with no intermission. This meant that opening night had the smallest crowd, though they were still enthusiastic. During the bows, the students received a standing ovation.
According to Seagrave, opening night is usually smaller because it is always on a school night. She said, "At least for me, I wouldn't choose to go to a show that's late at night on a Thursday night, a school night. I would choose to go out and have fun on a Friday night or a Saturday night, so, although there is always something special about opening night, we get a bigger turnout for Friday and Saturday."
Hellgate's production of "The Lion, The Witch, and The Wardrobe" was incredible, and the actors are proud of what they accomplished in two months. Hughes said, "It's really fun to see the work that we've done put together on a stage for people to see."
The Good Knight Theatre Company always does a great job with their shows, and Best thinks it is because of the positive camaraderie between everyone. She said, "With this department, there's a lot more bonding and the community is just a lot more accepting, and we form relationships and it just really helps with not freaking out in a huge way."
Everyone at Hellgate can only wait and see what the theatre program will do next.
About the Writer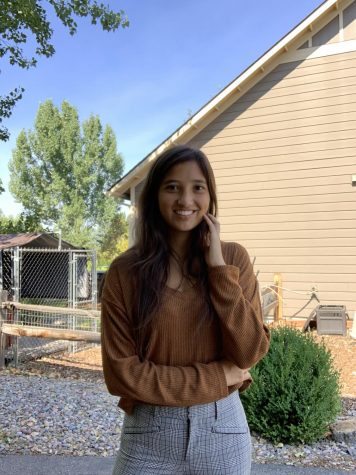 Ali Caudle, Co-Editor
Just a girl who fell in love with journalism and never looked back. This is my second year with the Lance, and I also play soccer and swim for Hellgate....