Bozeman Ends Hellgate's 6 Year Winning Streak at the MHSA State Swim Meet
The Hellgate Knights might not be the official state champions any longer, but they are in their hearts.
After six consecutive years of both Hellgate's boys' and girls' swim teams placing first at the Montana High School Association (MHSA) State Swim Meet, on Feb. 15, 2020 Bozeman High School took their place and ended the streak. The Bozeman Hawks won the combined team title for the first time since 2002, with both girls' and boys' teams finishing in first.
The Hellgate Knights battled low numbers this season. The girls sent eleven swimmers to the state swim meet, and the boys only had 6 swimmers. However, the girls blew other teams with more swimmers out of the water for a triumphant second place finish. Butte High School came in behind them, placing third.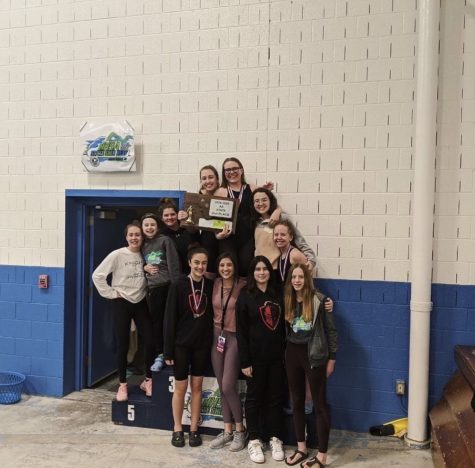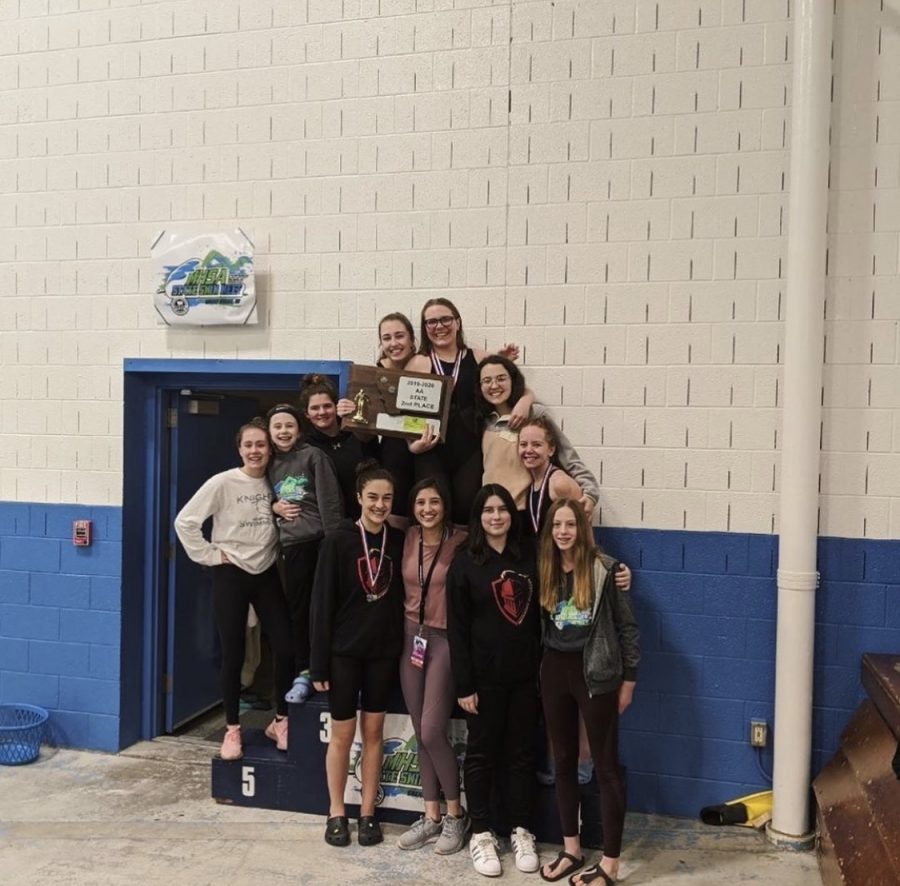 On the boys' side, Great Falls had a strong meet, with two of their teams, C. M. Russell and Great Falls High, placing 2nd and 3rd respectively. The Hellgate boys fought hard, but ended up in 11th place out of the 14 AA schools.
Kihla Lax, a sophomore on Hellgate's team, said, "Individually and as a team I feel like we did incredible. Hellgate is used to being state champ every year, but we are also used to having 30+ swimmers. This year we only had 11 girls, and to me having only 11 girls… and still placing 2nd, that's incredible."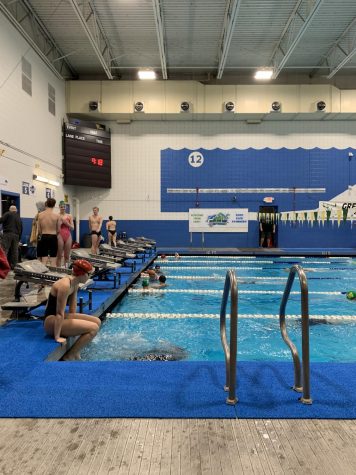 The MHSA State Swim Meet is a two day meet. Day 1 is for prelims. All swimmers who made it to the state meet can swim in up to 2 individual events and 2 relays. However, each school may only have one relay per event.
Swimmers' times from prelims will determine whether or not they swim the second day, in finals. For each event, 12 swimmers qualify for finals. The 6 swimmers with the best prelim times in every event will be seeded into the "A" final, and no matter what their time is when they swim it the second day, will have the opportunity to earn more points for their team than everyone in the "B" final. The "B" final is the 7th through 12th place swimmers. There were 440 swimmers at the meet, with anywhere from 36 to 78 swimmers in each event. Finaling in any event is an incredible achievement.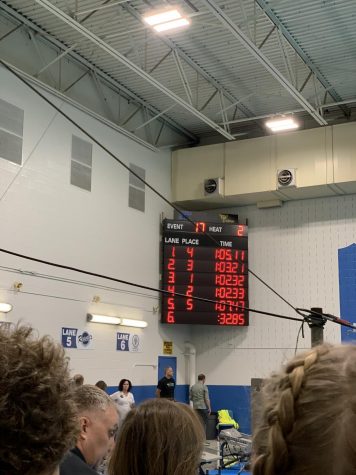 Even though Hellgate had less swimmers than other teams, the ones who were there gave it their all. The Hellgate girls were the only team to have at least one swimmer in each "A'" final. This means that for every event swum in high school swimming, at least one of the top six female swimmers in that event for 2020 goes to Hellgate High School.
Lax qualified for the "A" final in each of her events. She said, "Prelims went great. All my races I felt very smooth in and executed race strategy very well and was very happy with my time and placements going into finals."
"My finals swims, they were a little rough. I was definitely feeling the day before in my body, my muscles were pretty tight and I was pretty choppy in the water. I still managed to have some pretty good swims despite how I was feeling and I'm very pleased to see where I placed individually and as a relay team at the end of finals on Saturday."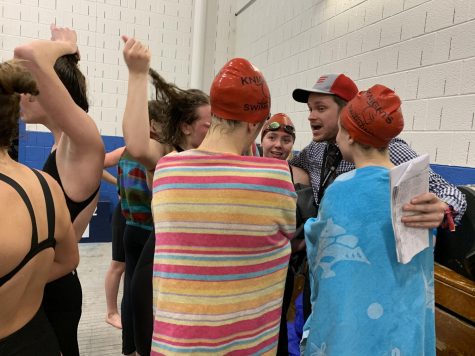 Isabella Seagrave also qualified for "A" finals in all of her events. Seagrave is one of the two senior captains, alongside Maddy Butler. Seagrave has committed to attend Long Island University to continue to swim with their program.
She said, "My favorite race from this weekend is pretty hard to pick. Being on the podium with my relay teammates is always the best, but I think I might have to pick my prelims 100 breast. I was so calm and I felt great! I got to swim it again the next day and podium with my teammates and friends next to me. There's no feeling in the world quite like standing up there with swimmers you like on either side."
Before reaching that podium, it took these girls a lot of work. Most of the swimmers at Hellgate have been training with a club team for years, and swim at least 8 hours a week. Practices are held at 5:30 in the morning at the Grizzly Pool.
Once swimmers reach the meet, it also becomes a mental game. Seagrave said, "This year, I tried my best to relax and get what I needed to done. I focused on warming up more than I really wanted to and staying warm throughout the day. I also tried to focus on the team aspect, especially during finals."
Mentality played a huge role in the first event of the day, the Girl's 200 Medley Relay. Day 2 of finals got off to a rocky start. It took over an hour to get through that first event, because of two medical emergencies at the facility and one equipment malfunction.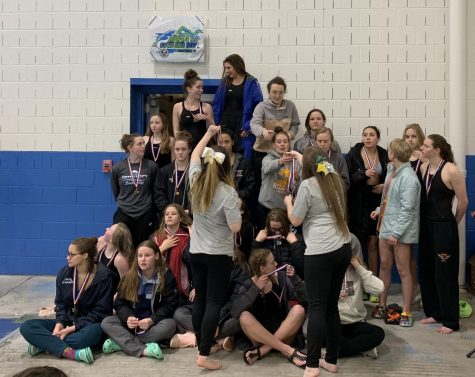 With so many delays, it was pretty stressful for the first relay team: freshman Lauren Riley, juniors Anya Craig and Avery Maxwell, and senior Bella Seagrave. After they swam the medley relay, placing second with an impressive time of 1:52.32, dropping almost two seconds from their seed time the day before of 1:54.26, Anya Craig explained that she felt like it went really well. She said, "We're happy with it, we swam the best we could."
Behind the blocks, however, the Hellgate boys were waiting for their event to start, trying to stay warm, alongside the boys from Big Sky. Both schools' relay teams placed in the "B" finals, which start right after the girls' last final.They were waiting throughout the delays to hop in. Michael Parkey, a sophomore at Big Sky High School, said, "So all the Hellgate and Big Sky boys were waiting there, just in the back. We couldn't do anything, it was just a bad situation."
One of the things that makes the teams from Missoula so special is that they practice together and share the same coaches. Swimmers from Hellgate, Sentinel, Big Sky, Frenchtown, and Loyola do everything together, except compete.
As the meet picked up, the excitement did too. All of the swimmers who didn't final or had already finished their events gathered along the side of the pool to cheer on their teammates and friends from other schools. People were forced to squish together as tight as possible while standing on the benches, screaming at the top of their lungs.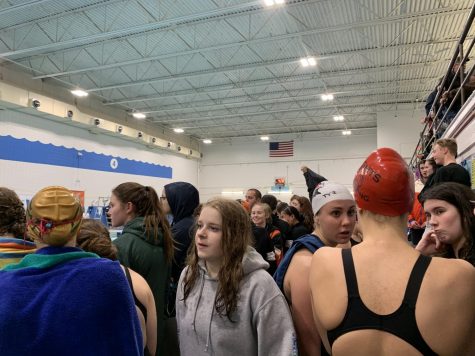 Bozeman may have come out on top this year, but the swimmers from Missoula are certain that with a boost of new swimmers next year, they'll be back on top before long. Lax said, "Next year, despite numbers, Hellgate girls will have redemption, no doubt about it."