Hellgate High School on Perimeter Lockdown
     Many people may have questions regarding the pre-lunch announcement. Around 10:30 on Wed., Feb. 12 Principal Judson Miller announced Hellgate is on perimeter lockdown because of an active threat situation around Missoula's City Hall. 
     Students and staff are not permitted to leave campus and all doors in the building have been locked. Although the lockdown is taking place during lunch, no one will be allowed to leave campus. 
     There is currently no active threat to students at Hellgate. However, downtown there have been reports of shots fired outside City Hall causing them to go into lockdown. Police are currently directing traffic downtown.
     At around 12:10 Miller announced that the school was out of perimeter lockdown, the time all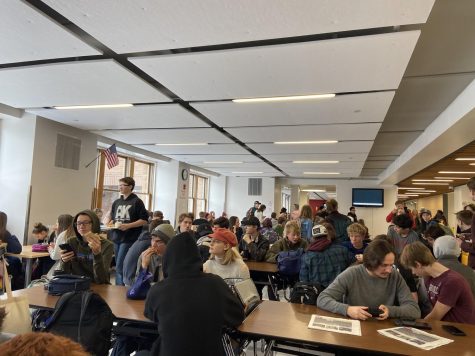 otted for office hours was made similar to a lunch period that was open campus. This is due to the fact that around half of the students didn't have lunch. 
     Law enforcement bombarded the area while sharp shooting snipers took to the roofs of buildings around the area. This was later followed by a flock of SWAT team cars who went from door to door to houses nearby and secured them.  
     Some speculated Brandon Bryant was the cause of all of the chaos; however, he had been already been taken into custody on Tues., Feb. 11. He was charged with a felony count of threats and improper influence in official and political matters after he allegedly filmed a video in which he said that he would, "hunt people and exterminate them," according to KPAX. This could lock Bryant away for up to 10 years with a $50,000 fine. Bryant is now banned from contacting any City Council member or entering the property. 
     Although no one was injured at the incident Feb. 12., it caused quite a scare throughout the downtown Missoula area.