Hellgate's Most Rigorous Program: The International Baccalaureate
Next year's course requests are weighing down on the shoulders of every high schooler this time of year. However, perhaps the most stressed of the students are the upcoming juniors. They not only must begin considering potential colleges, but also whether or not they are going to join the most rigorous set of courses offered at Hellgate, the International Baccalaureate (full IB).
Hellgate IB teacher Christine Hiller-Claridge has been making her rounds to current sophomore classes to inform them about the 10-12 students that will graduate with a full IB diploma every year. Could they be one of the 4% of students in their grade to accomplish this feat? 
This worldwide program is designed to give students the opportunity to take some of the most challenging classes offered in schools. It is intended to develop students' intellectual, emotional, personal and social skills.
Hiller-Claridge thinks that there are a number of benefits of completing the IB diploma. She said that these include, "Developing critical thinking skills, to me that's the most intrinsic value of the program. You're able to really think critically about everything you engage with." Hiller-Claridge also wanted to point out that it, "Prepares you for after high school, whether it is in a workplace or going to college, you have that skill set of critical thinking to inquire and to be a reflective person with whatever you engage in."
Gillian Sherrill, a current junior at Hellgate has just completed her first semester of full IB, which she said hasn't been horrible because her classare  "challenging without being too overwhelming." 
Sherrill decided to do the International Baccalaureate program because school has been a big focus for her family. She said that, "I think that this is a good opportunity to not only continue to challenge myself academically, but to prepare myself for college and what I want to do after college."  
The IB program may sound like rain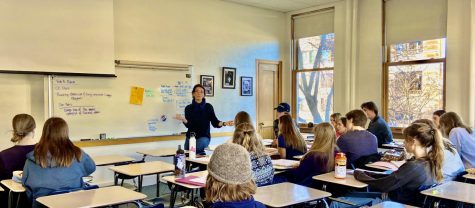 bows and unicorns, but it could make the high school experience less enjoyable. Almost all IB students find common ground with the hardest part of the program. They say time management and the daily workload is often overwhelming and stressful. 
IB Program Coordinator, Hiller-Claridge said that, "I have seen burnouts, and (there is) a high level of stress, it is a rigorous program."  
Oscar Duffield, a senior that has been hanging onto IB, thinks the hardest part about obtaining a full IB is juggling his extracurricular activities, dancing and playing his two instruments, with his daily workload. This is often the hardest part for students, but Hiller-Claridge says that the staff is working on managing stress levels and allowing students to enjoy sports, clubs, and do other extracurricular activities while still being involved in academics. 
Eliana Lambros, another of the 8 seniors still in the International Baccalaureate program, and Madeline Swanberg, a Hellgate graduate who took 6 IB classes, both think that full IB is "semi-worth it."  Lambros thinks that full IB is worth it if you're planning on going to the UM or MSU because you can get almost a full year off of college. However, she thinks that if you're planning on going out of state it's not worth it because most colleges won't accept more than one or two credits. 
Swanberg decided that doing full IB can lock down the schedule and makes the high school experience less flexible. However, she thinks that when upcoming juniors are deciding on whether or not to do the program, it really boils down to the person. She said, "Some people might think that the types of classes and projects you do (in IB) are interesting and what they want to learn, while others might want to take classes that aren't offered by IB and seem more relevant to what they want to do." 
Although Swanberg thinks there are pros and cons to IB, she also said, "I've noticed that the types of discussion and writing we did in some IB classes were really similar to what teachers expect in college courses." Though it does many things well, she thinks that there are still areas the International Baccalaureate program could be improved. 
Overall, upcoming juniors deciding whether or not to join the most rigorous program at Hellgate should consider a few important points. Acceptance rates into college are significantly higher for IB students than non-IB students; about 3-23% higher compared to the general population acceptance rate. This increases the acceptance to highly reputable schools. For example, Harvard's acceptance rate for IB students jumps from a 5.1% general acceptance rate to a 12.2% acceptance rate. This is due to the fact that all IB diploma students are "short stacked" so they are required to be looked at. 
Although it is $840 to pay for all of your exam fees, you could save about a year's tuition to the UM, MSU, or other IB-accepting schools. Before signing up for the International Baccalaureate program, it may be a good idea to look at colleges of interest and if they accept IB credits. For example, Oregon and Washington recently passed legislation along with a law that all state schools must accept credits of IB students who pass the exams.
This global program is a great opportunity to challenge yourself and, "Opens up more doors for you," according to Hiller-Claridge. Though it is the most stressful program offered at Hellgate, she said that, "Any time you want to challenge yourself it is always worth it."  
Overall, the big decision on if you should do the International Baccalaureate program boils down to, "How committed you are to taking initiative in your own education," Sherrill explained.  
About the Writer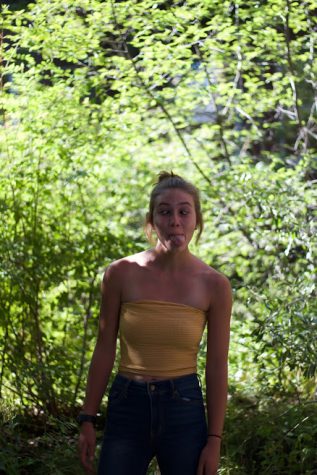 Maggie Vann, Reporter
Hi, I'm Maggie Vann, a junior at Hellgate high school. This is my second year in Lance, and I've enjoyed writing since before I was in middle school....