The Missoula Bruins boys hockey varsity team prepares for Nationals
Missoula's high school Missoula Bruins boys hockey varsity team kicked into gear in November of 2019. Of the 20 players from MCPS schools, 3 are students at Hellgate. The team is off to a great start, and has a total of 17 wins, 1 tie and only 5 losses. 
Although the Bruins varsity team has faced injuries and sickness, they have still been successful, even with only 9 players one game.
Lars Thorne-Thomsen, sophomore at Hellgate High School, has been playing hockey for around 4 years, and juggles playing hockey with soccer. Thorne-Thomsen said that his favorite part about hockey is the fights.
 Simon Wilson, a classmate of Thorne-Thomsen, has been playing hockey since he was 4 years old, and played with Thorne-Thomsen for the past three years. Wilson spent three years in Europe, and played hockey overseas. 
Lastly, Elijah Schwartz, freshman at Hellgate, has been playing hockey since he was 2 years old. He is one of the five freshmen to have qualified for the varsity high school Bruins team. 
The team practices three times a week, and even hits the rink at 5:45 in the morning at least once a week. Aside from their three practices, the Bruins have crossfit to train for their physically grueling games. The sport is a huge time commitment, and tournaments are held almost every weekend during the season. 
The Bruins travel all over not just the US, but also out of the country for their tournaments. From Phoenix, Arizona, to Canada, they get their share of traveling. If the team qualifies for Nationals in March, they will head down to the Lone Star State and play in Dallas. 
Wilson said his favorite part about the sport is, "the hockey family and culture." All three Hellgate students said that they, "enjoy hanging out with kids all around Missoula, so it's not just one school." Since hockey doesn't exist as a school sport in Missoula, it is harder for some students to get into the sport. Wilso thinks it would be nice to have high school teams. However, he thinks Missoula is so small that there wouldn't be enough students interested in playing. 
The Missoula Bruins boys high school varsity team is one of the best in the state. The three Hellgate players still have multiple years of playing hockey ahead of them, and hope to make it to Nationals this year. 
About the Writer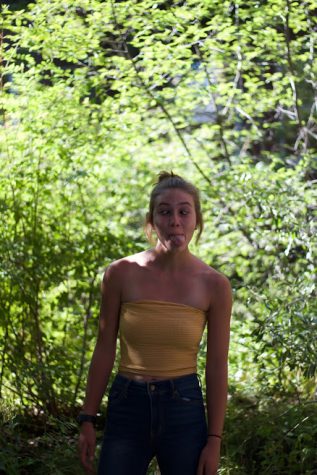 Maggie Vann, Reporter
Hi, I'm Maggie Vann, a junior at Hellgate high school. This is my second year in Lance, and I've enjoyed writing since before I was in middle school....