Sage Brooks Qualifies For Nike Cross Country Nationals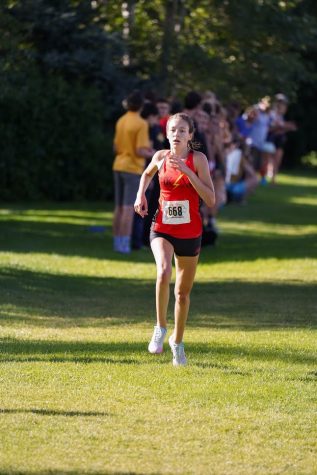 After facing a season riddled with injuries, Sage Brooks still managed to come out on top. Brooks, a junior, and one of the fastest girls on Hellgate's Cross Country team, had to deal with multiple injuries over the course of her season, including a strained MCL from a backcountry skiing crash three weeks before Montana's state meet. "I tried to pretend everything was fine (after the crash) because I was freaking out, but then I found out it was an MCL sprain. I started running three days after that, which was a bad idea, because it started affecting my other leg, too."
     Brooks started running in sixth grade, on her middle school track team, at Missoula International School. "It wasn't actually training, we just did a lap around the school and that was it," she says with a laugh. "I hated it and I was extremely slow." Brooks then quit running until the summer before her freshman year, when she participated in a couple of Hellgate's summer summer running practices, and still didn't really enjoy the sport. It wasn't until the season started that she really started enjoying cross country, happy that she knew some people that she could run with. 
     Though she started off slow, Brooks made a point to, in each race, run with a teammate faster than her. By doing this, she was able to increase her speed, and quickly became one of the faster runners on the girl's JV team. At the end of the regular season, Brooks chose to continue running, so that she could participate in Nike Cross Country Regionals, in Boise, Idaho. It was in that race that she took seventh place overall, close with teammate Abby Kendrick. After that race, Brooks says, Hellgate XC head coach Anders Brooker came up to them both and said that "we were the future of the team."
     Though she didn't participate in running that winter, Brooks joined the track team in the spring of her sophomore year. Running long distance events, Brooks says that at first, "[she] was not very great, but then after running for a while, [she] started to get really good at the mile." It was toward her last month of the track season that Anders pulled Brooks aside and began training her at a higher level, having her run harder and faster than she had ever done before. "That's when I started to realize that I could actually be good at running."
     Looking back on why she started running, Brooks said that she started because "I sucked at pretty much all other sports, and I knew my dad had been a super good runner in college, so I thought I would try it out and see how it went." She originally hated running, then began to like it in her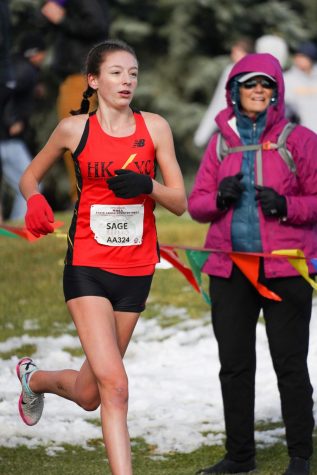 freshman and sophomore years, and really started to love it this year. Last year, her season was hampered by dual knee injuries, making her unable to participate in some races.
     When asked about her future with running, Brooks says that she wants to pursue the sport into college, even talking to some coaches about joining a team. However, Brooks' other passion is skiing, a sport that most coaches "don't let you do." "I'll definitely end up running, but I'll probably end up running for a team in which I could be running for a better team."
Talking about her upcoming run at Nike Nationals, in Portland, OR, Brooks said, "I just hope I can finish the race… It's frustrating because I haven't run for three weeks and now I have to go to this meet." Brooks qualified for the meet by placing ninth at Nike Cross Regionals, with a time of 17:50.9, a personal record. When asked about next season, Brooks said that she feels really good about their team, and she's excited for the incoming freshman to be a part of the team.
Brooks ran on December 7th at Nike Cross Country Nationals, finishing 99th overall out of 201 runners, with a time of 19:23.1. Her teammates, Ignatius Fitzgerald and Abby Kendrick ran the same day at Mt. San Antonio College in Walnut, California, at the Foot Locker West Regionals. Fitzgerald took sixth overall with a time of 14:55.1, and Kendrick took ninth overall with a time of 17:10.8. Both qualified for Foot Locker Nationals, December 14th in San Diego, California.
About the Writer
Liam Queneau, Reporter
My name's Liam, and I'm the photographer for the Hellgate Lance! I am a member of the Cross Country team, as well as the Hellgate Orchestra. I enjoy making...