Jaki Taylor Has Been Busy Since Graduating From Hellgate
A peak into the fascinating life of Jaki Taylor: "Survivor of the system you were all born into and moving through it with animal language."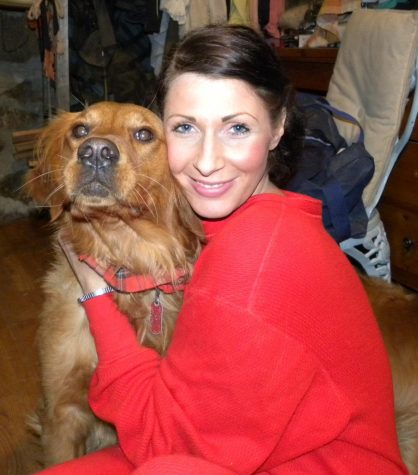 Dogs, foster care, tennis, books, horses, Congress, veterans, the outdoors, journalism: what do all of these have in common? Besides the fact that they all have the letter "s" in them, each item relates to the life of one extraordinary Hellgate alum: Jakilyn Taylor. 
Taylor, who goes simply by Jaki, is capable of telling hundreds of stories from her life, each one more fascinating than the last. She graduated from Hellgate High School in 2000, and currently lives in the Bitterroot Valley. 
She works several jobs, all with one common theme: helping others. She owns a dog-boarding kennel, socializes dogs to be more adoptable, takes care of a disabled veteran, and trains horses. 
Taylor said, "I like jobs where I am comfortable in my own skin and I don't have to dress up… I also highly enjoy working for myself and working independently… I like being my own boss and leader."
Taylor's work with dogs is very individualized. She fell in love with dogs from an early age, after an encounter with a blind puppy when she was 6 years old. Taylor is a strong believer that no dog or horse is bad, they are just in need of a place to fit in.
"I've always just had a spot in my heart for animals- I feel like they are the only things that get me," she said.
Though her work usually entails waking up before 6 a.m. and going outside in temperatures far below freezing, Taylor loves working with her dogs. She said, "I feel super lucky in my work.  I get to be outdoors doing things I love. Training and exercising! …I feel so blessed to be able to use this location to help dogs which is to really help people."
Taylor also describes her work as beautiful. She said, "I work with all the dogs who come through here with the foundation…  before they can be successfully adopted into a home, I work with them, exercise them, train them."
"I go where I am needed most with the dogs in the foundation- dogs who are unplaceable or aggressive. I take them home at night, feed them a meal, play with them, pet them and I take constructive notes for potential adoptive homes.  I exercise them in the mornings and socialize them with other dogs and we just work on where that particular dog is at," Taylor said. She explained that she utilizes different methods depending on the dog and the day.
One thing that remains constant, though, is that she doesn't rely on words to communicate with animals. She says around 90% of communication is nonverbal, and she trains the dogs in other ways.
"Dogs don't talk so they hardly need a lot of words of encouragement. Trust, respect, boundaries, exercise, discipline," she said. Taylor connects especially well with traumatized dogs coming from difficult backgrounds, due to her own difficult childhood.
From the time Taylor was 1, until she turned 18, she lived in 40 different foster or group homes. She grew up in the foster care system, which made her early life both confusing and traumatic.
Taylor said, "I felt lost, overwhelmed, constantly on guard, pissed off, traumatized and I lived in a fight or flight state.  Something which I now know is why I am attracted to the work I do. I am familiar with fear, trauma, abandonment, "issues"- it's something I have grown comfortable and confident with and my work helps me with my past traumas."
"Having to constantly watch my back and take in my environment has given me an extreme advantage when it comes to reading animal and dog behaviors.  Sometimes what we come from can be a bonus if we choose to perceive our stories as such," she said.
Although her childhood was chaotic and traumatic, Taylor said she enjoyed high school. She was a cheerleader, a varsity tennis player, a member of the choir, and she wrote for the Hellgate Lance. 
"I did like Hellgate as a high school- I found the students to be more accepting and willing to put themselves out there in a real way, even if it included being judged by peers, which I admired," she said.
Shortly after graduation, Taylor went to Washington D.C. to work on lobbying for laws to improve the lives of other foster teens. Teens who, like her, would spend most of their teenage years in group homes, before aging out of the system and being tossed out on the streets without support.
After a while at the capitol, and after college, Taylor moved back to Montana. With her husband, she recently purchased 160 acres in the Bitterroot Valley. She said, "The view I experience each morning empowers me.  I get to see the start of the Bitterroot Mountain Chain- an explosion of the Earth's forces at one point. I enjoy seeing those energies each day and draw on them for courage and strength."
Now, Taylor is enjoying her fast-paced life with her family, her dogs, and her horses. She said, "What motivates me are the animals, and myself, and my children."
Over the summer, Taylor spontaneously adopted three wild mustangs. She said, "I enjoy being able to be creative with my work.  Like if I say a horse would be good then I get a horse. I enjoy that freedom, and then of course the challenge of the horse and horsemanship to get us there together."
Taylor explained that her techniques to train horses may seem unconventional, but it works for her. "I get in there and invade their space with dance, incense and a hula hoop to establish boundaries.  Other horses might prefer me to feel them. What I've learned with horses and dogs is it's never to go in with a game plan other than kindness and observation," she said.
Other hobbies of hers include reading, as she has always used books as a way to ground herself, and creating art. In her spare time she creates talisman from various natural objects, such as feathers, bones, sticks, and stones.
Taylor lives life moment by moment. She said, "I honestly try not to plan my future.  I have never been really good at it. Part of that is probably because as a child I was never encouraged and rather discouraged from planning my future and I had very little control.  I always felt like I was on a ride to the next place and nothing was in my control. I have learned in fact that control is where the fear slips in… Fear being False Evidence Appearing Real."
"I see each day as my future. Because it's what you do in that day that creates your destiny for tomorrow and that I can schedule and live for. Some of my dreams and goals are private, time sensitive and confidential- so it's not to say I don't have goals for the future, it's that I try not to place too much emphasis on accomplishment.  Sometimes life gets in the way when you have plans and I like that. If something gets in my way when I am on a path it's an opportunity for me," she said.
About the Writer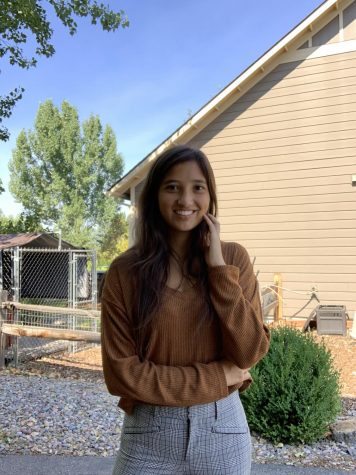 Ali Caudle, Co-Editor
Just a girl who fell in love with journalism and never looked back. This is my second year with the Lance, and I also play soccer and swim for Hellgate....