Washington D.C. Nationals Pull Off World Series Win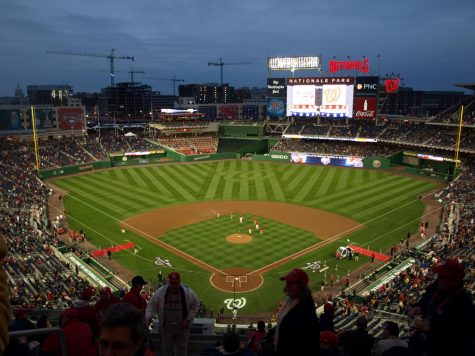 The 2019 World Series between the Houston Astros and the Washington Nationals was played Oct. 22-30, and it was action-packed. After seven close games, the Nationals eventually came away with the victory, winning four games to three.
The series was unique for a couple of reasons. It was the first World Series title Washington D.C. has won since the Senators won it in 1924, and this year was the longest season in Washington baseball history. It was also the first time that a team won the series without ever winning a game at home. For both teams, the only victories occurred on the road. 
The Astros won the World Series in 2017, and this year they entered with the best win-loss record in baseball for 2019. It was a rockier season for the Nationals, who started the year off with a 19-31 win-loss record. They were able to turn their season around, though, and managed to qualify for the playoffs as a wildcard team. 
Stephen Strasburg was named MVP for the series. Strasburg pitched Game 2, which the Nationals won 12-3. He also guided them to victory in Game 6, which was a must-win game for the Nationals. He had a combined total of 14 strike-outs, three walks, and four allowed runs.
Other standout players for the Nationals included left fielder Juan Soto and third baseman Anthony Rendon. Soto hit a double and a home run in Game 1, helping to give the Nationals an early advantage in the series. Rendon was largely responsible for keeping the Nationals alive in Game 6, when his team was behind 3-2. Notable players for the Astros were pitcher Gerrit Cole and shortstop Alex Bregman, who hit a grand slam in Game 4.
There was a fair amount of drama. In Game 6, Bregman carried his bat all the way to first base after hitting a homer, an act which is often considered disrespectful. A few innings later, Soto repeated the act. There was also a controversial interference call in that game that fired up the emotions of the players and the crowd.
Each game had an average attendance of 43,000 people. Many well-known people attended the series, including gymnast Simone Biles, chef Jose Andres, and astronaut Buzz Aldrin. The President also made an appearance, which drew a mixed reaction from the crowd.
The week of competition provided excitement and broke records. Each team had a great performance, but at the end of the day, the Nationals will go down in history as the 2019 World Series champions.
About the Writer
Josey MacDonald, Reporter


Hello! I'm a Junior and I'm excited to be writing for the Lance this year! I enjoy mountain biking, playing cello, and competing in taekwondo. I think...