Hellgate Represents at All-State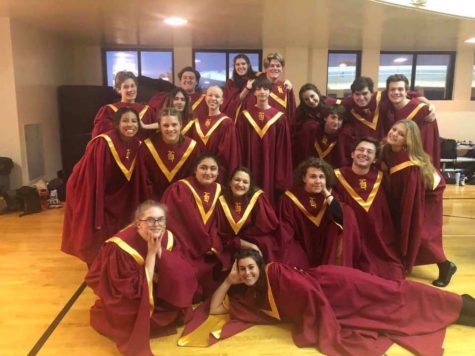 Hellgate is often known for having strong art and music programs, and it upheld this image at All-State this year, sending a total of 57 students. All-State is a music festival featuring band, orchestra, and choir, and made up of high-school students from around the state who audition in the spring. Each group rehearses their pieces for two days, and then on the last day they combine for a final concert to perform them. The 2019 All-State music festival took place in Billings from October 16-18. 
20 of Hellgate's students were from the advanced orchestra, and they made up almost a quarter of the entire symphony. The group was conducted by Dr. Michael Griffith, who has taught at the University of Wyoming for more than 30 years. They performed four songs, but most players' favorite was Danzón No. 2 by Arturo Márquez, which is lively and entertaining, but with a relaxing melody. As they played, Griffith told them to imagine being in the hot sun under a flowering tree. The advice helped keep the tempo from rushing. Griffith also told them to play with passion. "Playing wrong notes is understandable, but playing without passion is unacceptable," he said. 
The band was led by Dr. Peter Boonshaft, who has been a guest speaker or conductor in every state in the nation. He was eccentric and memorable, according to tubist Mara Parks. Their songs included The Redwoods, Rest, and Once More Unto the Breach, a three movement piece representing the struggle between good and evil. Parks said that she really enjoyed the music, and that she was amazed at how well it came together in such a short period of time. 
20 students from Hellgate were part of the choir, which was led by Dr. Mack Wilberg, a former professor at BYU and an active composer. Lucía Garr, a soprano in the choir, said that she really enjoyed the experience, and overall really like the music they sang because "it was challenging and sounded cool." 
Most of the three days were spent rehearsing. "There were crazy long days but it was worth it," said Parks. There were about three two hour sessions per day, which meant that the music improved quickly, but the long hours took their toll on some of the musicians, especially the vocalists. Garr, a member of the choir, described the experience as "not enjoyable but fun," because although she liked the music, the long rehearsals could be painful at times.
The second night of the festival there was a host concert featuring Sound of the Rockies, a men's choir from Denver, Colorado. The group has continuously placed high in international competitions and is currently one of the four best barbershop choruses in the world. They sang a variety of songs from different eras and worked some humor into the performance as well. 
After a final day of rehearsal, the band, orchestra, and choir combined for a final concert to perform their pieces. The concert took place at Lincoln Center in Billings. Garr thought that the choir's "harmonies could have been tighter," but said that overall it went really well. Parks described the concert as "amazing." 
 It was a special experience for many people. For both Parks and Garr, the people were a large part of what made it all worthwhile. Parks said that she enjoyed being with people who share her love of music and can relate to the feelings she gets from it. All-State is one of the few opportunities students from different schools have to play together and be in a non-competitive environment. The festival helped show the power music has to connect people who might not have been brought together otherwise.