The first half of Hellgate volleyball is kicking into gear!
As many people know, the 2019 varsity team is off to a nail biting start. So far, the Knights have yet to win a season game. However, this year is said to be a "growing year". Over half of the varsity team is lower classmen, and there are only four seniors. Gillian Sherrill, a junior at Hellgate, is one of the varsity team captains. She said, "We've kind of had a little bit of a rough season just to regards to player dynamics." Although the 2019 season is off to a rough start, Sherrill said that, "We have a lot of up and coming younger players, this is kind of our rebuilding year, so hopefully it'll transfer over into next season in terms of a stronger team."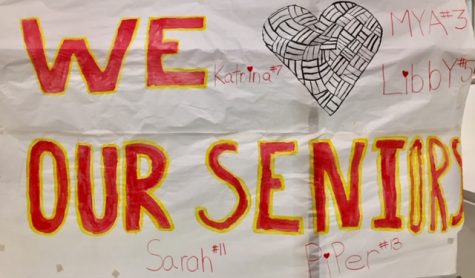 Almost every game has been "neck and neck" and the team hopes the second half of the season has a better outlook. The varsity team also loves all the support they can get and encourages students, parents, and teachers to attend their games.  
Hellgate recently got a new sophomore coach, Brittany Tilleman, a 2018 graduate from the University of Montana. Tilleman played as a setter and has been coaching volleyball for a few years. She hopes to help the Knights grow and succeed as a team. The team thinks that she is an awesome coach because she not only disciplines them, but makes the outcome worth it when they meet a goal. The sophomore team is currently undefeated and has won all 10 of their games. Ashbeigh Hall, freshman at Hellgate thinks they are undefeated because, "We are unselfish players and we work well together." There isn't as much drama on the team. Hall has been playing volleyball since 5th grade and she said she enjoys playing because, "I get to meet a new group of girls every year and make new friendships." These upcoming players are sure to be necessities to the upcoming varsity team. 
Hellgate's junior varsity team is also doing well. The team has five sophomores, two freshmen and only four juniors. The JV team is really showing how powerful a younger group of players can be. All of the players would like to continue to play throughout their high school careers. Camille Sherrill, one of the freshmen on the JV and varsity teams, said that she thinks next year will be an especially good year for the varsity team. This is because a lot of the current varsity players will still be there and they will have played together the previous year.
In summary, the volleyball teams are going strong and are ready to start the second half of the season off with a bang! The great coaching is showing how strong the teams can and will become. Be sure to attend the next home volleyball games. There is a crosstown game on October 29th against Big Sky; and another crosstown game on Halloween against Sentinel!