Why You Should Be Reading Joe Ide
     Over the summer, my dad suggested that I read the mystery novel IQ by Joe Ide, the first of a now four book series. I flew through it and picked up his second book, Righteous, as soon as I could. His superb writing skills and compelling storytelling abilities helped me get back into reading for fun, and I bet they could do the same for you.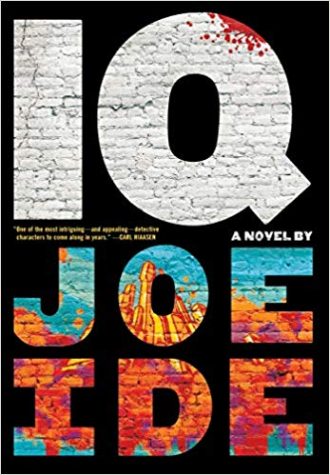 Pronounced "ee-day," Joe Ide is of Japanese descent and grew up in south Los Angeles, where he seemingly found inspiration for his debut series. Before he was a novelist, Ide wrote screenplays, and his ability to tell compelling stories, almost as if you were seeing them at the movie theater, clearly carries over. With great pacing, suspenseful action scenes, and beautiful storytelling, the IQ series is a breath of fresh air for the mystery genre.
     Isaiah Quintabe, or IQ, the main character in all four of Ide's novels, is a young  African American man who was orphaned as a child who later lost his brother in a hit and run. He helps out around his neighborhood in south LA for little to no cost and survives off of money from his larger clients. Ide's first novel provides a great example of said client, with the fictitious rapper Black the Knife, who is convinced that someone is out to get him, after a dog enters his house and attempts to kill him. Throughout the book, we witness IQ work his way through clues and shady characters to find the culprit of the attack and prove that Black the Knife isn't crazy.
     In his first series, Ide shows his love for Conan Doyle and Sherlock Holmes in some not-so subtle ways. The idea of being able to beat someone, or get out of a dicey situation purely based off of critical thinking, is a common element in both Doyle's and Ide's writings. In many ways, Ide's Isaiah Quintabe is a very modern reiteration of Doyle's Sherlock Holmes.
     References to Doyle and Holmes are incredibly common in the IQ series. First off, with IQ, we witness a rather odd, put together, stoic detective who always seems to find clues in what many others can't. He manages to follow trails using minute details, at one point even figuring out where the antagonist is headed based on what he's hearing over the phone.
     Next, there is a very obvious comparison between the two detectives' partners. For Holmes, John Watson is a close companion who accompanies him on his many adventures in mystery and crime. For IQ, Juanell Dodson is a similar character who, seemingly, is always trailing behind him intellectually. The two sidekicks share similar names, and both lived with their respective detectives at some point or another.
     Another comparison is the villainous dogs both writers feature in their work. In Doyle's The Hound of the Baskervilles, considered one of his best works, a dog is featured as the main antagonist. In Ide's IQ, an attack in the form of a dog kicks off the story and sets IQ up for a roller coaster of plot twists and discovery. 
     Though he is relatively new to the writing scene, Ide has already been nominated for the Edgar Allan Poe Award, won the Anthony Award for Best First Novel, won the Macavity Award for Best First Mystery, and won the Shamus Award for Best First P.I. Novel. I highly recommend that you pick up his first book, IQ, and get reading as soon as possible. His storytelling abilities, use of figurative language, and great pacing will keep you entertained throughout the whole book, and before you know it you'll be ordering the sequel.