Did the Knights Kill Hoco Week?
     Homecoming Week 2019 has come and gone, and the Hellgate Knights were ready. It was a week full of excitement. Audrey Warren and Gabi Wilson got the inside scoop on what happened this Spirit Week, which was full of crazy and funky outfits.
     On Monday we saw tons of people completely decked out in different colors. With seniors as orange, juniors as green, sophomores as purple, and freshmen as pink, this made for a colorful school. Of course, there were some people who didn't dress up. Why wouldn't you? It's easy, fun, and then you don't look weird when you're not wearing the correct color, or worse, no colors at all. "The colors helped make the school feel a lot more alive," said Oliver Beck when asked how Color Day contributed to the school. So maybe next spirit week you will actually wear your color so that you're able to contribute to the happiness and liveliness of the school.
     On Tuesday we went back in time. Everyone brought out their rockin' old school outfits and personalities to really send us through a time machine. Freshmen dressed up as '50s, pretending they were in the love story that goes on in the iconic movie Grease. Sophomores dressed as '60s to bring out their inner hippie and rock the peace signs and tie dye. Juniors dominated the '70s, rocking out their disco moves on the dance floor, and jamming to Stayin' Alive. Seniors killed it in their '80s apparel with leotards, crimped hair, and bright colors. They were definitely ready for a roller skating sesh in the parking lot during lunch.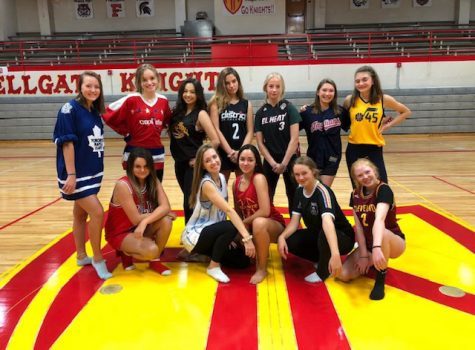 Wednesday was the day that everyone got judged for wearing a jersey to support their sports team. Nearly the entire school went all out. The school really got on their game face and supported the entire sports community and all the teams out there. We saw basketball, football, soccer, and more in the halls. Many felt as though Jersey Day should have been on Thursday because of the rhyme, "Jers-day Thursday". Students set that aside and still dressed up for this day whether they were happy about it or not.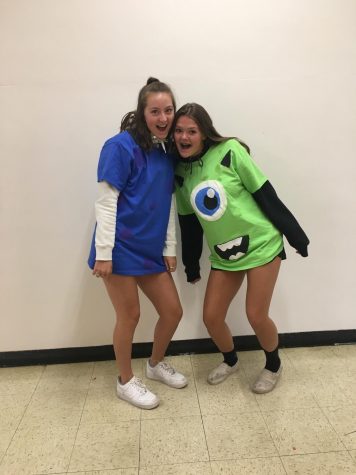 Thursday was Duo Day. You and your friends dressed up in outfits, which resembled iconic duos. But wait, Hellgate was somewhat slacking this time around. We only saw a few duos. There were definitely the costumes that were spot on and absolutely incredible, but there were also people who decided not to dress up. Overall, the outfits of people who understood what spirit meant and actually dressed up were amazing! We applaud you all for dressing up! We saw many of the classics such as M and Ms, Lilo and Stitch, Salt and Pepper, and others. There were also some very unique duos like the "SATs", "Ice Ice Baby", and the Power Puff girls. 
     Hellgate, remember the day we won Gertie the Goat? We do! The night that Hellgate won Gertie, we became the G.O.A.T (Greatest of All Time). Ever since that night Hellgate's school spirit has been top notch. 
     Friday was the day of the Homecoming football game, Homecoming assembly, and the day where we deck ourselves out in red and gold.We were quite impressed with how red and gold the gym was during our Homecoming assembly. We practiced cheers for the football game and watched the final two contestants of the corn hole game go at it. Hellgate's dance and cheer team both performed for the school as well. 
     Okay Hellgate, we understand that this was just a Homecoming assembly. If we want to keep Gertie the Goat at Hellgate, we need to get rowdy. We need to get louder. We need to show Sentinel (and Missoula) that we are the Knights and we won Gertie for a reason.
     Overall, the Knights had a lot of spirit this week. With all the colors spread between freshmen, sophomores, juniors, seniors, and staff members, our blast to the past to remind teachers of all the good times they had years ago, repping your sports team and getting judged for it, finding the most iconic duo to do with friends, getting all of the craziest red and gold things you can find in your closet. We all had a blast this Spirit Week. Congrats to everyone who participated and had fun. Let's make next year even better!