Crosstown Game Shows That Hellgate Football Is Making A Comeback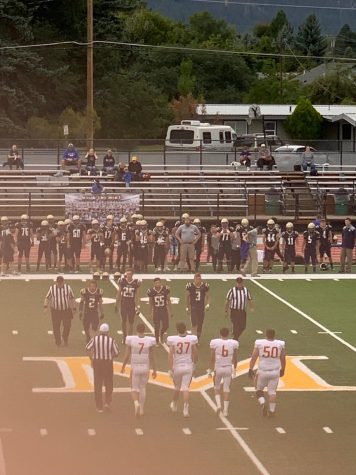 On Friday, Sept. 13, the Hellgate Knights Varsity football team played Big Sky, defeating them for the first time since September 2010. It was a major moment because it was the first time in 25 years that the Knights have started their season with two consecutive wins.
For the Seniors on the team, this means a lot, because this is finally their year to step up and lead the Knights to victory. They have come full circle since their freshman year. The class of 2020 came to Hellgate in the middle of the 57-game losing streak and helped break it at the Homecoming game as juniors in 2018.
Joe Slemberger, who has been an assistant coach for 13 years, said, "My favorite part [of coaching] is working with the kids, and then watching them grow from when they're freshmen to seniors… [This year] I think that Senior group is really good. We knew they were gonna be good when they came in as freshmen, and they should have won every game… They've been really good leaders this year. They know they're the reason the program will turn around and they've been the catalyst for the whole thing for four years."
One key senior on the team is Rollie Worster, the starting quarterback, who scored three of the five touchdowns at the game against Big Sky. He also had one interception, and a total of nine tackles.
Another major player is Thomas Riley, the tight end, who Slemberger said does a good job blocking for the team. Other notable seniors are the guards, Kade Ferree and Dakota Friesen. Slemberger said, "Those are our Senior leaders on the line."
Some of the other well known seniors who played in the game include Brandon Coladonato, who made two interceptions, and Abe Johnson, who kicked three points.
Then there is the center lineman, Wes Salonen. Salonen, who has played football for his whole life, is following in his dad's footsteps. He thinks the team will be the best they have been in a while.
"We all believe in ourselves and think we can go a long way. Our Senior class is great, we've been playing together for years and so now that we're all on the same level, it's beginning to click really well," Salonen said.
In 2018, the last time Hellgate played Big Sky, Hellgate was up 20-7 at halftime. However, the team fell apart in the second half and Big Sky ended up winning 35-27. The motivation to come back and finish what they started drove Hellgate's team to work a little harder to secure that win.
Head Coach Mick Morris said, "The kids were a little more into it, and a little more excited, considering it's Big Sky… Pluck the Eagles, as the students would say."
The Knights practiced really hard all week to prepare for the game, because they were ready for some revenge. Slemberger said, "I think we learned lessons from last year when we were up 20-7 at halftime and then came out and they just beat us – just flat out beat us."
"This win feels great to get them back! But again, we know what we are capable of and we want more than just this one win," Salonen said.
Morris explained that one of the reasons there is more pressure for crosstown games, besides the fact that you have a much larger audience, is because the high school that wins both of their crosstown games gets the Missoula City Championship. This year, Hellgate is aiming for it.
"We haven't won a city title for like, several years. A lotta years. And so you know, it's always good to be city champs and you always want to beat your rivals and kinda shut them up a little bit," said Slemberger.
But the Seniors have even more ambitious goals for their final season. Salonen said, "Coach Morris has talked about 3 main goals for the season: win a city championship, host a playoff game, and win a playoff game. But we all have larger expectations for our team and I think we all have faith that we can be one of the best teams in the state and have a legitimate shot in the playoffs."
Hellgate's next game is against Flathead High School on Friday, Sept. 20 at 7pm. The Knights will face off against the Braves, and it will be up to the Seniors to lead the team to a third straight victory.
Salonen said, "Expect a big game this Friday for Homecoming and we love the support in the student section. We feed off that energy so we need everyone to come support and be loud Friday night and for the rest of the games!"
Morris echoed his sentiment. He said, "If we can get as many students at every game as possible, it always helps."