Knights and Spartans Go At It in Crosstown Game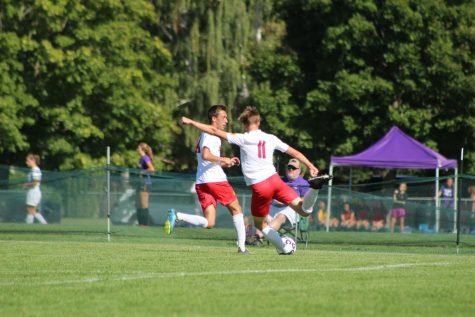 When a high school soccer team hears they are playing Hellgate, they feel as though the team needs to play better than they ever have, as Hellgate is known for its superb soccer program.
     On Sept. 12 the Hellgate Knights played in cross-town games against one of their biggest rivals, the Sentinel Spartans. There were four games that day including; girls and boys Varsity and Junior Varsity. 
     "We'd like to win. We will put our best effort on the field," said Gary Stein, the head coach of Sentinel before the game. He implied that the Spartans would give it all they had for the game, and certainly try as best as they could to put up a good fight. Hellgate scored the first goal against the Spartans.
"The ball crossed into me and I kicked it into the goal," number 17 Becket Arthur explained about how he scored the first goal for the Knights. As the game continued the Knights became very aggressive. Because Sentinel is such a big rival both teams got very aggressive and wanted to win more than ever. The second goal was scored by number 22 Dave Becker. The goal was a penalty kick (PK). After the 40 minute first half the Knights were up 2-0. Both teams got together to talk about strategies for the last half. 
     Once the second half began, Stein got very heated and upset with the calls the ref was making. As the game continued, the Spartans scored their first goal by number 22 Cole Reimer. That was the last goal that was scored by either team. From that moment forward both teams gave it everything that had.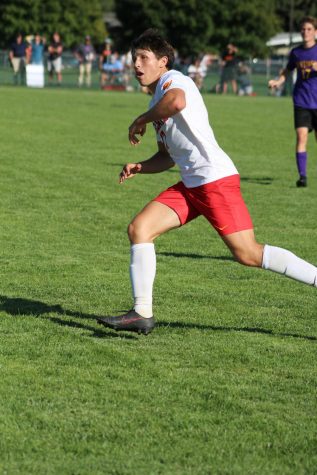 "The game was physically hard. The other team was technical and competitive so they hit really hard," Beckett Aurther said after the game was over.   He wasn't the only one to express how the game was hard physically. Players of both boy's varsity teams expressed that towards the end they were exhausted and began to slow down. Having this huge rivalry game both teams played extremely hard for their school.
     "I think the team played really, really gritty. They played though, and mentally they were all there today," Head Coach for Hellgate Boys, Jay Anderson, said after the game was over. He expressed that there were errors. "I don't think we played the best technically, our passes were off a little bit," Anderson said, "but there are always going to be errors in a game no matter what." Overall, Andersen thinks that the team played quite well. 
     The game ended in a 2-1 Knights win. When speaking to Stein after the game, he said, "We defended really well against a really good team. It was a good fair, well, and hard game." Stien thinks that there were minor things that happened and caused Sentinel to lose. "If we were to play the same exact game, the score could have been 2-1 Sentinel up. It's very minor things that are done in the game," he said when asked if he thought the results were earned. He wishes that Sentinel won, but he definitely thinks they played to their ability. 
     "Since lots of us play on the same club teams together in the spring, it's hard to be the most aggressive, because it's your friend you're playing against, and so you just can't," Conor McMahon said.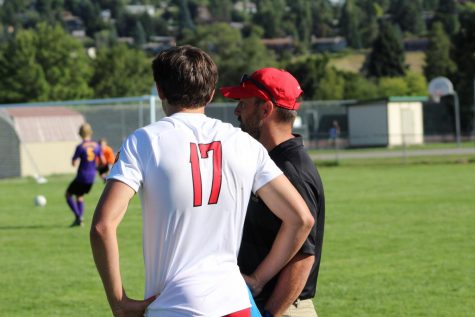 Chris Ledyard, a teammate on the Knights soccer team, enjoys giving the boys pep talks before, during and after the games. "Pep talks are important because it's very easy to get down during sports events. Especially when you're playing them and you're not playing to your ability." Ledyard expressed that when he talks to his team he tells them that he knows what they are capable of and knows that they can always do better. "I'm not the best at soccer, actually, I'm pretty bad. But something I can do is get people riled up about playing." Even though Ledyard spends a fair amount of time on the bench, he feels as though he needs to help raise the heads of others when they get down in a game, and overall be a supportive team member and contribute all the positivity he can, even when they aren't playing the best.
     Cross-town sporting events are never easy. Your school is counting on you to win for the bragging rights of how much better their school is then the other. Both teams gave it everything they had and put their best effort into an extremely difficult game.
About the Writer
Audrey Warren, Reporter

Hi my name is Audrey. I'm a Sophomore at Hellgate. I enjoy being outside and being active in all seasons. If you're like me at all, you can't sit still...